Stocks Slip as Fed Keeps Policy on Hold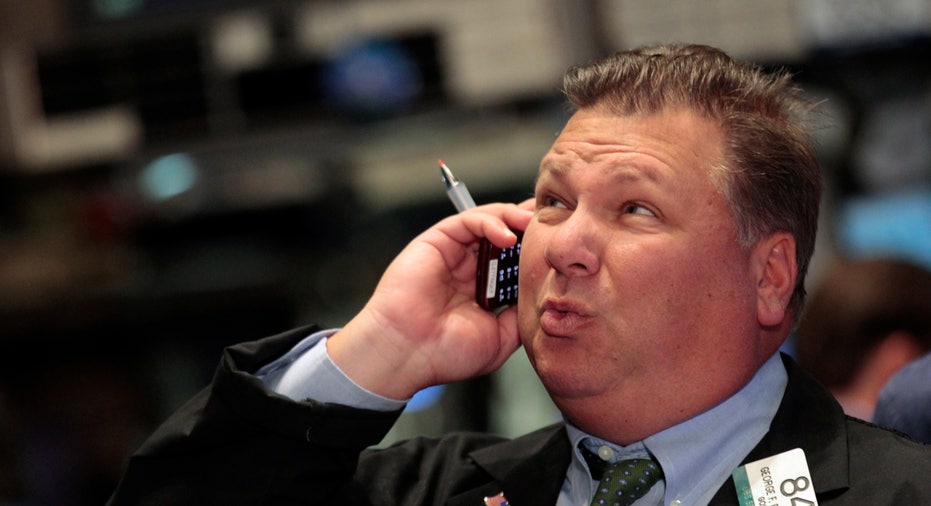 FOX Business: The Power to Prosper
Wall Street tilted lower as traders reacted to news that the Fed isn't ready to provide more stimulus to jump-start the stalling economy and braced for the closely-eyed ECB decision.
Today's Markets
The Dow Jones Industrial Average fell 32.6 points, or 0.25%, to 12976, the S&P 500 dipped 4 points, or 0.29%, to 1375 and the Nasdaq Composite slumped 19.3 points, or 0.66%, to 2920.
The Federal Reserve came short of announcing new policy action following its two-day meeting. The central bank warned that economic activity will pick up only slowly after decelerating somewhat during the first half of the year. It also reaffirmed its plans to keep interest rates at historic lows until 2014 and said it plans to continue its program to extend the maturity of its balance sheet until the end of the year.
The Fed is being confronted with fairly bleak economic indicators, including a labor market and economic growth that have hit stall speed.
Some market participants took small changes in the phrasing of the statement to suggest the Fed may be gearing up for a third round of quantitative easing. However that still remains uncertain.
There were also a slew of economic reports released on the day. The private sector added 163,000 jobs in July, according payroll processor ADP. Analysts had been expecting an increase of 120,000. The June increase was, however, revised down to 172,000 from 176,000. The gains were driven by small and medium-sized businesses, which added 73,000 and 67,000 jobs, respectively. Big businesses added a relatively slim 23,000, the report showed.
This report comes ahead of the important monthly employment report from the Labor Department on Friday. Recent data have shown the jobs market failing to pick up steam quickly enough to materially drive down the unemployment rate.
The Institute for Supply Management's gauge of U.S. manufacturing activity rose to 49.8 in July from 49.7 in June. Economists were expecting a reading of 50.2. Readings below 50 indicate contraction, while those above point to expansion.
Perhaps more closely eyed is the European Central Bank decision due on Thursday. ECB President Mario Draghi has postured that the central bank is prepared to do what it takes to quell the eurozone debt crisis that is afflicting the bloc's economy, but it hasn't taken any decisive action yet. Potentially, the ECB could chop down interest rates, introduce new lending programs, buy-up various types of assets or take other alternative measures, analysts have said.
In a sign of worsening conditions in Europe, the manufacturing sector in the eurozone contracted even more quickly in July than it did the month before, according to reports released on Wednesday. The eurozone PMI gauge fell from 45.1 from 44, marking the eleventh contraction in a row. Germany, the bloc's biggest economy, shrunk at the fastest pace in three years.
China's official PMI for July showed the country's manufacturing expansion essentially stalled out in July. A private survey from HSBC suggested the manufacturing sector in the world's No. 2 economy still deteriorated, but at a slower rate in July from the month before.
The report "confirmed only a modest improvement of manufacturing conditions thanks to the initial effect of the earlier easing measures," the bank's chief economist for China Hongbin Qu wrote in a report. "But this is far from inspiring, as China's growth slowdown has not been reversed meaningfully and downside pressures persist with external markets continuing to deteriorate."
On the corporate front, U.S. automakers report U.S. monthly sales on the day. Chrysler posted its best July since 2007, selling 126,089 units, representing an increase of 13% from the same month last year. General Motors (NYSE:GM) reported its vehicle sales dropped 6% to 201,237 in July compared with a year ago as sales to rental fleet customers plunged 41%.
Oil prices were modestly to the upside after a report from the Energy Department showed crude stocks fell much more than expected last week. The benchmark crude oil contract traded in New York rose 85 cents, or 0.97%, to $88.91 a barrel. Wholesale New York Harbor gasoline jumped 2.2% to $2.834 a gallon.
In metals, gold edged down by $7.30, or 0.45%, to $1,607.
Foreign Markets
The Euro Stoxx 50 slipped 0.01% to 2326, the English FTSE 100 rose 0.83% to 5682 and the German DAX dipped 0.25% to 6755.
In Asia, the Japanese Nikkei 225 slumped 0.61% to 8642 and the Chinese Hang Seng ticked up 0.12% to 19820.