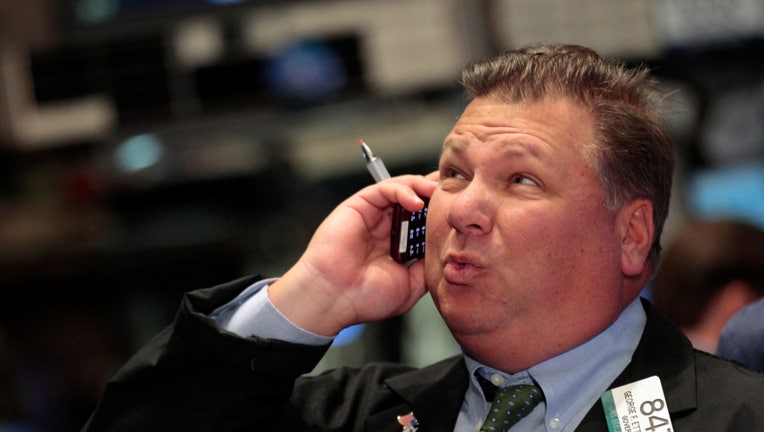 FOX Business: The Power to Prosper
The markets slid deep into negative territory, with basic materials and energy shares leading the way lower, as commodity futures sold off.
Today's Markets
As of 3:23 p.m. ET, the Dow Jones Industrial Average fell 131 points, or 1.1%, to 12,159, the S&P 500 slid 14.5 points, or 1.2%, to 1,250 and the Nasdaq Composite dropped 32.6 points, or 1.2%, to 2,593.
Gold prices fell for the fifth-straight day. The precious metal recently dipped $31.40, or 2%, to $1,564.10 a troy ounce. Silver, another precious metal, plunged 5.2% to $27.19 a troy ounce.
Oil prices fell as well after rallying to the highest level since mid-November on Tuesday after Iran threatened to cut off the flow of oil through a key shipping channel in the Gulf. The benchmark crude oil contract traded in New York slid $1.98, or 2%, to $99.36 a barrel. Wholesale RBOB gasoline fell 1.4% to $2.651 a gallon.
Energy and basic material shares fell sharply as a result. Financial and industrial stocks took a hit on the day as well. Indeed, out of the blue chips, Bank of America (NYSE:BAC), aluminum giant Alcoa (NYSE:AA),  and Caterpillar (NYSE:CAT), the biggest American heavy machinery maker, fell the most.
Investors bid up safe haven assets as selling heated up in equity markets. The 10-year Treasury yields 1.939% from 2.01%. Yields move in the opposite direction of prices, so as traders move into the bond, the yield falls. The euro also fell more than 1% against the U.S. dollar, pushing the single currency to an 11-month low against the greenback.
Market participants were also focusing on Europe with no major U.S. economic reports on tap for the day.
Italy paid 3.251% to sell roughly $11.8 billion in six-month bonds at its auction on Wednesday, representing a steep drop from the 6.504% it paid at a similar offering in November. Demand was also relatively strong, meaning investors are moving back into the beleaguered sovereign debt market.
The country has an auction of long-term bonds slated for Thursday that is expected to be closely watched on Wall Street. There have been worries that as traders have fled the European sovereign debt marketplace, borrowing costs will continue spiking and potentially shoving borrowing rates well above sustainable levels.
The benchmark 10-year Italian note presently yields 6.79% -- which is elevated, but well off of euro-era highs above the 7% threshold.
Foreign Markets 
European blue chips fell 1.5%, the English FTSE 100 edged lower by 0.1% to 5,507, and the German DAX slumped 2.1% to 5,771.
In Asia, the Japanese Nikkei 225 fell 0.2% to 8,424 and the Chinese Hang Seng dipped 0.59% to 18,519.