Stocks Slide Amid Euro Worries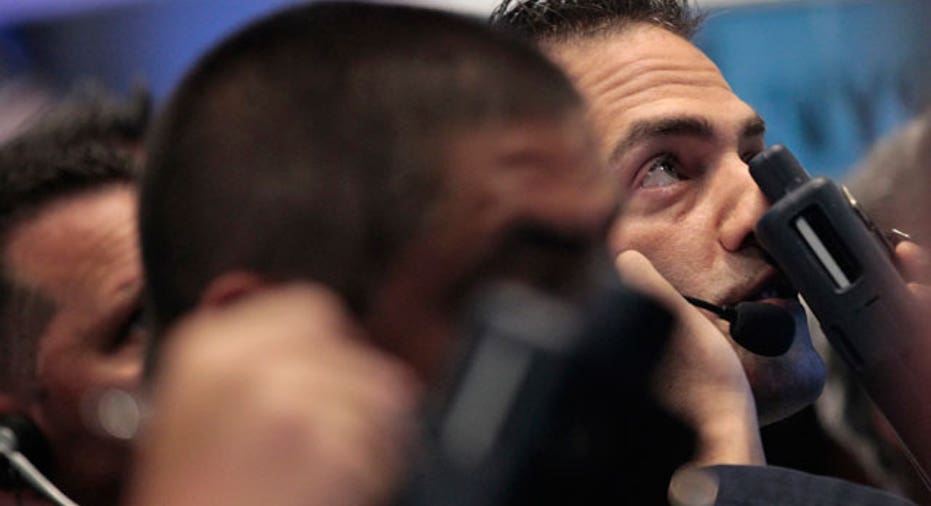 FOX Business: The Power to Prosper
Concerns that ongoing political tumult in Greece may destabilize the eurozone weighed heavily on the markets on Monday.
Today's Markets
As of 12:10 p.m. ET, the Dow Jones Industrial Average slid 85.5 points, or 0.67%, to 12735, the S&P 500 dipped 9.6 points, or 0.71%, to 1344 and the Nasdaq Composite dropped 17.7 points, or 0.6%, to 2916.
The selling that had been broad-based narrowed somewhat mid-day. Every one of the 10 S&P 500 sectors was to the downside, but only three were off by more than 1%.
Energy and financial shares were taking the worst selling on the day. Indeed, JPMorgan Chase (NYSE:JPM) was the worst performing blue chip after it unveiled a management shakeup following its disclosure last week of a $2 billion trading loss.
Meanwhile, volatility soared 6.3% as tracked by the CBOE's VIX and traders bid up safe-haven U.S. Treasury bonds. The yield on the 10-year fell 0.068-percentage point to 1.788%.
Elections a little more than a week ago fractured Greece's parliament, requiring the agreement of several political parties to create a coalition government. Talks have repeatedly failed as the country has struggled to reconcile its immediate need for eurozone support with a public that has grown tired of deep austerity measures and a depressed economy. After another impasse was reached on Sunday, leaders are once again meeting again on Monday in a bid to reach an agreement.
The worry among market participants it that if a consensus can't be struck, it is likely that elections will have to be called in June. That puts the country's bailout package, and membership in the eurozone, at jeopardy. It remains unclear exactly what would result if Greece fell out of the currency bloc.
"Given the severity of the repercussions of an exit for all euro area members, we believe that such a scenario will be avoided at all cost," Sree Kochugovindan, an analyst at Barclays Capital, wrote in a note to clients. "However, the risks have increased substantially."
Traders were also grappling with an unexpectedly weak reading on eurozone industrial production. The gauge fell 0.3% in March, compared to expectations of a 0.5%. This comes a day ahead of the release of gross domestic product data for the currency bloc, which is forecast so show a modest decline.
Also on the European front, Spain saw its yields rise at a short-term debt auction on Monday from a previous debt sale. While the offering saw strong demand, the rising borrowing costs have increased fears that it will be the next country to be hit by the eurozone debt crisis.
Benchmark indexes in France, Italy and Spain were all down more than 2%. The euro fell 0.36% to $1.2870.
Commodities were taking a hit across the board as well. Crude oil traded in New York tumbled $1.85, or 1.9%, to $94.28 a barrel. Wholesale New York Harbor gasoline dipped 1.3% to $2.96 a gallon.
In metals, gold dropped $21.60, or 1.4%, to $1,563 a troy ounce.
Foreign Markets
Eurozone blue chips slid 2.3%, the English FTSE 100 dropped 2% to 5466 and the German DAX sold off by 1.9% to 6452.
In Asia, the Japanese Nikkei 225 edged higher by 0.23% to 8974 and the Chinese Hang Seng shed 0.81% to 2616.