Stocks Sink on Goldman, Euro News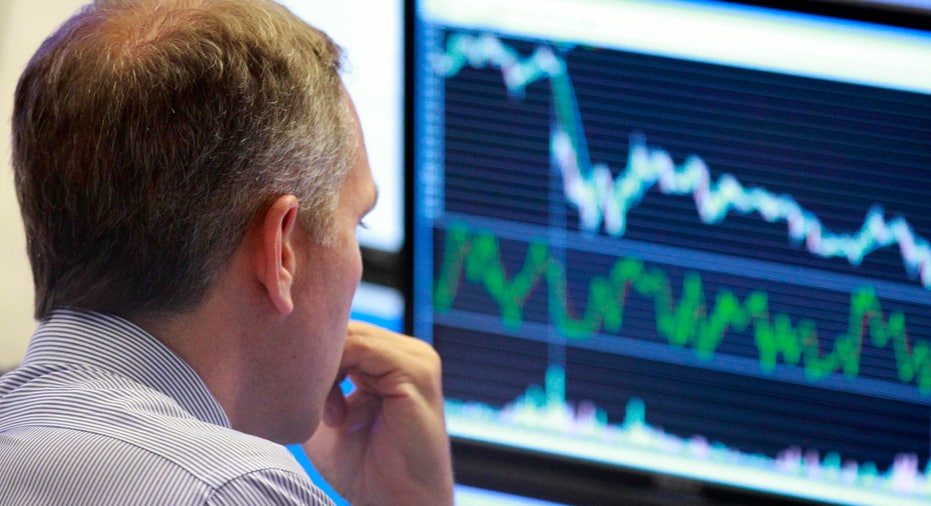 FOX Business: The Power to Prosper
Wall Street slid solidly into negative territory after a raft of negative headlines weighed heavily on sentiment.
Today's Markets
As of 3:15 p.m. ET, the Dow Jones Industrial Average fell 93.1 points, or 0.8%, to 11,521, the S&P 500 dipped 11.9 points, or 0.97%, to 1,207 and the Nasdaq Composite slid 31.7 points, or 1.2%, to 2,548. The FOX 50 fell 7.7 points to 870.
The flow of negative news accelerated substantially in Thursday afternoon, and came from both sides of the Atlantic.
The Federal Reserve ordered investment-banking giant Goldman Sachs (NYSE:GS) to hire an outside consultant to review foreclosures made by a subsidiary.
The bank regulator said it is making the enforcement action "to address a pattern of misconduct and negligence relating to deficient practices in residential mortgage loan servicing and foreclosure processing" by the subsidiary.
The Fed also re-affirmed its stance that "monetary sanctions" will be in order, and said it plans to announce monetary penalties.
The situation for Greece took a negative turn on Thursday as well.  The embattled country is going to miss its deficit-cutting target by at least one percentage point, according to a report by Reuters. That could put the country's much-needed rescue package at stake, potentially creating a problem for the region that is entrenched in a sovereign debt crisis.
The crisis there has already weighed on Wall Street in recent months amid concerns financial problems there could spillover into the American banking system.
The stalling economic recovery has taken the spotlight as one of Wall Street's key concern's. Indeed, there is a deluge of important economic data on tap for Thursday morning.
The White House slashed its projection for the U.S. deficit to $1.32 trillion in 2011, from $1.65 trillion.  It also cut its forecast for economic expansion in 2012.
The Institute for Supply Management's gauge of manufacturing slipped slightly to 50.6 in August from 50.9 last month, topping expectations of  48.5.  A reading above 50 indicates expansion, while those below 50 indicate contraction.
Manufacturing reports, on the whole, have shown considerable weakening in the last several months, adding another layer of concern for the broader economy.  While the ISM report came in above expectations, it still showed the sector expanding a very slow pace.
"The overall sentiment is one of concern and caution over the domestic and international economic environment, which is affecting customers' confidence and willingness to place orders, at least in the short term," ISM survey chair Bradley J. Holcomb said in a release.
Weekly jobless claims fell by 12,000 to 409,000 last week, while continuing claims ticked lower to 3.7 million.  Claims have been hovering about the 400,000-level for several weeks, which many economists have seen as a sign that recovery in the labor market is not as robust as was anticipated months ago.  Productivity for the second quarter was revised down to 0.7%, the steepest drop since fourth quarter 2008.
This report comes ahead of the closely-watched monthly employment situation, slated for release on Friday, which is expected to show the unemployment rate sticking above 9%, with the economy tacking on fewer than 100,000 jobs in August.
Many big-name retailers reported monthly same-store-sales for August on Thursday, and analysts will be looking to see how much of an impact Hurricane Irene had on what is generally a busy shopping weekend. 
Costco Wholesale (NYSE:COST) the biggest retailer to report, posted a bigger-than-expected jump in sales of 11%. The wholesale club said it got a boost from customers taking advantage of savings.
Target (NYSE:TGT) saw its sales jump 4.1%, topping estimates of 3.5%. Gap's (NYSE:GPS) sales slumped 8%, far waker than the loss of 3.8% analysts had expected.
Automakers also reported monthly sales figures throughout the day on Thursday.
General Motors (NYSE:GM) saw its sales jump 18% in August, and the automaker said it is "cautiously optimistic" that economic expansion will once again pick up steam in coming months. Ford (NYSE:F), meanwhile, posted an 11% gain in sales.
The auto industry had been particularly affected by the earthquake and tsunami that slammed Japan in March, because it sparked a slew of issues throughout main company's supply chains that often rely on Japan for electronic parts, and has been recovering.
The markets are coming off the worst August from a performance standpoint since 2001, and the worst month in more than a year.  However, the markets have been on a sharp, four-day winning streak.
Energy futures were modestly higher as traders reacted to temporary closures at several oil wells across the Gulf of Mexico because of a looming hurricane.  The U.S. dollar climbed 0.44% against a basket of world currencies, while the euro fell 0.77% against the dollar.
Light, sweet crude rose 12 cents, or 0.14%, to $88.93 a barrel.  Wholesale RBOB gasoline gained 2 cents, or 0.57%, to $2.89 a gallon.
Gold slipped $2.60, or 0.14%, to $1,829 a troy ounce.
Corporate News
Oracle's (NASDAQ:ORCL) $1.3 billion jury-awarded from SAP (NYSE:SAP) was thrown out by a federal judge, who called for a new trial unless the technology company agrees to a much smaller award.
Foreign Markets
The English FTSE 100 gained 0.45% to 5,418, the French CAC 40 climbed 0.28% to 3,266 and the German DAX fell 0.94% to 5,731.
In Asia, the Japanese Nikkei 225 jumped 1.2% to 9,061 and the Chinese Hang Seng edged higher by 0.25% to 20,585.