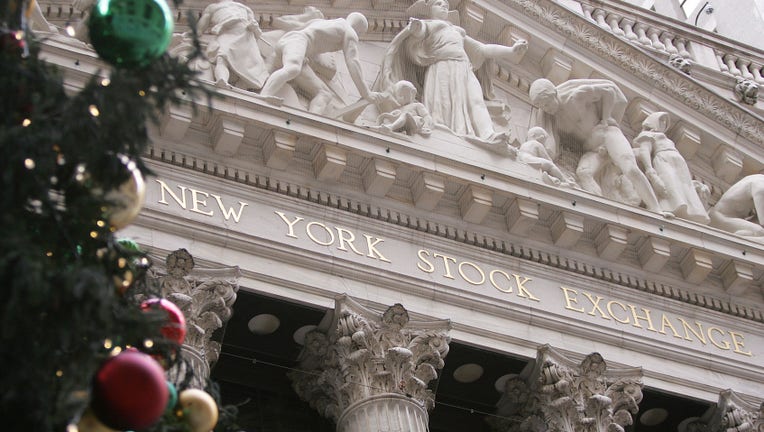 FOX Business: The Power to Prosper
Wall Street climbed deep into positive territory as traders responded to Congress' passage of the payroll tax cut extension.
Today's Markets
As of 3:20 p.m. ET, the Dow Jones Industrial Average jumped 87 points, or 0.71%, to 12,257, the S&P 500 rose 7.8 points, or 0.62%, to 1,262 and the Nasdaq Composite gained 13.6 points, or 0.52%, to 2,613.
The flow of headlines from Europe, which have driven Wall Street recently, has been relatively slow on the week, giving traders a chance to focus on the U.S. economy, the biggest in the world.
The House approved a two month extension to the payroll tax cut on Friday after quick pre-approval in the Senate following weeks of heated debate and political posturing. The bill is now headed to President Barack Obama, who has already pledged to sign it.
The move was important because many American families would have immediately seen their after-tax incomes shrink if not for the passage, which could have slowed already anemic economic growth, analysts have said.
There was also a slew of economic reports on Friday morning. Orders for long-lasting goods jumped 3.8% in November from the month prior, zipping past estimates of a gain of 2%. The major driver of the gain was a 73.3% surge in civilian aircraft orders, analysts said. Indeed, excluding the transportation component, orders were up 0.3%, slightly shy of the 0.5% gain that was anticipated.
Meanwhile, consumer spending ticked up 0.1% in November, less than the 0.3% economists' had been expecting. Personal income edged 0.1% higher, also missing estimates of a gain of 0.2%.
New sales of single-family homes increased 1.6% to an annualized 315,000-unit rate in November compared to a 1.3% rise in October. The median sale price dropped 2.5% to $214,100 from the same month in 2010. The market for new homes has been sluggish as the supply of houses on the market has remained high and credit conditions have remained tight.
Despite a disappointing reading on third-quarter economic growth, the markets rallied behind data showing weekly claims for unemployment benefits are at the lowest level since April 2008 in the prior session.
Trading volume has been low this week as compared to other weeks this year as fewer market participants have been present as a result of the holidays. Several European markets close early on Friday, and the Tokyo Stock Exchange is closed for the entire day for the Emperor's Birthday holiday. The thin trade could potentially stir volatility, traders say.
In currencies, the euro fell 0.08% to $1.3039, while the U.S. dollar rose 0.11% against a basket of six world currencies.
Commodities were mixed in light trade. The benchmark crude oil contract traded in New York gained 15 cents, or 0.15%, to $99.68 a barrel. Wholesale RBOB gasoline jumped 1.8% to $2.6872 a gallon.
Gold ticked lower by $4.60, or 0.29%, to $1,606 a troy ounce.
Foreign Markets
European blue chips climbed 0.45%, the English FTSE 100 rallied 1% to 5,513 and the German DAX rose 0.13% to 5,860.
In Asia, the Chinese Hang Seng jumped 1.4% to 18,629, while Japanese markets were closed for a holiday.