Stocks Post Rebound Rally on Earnings, Data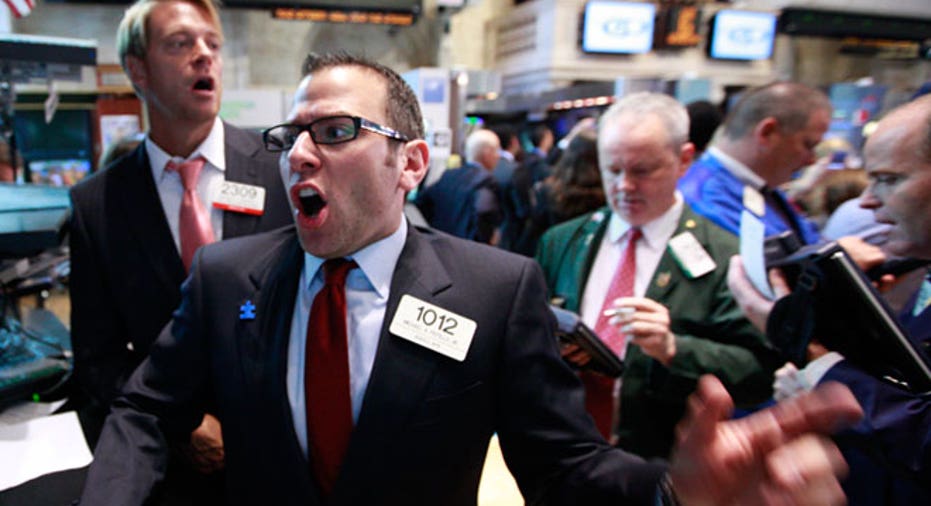 FOX Business: Capitalism Lives Here
The markets roared higher Tuesday after the worst rout of the year as traders cheered a round of strong corporate earnings,encouraging economic data and bid up beaten down stocks.
Today's Markets
As of 1:18 p.m. ET, the Dow Jones Industrial Average rallied 141 points, or 0.97%, to 14741, the S&P 500 jumped 19.3 points, or 1.2%, to 1572 and the Nasdaq Composite climbed 42.7 points, or 1.3%, to 3259.
The markets took a thrashing on Monday, with the Dow and S&P 500 taking their worst falls since last November. The tech-heavy Nasdaq stumbled the most since June. The move was driven by a confluence of factors, from weak data in China, to a collapse in the commodities complex, to news of the bombings in Boston.
The markets were poised to open higher on the day, as traders took advantage of the beaten-down stock prices. Meanwhile, gold futures climbed $26.80, or 2%, to $1,388 a troy ounce following the biggest selloff in a percent basis in three decades. The benchmark U.S. crude oil contract was essentially flat at $88.66 a barrel after plummeting 2.8% in the last session.
The docket of corporate and economic events was full on the day.
Coca-Cola (NYSE:KO) unveiled adjusted first-quarter profits of 46 cents a share, topping estimates by a penny. Sales of $11.03 billion also beat expectations of $10.94 billion. Goldman Sachs (NYSE:GS) posted diluted, first-quarter earnings of $4.29 a share, compared to $3.92 in the same period in 2012. It wasn't immediately clear whether the figure was comparable to estimates of $3.88 a share. Revenues of $10.09 billion topped expectations of $9.72 billion.
Johnson & Johnson (NYSE:JNJ) posted adjusted first-quarter earnings of $1.44 a share on revenues of $17.5 billion, topping expectations of $1.40 a share on $17.42 billion.
Intel (NASDAQ:INTC) and Yahoo! (NASDAQ:YHOO) report after the close in New York.
The Commerce Department said housing starts jumped 7% in March from February to an annualized 1.03 million-unit rate, easily beating expectations of 930,000. Permits dropped 3.9% for the month to an annualized rate of 902,000 units, falling short of forecasts of 940,000 units.
Meanwhile, a report from the Labor Department showed inflation at the consumer level fell 0.2% in March from February, compared to expectations of no change. Excluding the food and energy components,  prices were up 0.1%, a slightly shallower rise than the 0.2% increase economists forecast. The headline reading climbed 1.5% from the year prior in the smallest year-to-year increase since July 2012.
The Federal Reserve's industrial production gauge rose 0.4% in March from the month prior, topping estimates of a gain of 0.2%. Still, the manufacturing component slipped 0.1%, shy of estimates of a gain of 0.1%.
Foreign Markets
The Euro Stoxx 50 fell 0.49% to 2612, the English FTSE 100 dipped 0.46% to 6314 and the German DAX slumped 0.37% to 7685.
In Asia, the Japanese Nikkei 225 slipped 0.41% to 13221 and the Chinese Hang Seng edged lower by 0.46% to 21672.