Stocks Log Worst Day Since September, Trump Trade Loses Steam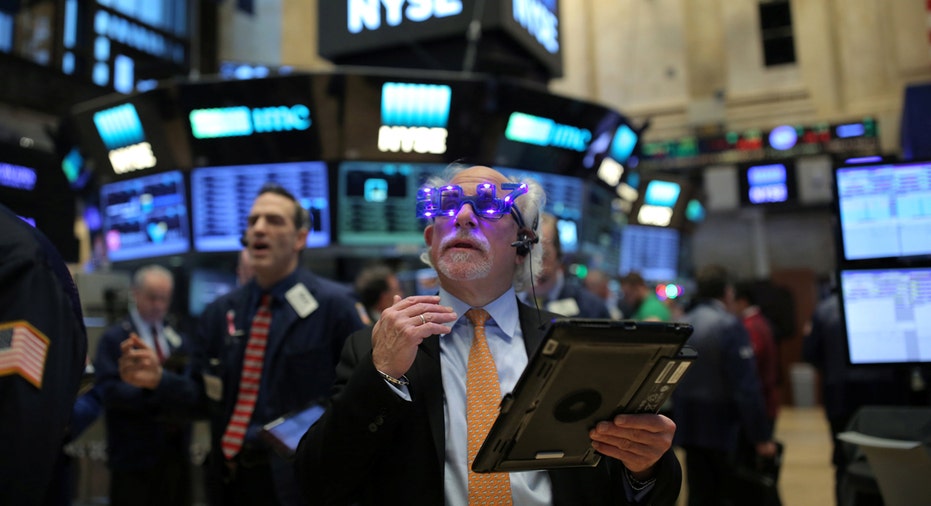 U.S. stocks saw their worst performance of the year on Tuesday.
A ho-hum start to the session that had the Nasdaq Composite in record territory quickly gave way to a wave of negative sentiment that overtook the Street, sending banks and other financial names plunging and Wall Street's so-called fear gauge rising. It was the biggest percentage decline for the major averages since before the November election.
Spooking investors was fresh fear that President Donald Trump's fiscal policy promises were facing potential roadblocks. The president paid a visit to Capitol Hill Tuesday morning to close a deal with House Republicans on the Affordable Care Act replacement bill, and sources told the FOX Business Network Trump issued a stern warning to those in attendance that if the bill doesn't pass the chamber on Thursday, their seats could be in jeopardy in 2018.
For investors, the bigger picture is what packs a punch. If the Trump administration isn't able to repeal and replace former President Barack Obama's hallmark health care law, it could call into question the ability to get other priorities -- like tax reform and a regulation overhaul -- across the finish line.
"It's not so much that health care reform would do anything directly to stocks or profitability, but it says a lot about what Congress and the president will be able to get done," said Andy Kapyrin, director of research at Regent Atlantic. "If they can't get health care reform done, which is priority number one, that means things like tax reform, a tax holiday to repatriated income, infrastructure spending, or regulatory reform are all going to be that much harder and less likely."
The three major U.S. equity indexes rose modestly at the opening bell in New York, as the Nasdaq hit a fresh record helped by momentum from tech heavyweight Apple (NASDAQ:AAPL), which was also the Dow Jones Industrial Average's biggest gainer, after it unveiled a new slate of red-hued gadgets and received analyst upgrades.
Stocks ended the day at session lows: The Dow erased 237 points, or 1.14% to 20668 as banks and industrial companies including Caterpillar (NYSE:CAT), Goldman Sachs (NYSE:GS), and JPMorgan Chase (NYSE:JPM) all fell at least 2%. Caterpillar and Goldman Sachs fell more than 3% each.
The broader S&P 500, meanwhile shed 29 points, or 1.24% to around 2344 points, snapping a 109-day streak of downside moves of less than 1%. It was the longest such streak since May 1995. The Nasdaq, meanwhile, shed 107 points, or 1.83% to 5739.
Ticker
Security
Last
Change
Change %
GS
THE GOLDMAN SACHS GROUP INC.
304.67
-4.33
-1.40%
MS
MORGAN STANLEY
81.31
-1.80
-2.17%
JPM
JPMORGAN CHASE & CO.
108.17
-2.25
-2.03%
BAC
BANK OF AMERICA CORP.
31.46
-0.46
-1.44%
C
CITIGROUP INC.
43.05
-0.80
-1.82%
The financial sector was hit hardest dropping 2.9% as investors worried about the future of Trump's plan to roll back onerous regulations as they also kept an eye on speeches from a number of Federal Reserve officials, including Kansas City Fed chief Esther George who said openings on the Federal Reserve board will "matter importantly" to financial regulation and supervision as the central bank is in a "critical" time right now. The financial sector saw its biggest percentage-based decline since June with every constituent in negative territory, though the sector is still up more than 28% from a year ago.
The industrials and materials sectors also saw the brunt of the selloff as utilities, traditionally seen as a safety play, jumped more than 1% on the session.
"The crowded trades are the ones that are seeing the heaviest selling in the U.S. … it is these that have been highlighted as some of the most popular investments by fund managers in the most recent Merrill Lynch survey. Like the recent unwind in oil, it is never wise to hang around in a jam packed trade, since the unravelling can be ugly," said Chris Beauchamp, chief market analyst at IG.
As investors took a risk-off approach to trading, sending stocks lower and the VIX – a measure of Wall Street fear – slightly higher to 12.59, they sought the safety of gold, and government debt. The precious metal rose 0.83% to $1,244 a troy ounce, while the yield on the benchmark 10-year U.S. Treasury note declined 0.040 percentage point to 2.432% and the 30-year bond yield slid 0.039 percentage point to 3.049%. Yields move in the opposite direction of prices.
Even with Tuesday's selloff, U.S. equities have still notched substantial gains since Election Day. The Dow has held on to gains of 12.5% while the S&P has risen 9.58% and the Nasdaq is up 11.55%.