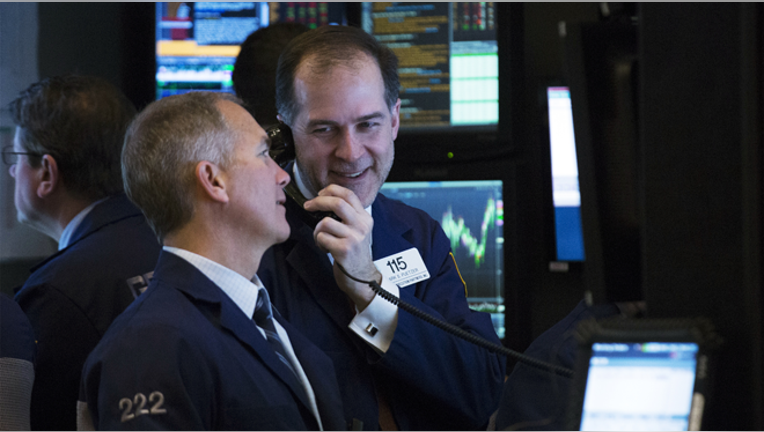 FOX Business: Capitalism Lives Here
A relatively muted reaction to the events this weekend in Crimea, coupled with reform in China, sparked a rally on Wall Street.
Today's Markets
The Dow Jones Industrial Average jumped 182 points, or 1.1%, to 16248, the S&P 500 advanced 17.7 points, or 0.96%, to 1859 and the Nasdaq Composite climbed 34.6 points, or 0.81%, to 4280.
Wall Street posted a rebound rally Monday. Cyclical stocks that under-performed last week led the way higher on the day, as the CBOE's VIX stumbled 12%.
It was a busy weekend on the geopolitical front.
The People's Bank of China said it would widen the band in which the renminbi trades from plus-or-minus 1% to plus-or-minus 2%. The U.S. and other international players have for a long while prodded the economic giant to allow for a more flexible exchange rate, alleging China was artificially keeping the rate low to encourage exports.
"The change is likely aimed at generating greater exchange rate flexibility, which has been a well-publicized top reform priority for the PBoC. Given recent weakness in Chinese economic activity and continued concerns about domestic financial sector risks, we now expect further [renminbi] depreciation in the near term," analysts at Barclays wrote to clients on Monday.
A near-term depreciation against the greenback could help stem the slowing of Chinese growth -- something that has concerned Wall Street recently. Still, analysts at Nomura warn that while the move is a "positive reform in the long term" it "increases the risks of more volatile capital flows."
Meanwhile, on the European front, citizens in Crimea voted to leave broader Ukraine in a contested referendum. The region's parliament also declared its independence from Ukraine and asked Russia for annexation. The region on the eastern part of Ukraine is predominantly Russian.
Relations between Russia and the Western world (including the European Union and the U.S.) have cooled as Russia has worked to pull strings in Ukraine following a revolt in Kiev. That revolution toppled a Russia-friendly government that was seen as corrupt.
The question now is whether the U.S. and EU will put sanctions in place against Russia in a bid to pressure the country to back away from Ukraine.
"The conventional wisdom on any sanctions at this juncture is that they will be mild and mainly related to diplomatic relations as opposed to economics and flows of money," Michael Block, chief strategist at Rhino Trading Partners, wrote in an e-mail.
"If there are heavy economic sanctions, I would view that as a negative given how complacent the sentiment is on that right now."
In U.S. news, the New York Federal Reserve's gauge of regional manufacturing activity rose to 5.61 in March, below Wall Street estimates of 6, but above 4.48 the month prior. Readings above 0 point to expansion, while those below point to contraction.
The National Association of Home Builders' measure of homebuilder sentiment rose to 47 in March from 46 in February, missing estimates of 50.
The economy took a hit in the first two months of this year from unseasonably harsh weather that swept across much of the country. Economists are broadly expecting a rebound as winter turns to spring.
Elsewhere, U.S. crude oil futures fell 81 cents, or 0.82%, to $98.08 a barrel. Wholesale New York Harbor gasoline slid 2.7% to $2.811 a gallon. Gold slumped $6.10, or 0.44%, to $1,373 a troy ounce.