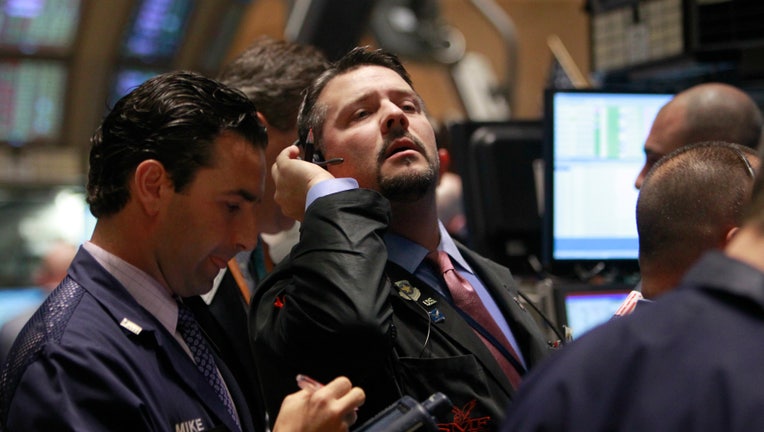 FOX Business: Capitalism Lives Here
Solid quarterly reports from a handful of big-name firms, coupled with strong data from China, sent U.S. stock markets climbing on Thursday.
Today's Markets
The Dow Jones Industrial Average climbed 95.88 points, or 0.62%, to 15509.21, the S&P 500 gained 5.69 points, or 0.33%, to 1752.07 and the Nasdaq Composite advanced 21.89 points, or 0.56%, to 3928.96.
The Dow widely outperformed the broader S&P 500 on the day on the back of strong gains in blue chips like Goldman Sachs (NYSE:GS), Disney (NYSE:DIS) and ExxonMobil (NYSE:XOM). AT&T (NYSE:T) shares dipped after the telecom giant revealed disappointing results after the close Wednesday.
Consumer discretionary stocks performed best on the day, followed by energy and technology shares. On the other end of the spectrum, telecommunications and utility players struggled.
Small-cap stocks continue to outperform, with the Russell 2000 on track for its eighth consecutive weekly advance -- the longest such winning streak in more than a decade.
China's manufacturing activity ticked up to a seven-month high in October. HSBC's gauge climbed to 50.9 from 50.2 in September. Analysts have been paying close attention to the world's second-biggest economy amid worries growth there will slow down too quickly.
"On the back of broadbased modest improvements. This implies that China's growth recovery is becoming consolidated into 4Q following the bottoming out in 3Q," Hongbin Qu, HSBC's chief economist for China wrote in the report.
"This momentum is likely to continue in the coming months, creating favorable conditions for speeding up structural reforms."
Traders also got a batch of data on the American economy -- the world's biggest.
The Commerce Department said the U.S. trade gap widened in August to $38.8 billion from $38.64 billion the month prior. Economists expected the deficit to expand to $39.5 billion.
A report from the Labor Department showed the number of people filing for first-time jobless benefits fell to 350,000 last week from an upwardly-revised 362,000 the week prior. Economists expected claims to fall to 340,000 from an initially reported 358,000.
The economic indicators will help the Federal Reserve determine its path for monetary policy. The central bank is set to meet next week after surprising Wall Street by not tapering its bond-buying program in September. Now, many analysts don't expect the Fed to begin cutting back on its asset purchases until March.
Indeed, Mary Beth Fisher, an analyst at Societe Generale went as far as to tell clients Thursday, "while we assign a very low probability to a decision by the FOMC to increase asset purchases at its October meeting, it is not a possibility we can ignore."
On the earnings front, 3M (NYSE:MMM) and Ford (NYSE:F) posted better-than-expected third-quarter results. Bank of America (NYSE:BAC) said it is laying off 1,200 mortgage workers as part of broader cost cuts as it saw loan delinquencies fall sharply in recent years.
Elsewhere, U.S. crude oil futures rose 25 cents, or 0.25%, to $97.11 a barrel. Wholesale New York Harbor gasoline advanced 1.5% to $2.59 a gallon. Gold climbed $16.30, or 1.2%, to $1,350 a troy ounce.
Foreign Markets
The Euro Stoxx 50 rallied 0.72% to 2039, the English FTSE 100 rose 0.58% to 6713 and the German DAX rose 0.68% to 8981.
In Asia, the Japanese Nikkei 225 climbed 0.42% to 14486 and the Chinese Hang Seng slumped 0.71% to 22836.