Stocks Higher on First Trading Day Since Paris Attacks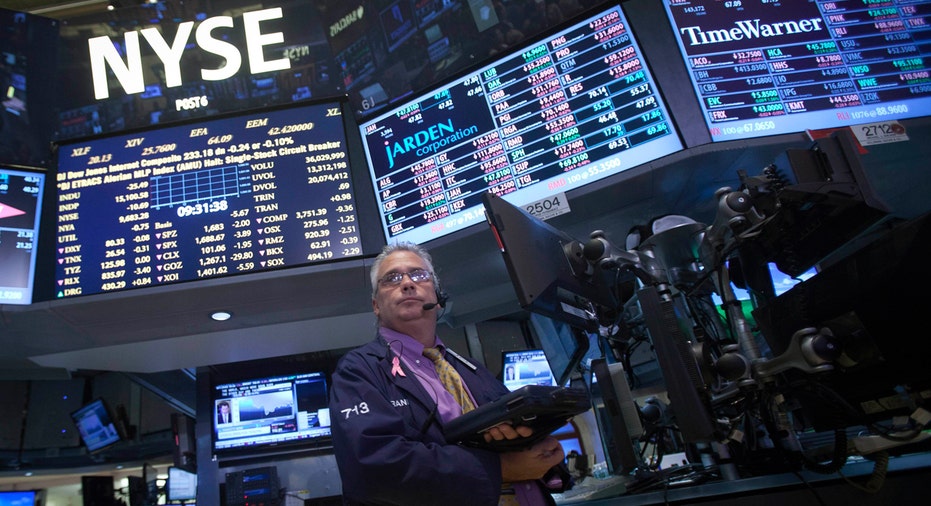 U.S. equity markets were solidly higher on Monday, showing resiliency during the first trading day since the devastating terror attacks in Paris on Friday.
The Dow Jones Industrial Average surged 237 points, or 1.38% to 17483. The S&P 500 added 30 points, or 1.49%, to 2053 while the Nasdaq Composite gained 56 points, or 1.15% to 4984.
Energy and telecoms were the biggest gainers on the session.
Today's Markets
U.S. stock equity markets followed their European counterparts in rebound following Friday's terrorist attacks in France that killed at least 129 people.
The New York Stock Exchange observed a moment of silence ahead of the opening bell on Monday to honor the victims of the attacks. Trading began as normal at 9:30 a.m.
Gold prices pared big gains, rising 0.31% to $1,084 a troy ounce as traders flocked to safe-haven assets. Meanwhile, geopolitical concerns helped lift global oil prices in early trade, though gains were limited due to persisting concerns of a worldwide supply glut before turning mixed. U.S. crude traded up $1, or 2.5% to $41.74 a barrel, while Brent, the international benchmark, added 14 cents, or 0.31% to $44.61 a barrel.
IG Market analyst Joshua Mahony said in a note that while European indices initially gapped lower, just like the people there, markets have proven "surprisingly resilient."
"While the total human impact is immeasurable, the economic shock waves to the French economy could include reduced investment, consumer spending and confidence for an economy that is already under pressure," he noted.
European equity markets saw slight gains before closing mostly higher. The French CAC 40 ended flat, down 0.08%, while the German Dax rose 0.05%. The Euro Stoxx 50, which tracks large-cap companies in the eurozone, gained 0.05% and the UK's FTSE 100 added 0.46%.
In currencies, the euro declined 0.85% against the U.S. dollar, while the greenback was stronger against a basket of other global currencies. Meanwhile, the yield on the U.S. 10-year Treasury bond was 0.014 percentage point lower, to 2.27%.
In the U.S., traders will keep a keen eye on the major averages, which hit a 3-1/2 week low after snapping a six-week winning streak last week. Shares of aerospace and defense rose sharply on Monday in reaction to the attacks in France. Names including General Dynamics (NYSE:GD), Boeing (NYSE:BA), Northrop Grumman (NYSE:NOC), Lockheed Martin (NYSE:LMT), and Raytheon (NYSE:RTN) benefitted from calls to increase efforts to crush ISIS, the Islamic terrorist group responsible for Friday's attacks.
Elsewhere in the world, Asia markets were mixed on the session as economic data came back into focus: China's Shanghai Composite gained 0.73%, while Hong Kong's Hang Seng dropped 1.72%, and Japan's Nikkei declined 1.04%.
Official data from Japan on Monday showed the world's third-largest economy saw two-consecutive quarters of decline after it contracted at an annualized rate of 0.8% in the July to September period. During the prior quarter, the economy shrank 0.7%.
"This is the second recession under Shinzo Abe, who has been in power since 2012, and no doubt this brings up many questions regarding the validity of Abenomics, which have been aimed at restoring growth and ending endemic deflation," Mahoy said.
In corporate news, Marriott (NASDAQ:MAR) said it will buy Starwood Hotels (NASDAQ:HOT) for $12.2 billion in cash and stock. The deal would create the world's biggest hotel chain, and is expected to close in the middle of next year.
On the economic-data front, meanwhile, the New York Fed's gauge of manufacturing activity in the region rose slightly in November, but remained rooted in contraction territory. The gauge rose to -10.74 during the month from a reading of -11.36 in October, but Wall Street had forecast a bigger rebound to -6. A reading above 0 indicates expansion, while those below point to contraction.