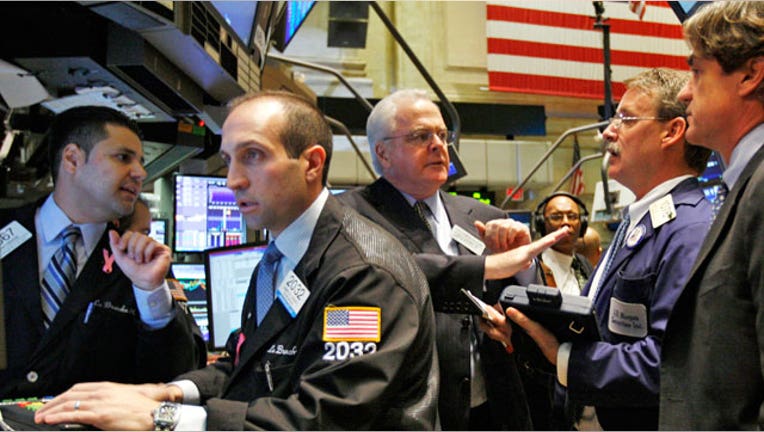 FOX Business: Capitalism Lives Here
The markets dipped on Wednesday after the Fed stood pat on its policy stance and traders bet on December as the month when the central bank will begin tapering its vast bond-buying program.
Today's Markets
The Dow Jones Industrial Average fell 61.6 points, or 0.39%, to 15619, the S&P 500 dipped 8.6 points, or 0.49%, to 1763 and the Nasdaq Composite declined 21.7 points, or 0.55%, to 3931.
Wall Street got no rest on Wednesday.
The Federal Reserve said it will continue buying financial assets at a pace of $85 billion a month as it awaits 'more evidence' of economic progress. The central bank also reaffirmed its vow to keep interest rates at historic lows until the unemployment rate falls to 6.5%.
Initially markets traded flat on the status quo message. However, headlines from the Wall Street Journal that the central bank could begin paring back its bond purchases as early as December worried some market participants.
Peter Boockvar, chief market analyst at The Lindsey Group, said the sudden dip could just be the result of a highly-bought market.
"I think this is a sell on the news," Boockvar said. "We've had a massive run."
Elsewhere on the economic front, payroll processor ADP said private-sector employment increased by 130,000 in October, shy of estimates of 150,000.
The report "reinforces the idea that job creation in October isn't going to be any more robust than any recent month," according to Dan Greenhaus, chief global strategist at BTIG.
The Labor Department said consumer prices rose 0.2% in September from the month prior, matching expectations. Excluding the food and energy sectors, inflation rose 0.1% , slightly lower than the 0.2% expected.
Both employment and prices are critical factors for the Federal Reserve as it decides on its monetary-policy path. The central bank has a dual mandate to keep the unemployment rate at its natural level while also keeping prices in check. Thus far, the Fed has focused on increasing employment since inflation remains beneath its target level.
On the earnings front, General Motors (NYSE:GM) posted better-than-expected third-quarter profits, sending its shares higher. Automakers are often seen as a proxy for the broader economy and consumer sentiment.
In commodities, U.S. crude oil futures dipped $1.43, or 1.5%, to $96.77 a barrel. Wholesale New York Harbor gasoline rose 1.6% to $2.651 a gallon. In metals, gold rose $3.80, or 0.28%, to $1,349 a troy ounce.
Foreign Markets
The Euro Stoxx 50 climbed 0.44% to 3064, the English FTSE 100 gained 0.46% to 6806 and the German DAX advanced 0.36% to 9054.
In Asia, the Japanese Nikkei 225 rallied 1.2% to 14502 and the Chinese Hang Seng surged 2% to 23304.