Stocks Edge Lower As Oil Pulls Back From Highs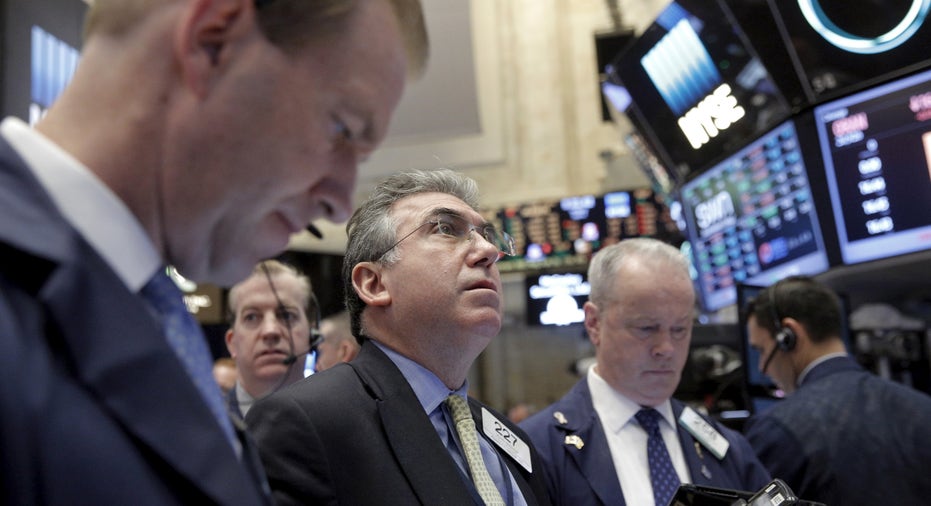 U.S. stocks took a breather from a recent rally on Thursday, edging lower as oil prices pulled back from their 2016 highs.
Market reaction to initial jobless claims was muted as a weekly tally of those seeking first-time unemployment benefits pointed to low levels of layoffs even as other data showed hiring slowed in recent months.
The S&P 500 declined 7 points, or 0.3%, to 2,112 with materials and financial stocks leading broad-based losses. Seven out of the index's 10 sectors were lower, with consumer staples, telecom and utilities showing slight gains.
The Dow Jones Industrial Average slipped 50 points, or 0.3%, to 17,955, with shares of American Express Co.(AXP), Caterpillar Inc.(CAT), and Goldman Sachs Group Inc.(GS) leading blue chips lower.
The Nasdaq Composite Index declined 21 points, or 0.4%, to 4,954.
"A small consolidation after a big rally is not unusual, especially as investors are cautious ahead of the Federal Reserve meeting next week," said Karyn Cavanaugh, senior market strategist at Voya Financial.
"While the current environment can explain why stocks rallied--the oil prices are higher, the dollar is low and the Fed is likely to hold off rate hikes until later in the year, for stocks to surge, earnings need to catch up," Cavanaugh said, adding that volatility is likely to continue into the summer.
The pullback comes after both the Dow and S&P 500 logged a three-day winning streak on Wednesday, driven largely by a rally in oil prices to an 11-month high. Oil prices initially continued their march higher on Thursday, but turned lower early in European trade. Crude fell 1.6% to $50.39 a barrel, while Brent dropped 1.3% to $51.81.
While the correlation between oil and stock prices is not as strong as it was earlier in the year, it is still in effect especially with the S&P 500 about 1% off its all-time high, said Randy Frederick, managing director of trading and derivatives at Schwab Center for Financial Research.
"It's not surprising that there's a little bit of profit-taking," Frederick said. With the recent dovish sentiment coming out of the Fed providing lift to stocks this week and virtually no chance of a June rate hike next week, the central bank's press conference could very well lift the S&P 500 back to a new all-time high, as well as a new resistance level, he said.
Economic news:Initial U.S. jobless claims fell to 264,000 in early June, marking the lowest level of new claims in six weeks. The data suggest layoffs remain low despite signs of a slowdown in hiring.
The dollar has been falling sharply on lower expectations of a rate increase, but took a breather from the selloff on Thursday, with the ICE dollar index up 0.5% to 94.02.
Moves in stocks came as the yield on benchmark 10-year Treasurys touched their lowest level in four months, at 1.66%.
There will be no Fed speakers on Thursday as the central bank is in its blackout period ahead of the June 14-15 meeting.
Movers and shakers:Health Insurance Innovations Inc. (HIIQ) dropped 28% after a Raymond James downgrade Thursday. The company's stock has dropped nearly 31% this week after the Department of Health and Human Services announced Wednesday morning a proposal to cut down on short-term health insurance plans.
Shares of J. M. Smucker Co.(SJM) rallied 7.1% after the company's earnings forecast exceeded expectations.
Boston Scientific Corp.(BSX) is restructuring to save the medical-device maker up to $150 million a year by 2020. Shares are up 1.9%.
Shares of Restoration Hardware Holdings Inc.(RH) slumped 19% after the retailer late Wednesday swung to a first-quarter loss and lowered its outlook for 2016, casting doubts about the luxury-goods market and citing potential product delays, among other issues.
Google Inc. parent Alphabet Inc.(GOOGL) slipped 0.2%. The company said it wants to beam high-speed internet to homes, using technology that it says is cheaper than laying cables.
Tempur Sealy International Inc. (TPX) declined 2.8% after the company said its board agreed to increase the company's share buyback program by $200 million.
Solar City Corp. shares (SCTY) slipped 0.9% even after RW Baird raised its rating on the solar power company to outperform from neutral.
Energy companies were hit, tracking the drop in oil prices. Shares of NRG Energy Inc., (NRG) slumped 7.2%, prompting UBS analysts to downgrade the stock to sell from buy. ChesapeakeEnergy Corp.(CHK) dropped 5.6%.
Other markets: Asian stock markets closed broadly lower, as traders there fretted over the pace of the U.S. economic recovery and the Brexit referendum in the U.K. Markets were closed in Shanghai and Hong Kong for the Dragon Boat festival.
Stocks in Europe were also falling, with energy shares weighed by the drop in oil prices.
Meanwhile, gold futures climbed to their highest levels since mid-May.
--Sara Sjolin in London contributed to this report.
By Anora Mahmudova and Wallace Witkowski, MarketWatch