Stocks Close Higher For Second-Straight Day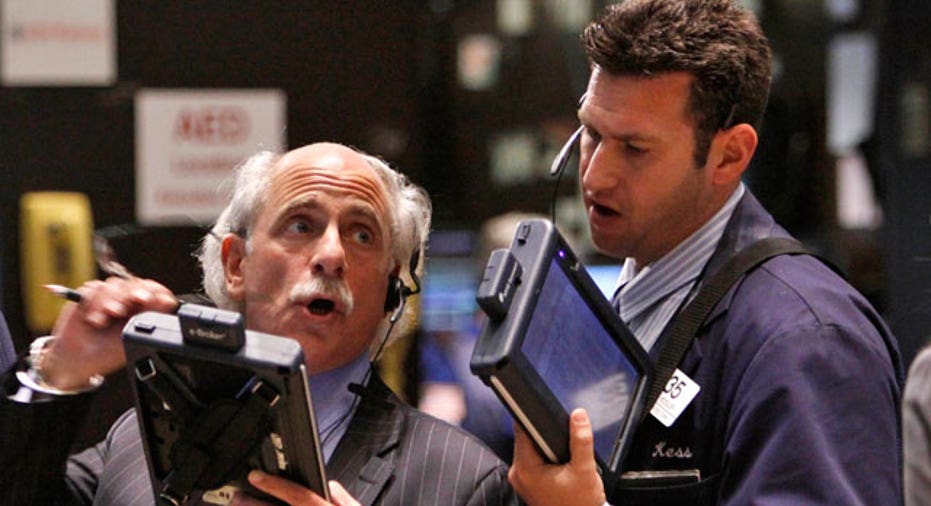 FOX Business: The Power to Prosper
Wall Street closed out a choppy trading session with modest gains for the second-straight day on Tuesday, a stark contrast from the heavy losses sustained late last week.
Today's Markets
The Dow Jones Industrial Average rose 44.7 points, or 0.4%, to 11,106, the S&P 500 gained 10.6 points, or 0.91%, to 1,173 and the Nasdaq Composite rose 37.1 points, or 1.5%, to 2,532.
The industrial and materials sectors performed the best by a considerably margin on Tuesday, with stocks like General Electric (NYSE:GE) and Freeport-McMoRan Copper (NYSE:FCX) posting strong gains. However, energy companies like ExxonMobil (NYSE:XOM) lagged behind significantly.
Despite a modest two-day advance, the markets are still deep in the red for the month; indeed, the broad S&P 500 index is down 3.8% since Sept. 1.
Wall Street has been fixated on the euro zone sovereign debt crisis in recent weeks, with single headlines often causing substantial swings.  In fact, the Dow made a stunning recovery in the last half hour of trading on Monday on a report by the Financial Times that Chinese officials were mulling investing in beleaguered Italian bonds.
Italy is Europe's third-largest economy, but it is highly indebted, and has seen its borrowing costs spike amid worries the government will have trouble servicing its debt as the global economy weakens. A spokesperson for the Italian government confirmed a meeting with Bejing, according to Reuters, but failed to comment on the substance of the meeting.
"Markets are tired of talk and rumour on how to get Europe back on its feet and are still waiting for concrete results," Ben Critchley, a Sales Trader at IG Index, a London-based trading firm, wrote in a research note.
Meanwhile, there were also growing concerns that Greece may default on its debt as its deepening recession has put much-needed rescue aid from the European Union in peril.  In fact, the cost of insuring Greek debt against a default soared.
French banks including BNP Paribas, Societe Generale and Credit Agricole, which have a particularly high exposure to Greek debt, have been pummeled as a result of the uncertainty, but moved higher on the day.
In currencies, the euro gained 0.1% against the U.S. dollar, while the greenback fell 0.08% against a basket of world currencies.
The economic calendar for the first two days of the week has been fairly light, with only two releases on Tuesday.  U.S. import prices fell 0.4%, a smaller fall than the 0.8% economists anticipated, while export prices rose 0.5% compared with forecasts of no change.  On a year-over-year basis, import prices have soared 13%, while export prices have jumped 9.6%.
The United States tacked on another $134.15 billion budget deficit in August, pushing the Federal budget deficit to $1.234 trillion for the first 11 months of fiscal 2011.
Energy markets were mixed on the day.  Light, sweet crude jumped $2.02, or 2.3%, to $90.21 a barrel.  Wholesale RBOB gasoline gained less than a penny to settle at $2.74 a gallon.
Prices at the pump fell slightly overnight.  A gallon of regular costs $3.64 on average nationwide, up from $3.60 last month, and well higher than the $2.71 drivers paid last year.
In metals, gold rose $16.80, or 0.93%, to $1,830 a troy ounce.
Corporate News
Best Buy (NYSE:BBY) boosted its fiscal-year 2012 earnings forecast to $3.35 to $3.65 a share, from $3.30 to $3.55.  The technology retailer also saw its second-quarter profit fall 22% to 47 cents from 60 cents last year, missing analysts expectations of 53 cents.
News Corp. (NASDAQ:NWSA) Deputy Chief Operating Officer James Murdoch is being recalled to the U.K. House of Commons Culture Committee for testimony regarding the phone-hacking scandal at the now defunct News of the World. News Corp. is the parent company of FOX Business Network and FOXBusiness.com.
Foreign Markets
The English FTSE 100 was up 0.87% to 5,174, the French CAC 40 rose 1.4% to 2,894 and the German DAX climbed 1.9% to 5,166.
In Asia, the Japanese Nikkei 225 jumped 0.95% to 8,617 and Chinese markets were closed for the day after the Mid-Autumn festival.