Stocks Climb in Late-Session Action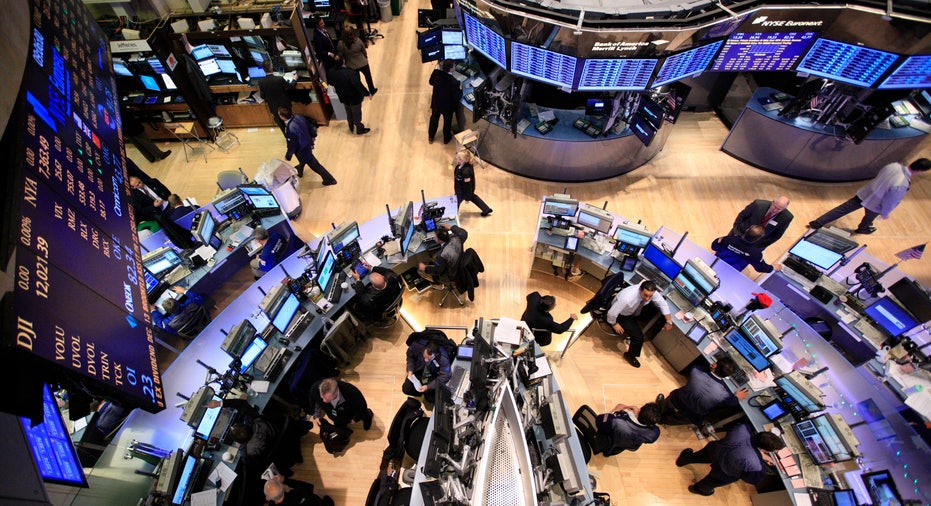 FOX Business: The Power to Prosper
The blue chips managed to come back from a triple-digit loss as traders paid close attention to the unfolding situation in Europe.
Today's Markets
As of 3:44 p.m. ET, the Dow Jones Industrial Average climbed 34.9 points, or 0.27%, to 12455, the S&P 500 rose 2.8 points, or 0.21%, to 1316 and the Nasdaq Composite dropped 2.7 points, or 0.1%, to 2833.
It has been a rough month for Wall Street, with the Dow and S&P 500 on track to take the biggest loss on a percent basis since September 2011. In a sign of the anxiety, the yield on the U.S. 10-year Treasury fell to its lowest level on record at 1.538%.
The deepening debt debacle in Europe has been a major focus across world trading desks. In particular, analysts have focused intently on Greece and Spain. Greece is holding a re-election next month that is likely to seal its fate either in or out of the eurozone . A poll released at mid-day on Thursday showed the conservative, pro-bailout New Democracy party edging out the anti-austerity challengers. If the country supports the bailout, and accompanying austerity measures, it will dramatically increase the chances that it will remain part of the currency bloc.
Traders got a glimpse of how the world's biggest economy is faring on Thursday.
The Institute for Supply Management-Chicago reported its gauge of business conditions dropped sharply to 52.7 in May from 56.2 in April. It was the weakest rate of expansion since September 2009. Economists were expecting a slight increase to 56.5. Readings above 50 point to expansion, while those below indicate contraction. The national report from the Institute for Supply Management is slated for release on Friday.
The private sector tacked on 133,000 jobs in May, according to payroll processor ADP, which came in slightly below the 148,000 economists forecast. That was a stronger gain than the 119,000 added in April.
The report "absolutely reinforces the idea that ... employment growth has decelerated of late, likely due to uncertainty over the path of economic growth in the United States in light of growing issues in Europe," Dan Greenhaus, chief global strategist at BTIG, wrote in an e-mail.
A separate report from the Labor Department showed new claims for unemployment benefits rose to 383,000 last week from an upwardly revised 373,000 the week prior. Claims were expected to remain unchanged at a previously reported 370,000. Meanwhile, the number of planned U.S. layoffs soared 53% in May from April to 61,887, according to Challenger, Gray & Christmas. It was the highest reading since September 2011.
"The single variable that matters most in our economy is employment," said Lawrence Creatura, a portfolio manager at Federated Investors, which manages $364 billion in assets. "If you fix that, you really fix everything."
However, Creatura warns that "the symptoms aren't good" leading up to the closely-watched monthly employment report on Friday.
Indeed, a second reading on U.S. gross domestic product from the Commerce Department showed the economy expanded at an annualized rate of 1.9% in the first quarter of 2012, in line with economists' estimates, but slower than an initial estimate of 2.2%. This represents a decrease from the 3% growth rate in the fourth quarter of 2011.
Meanwhile, the Energy Department said oil inventories soared 2.2 million barrels last week, a much bigger build than the 600,000 that was expected. That put pressure on energy futures.
The benchmark crude oil contract traded in New York dropped $1.28, or 1.5%, to $86.52 a barrel. Wholesale New York Harbor gasoline fell 1.4% to $2.82 a gallon.
In metals, gold rose $1.90, or 0.13%, to $1,568 a troy ounce.
Foreign Markets 
The Euro Stoxx 50 fell 1.1% to 2115, the English FTSE 100 gained 0.18% to 5307 and the German DAX edged lower by 0.26% to 6264.
In Asia, the Japanese Nikkei 225 sold of by 1.1% to 8543 and the Chinese Hang Seng dipped 0.32% to 18629.