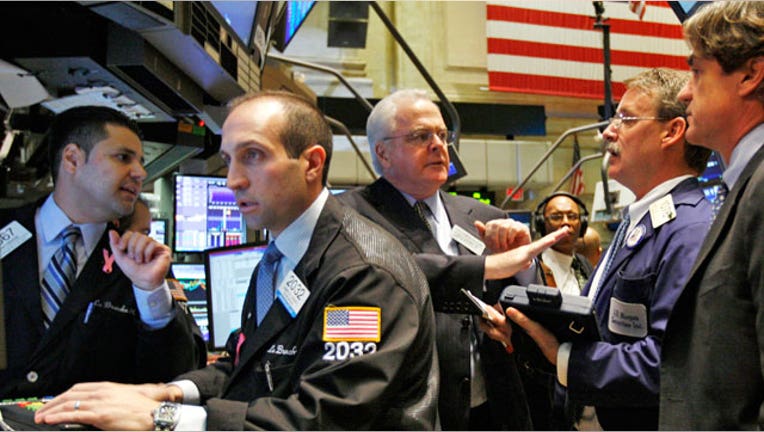 FOX Business: Capitalism Lives Here
The Dow and S&P 500 both ended the week with losses exceeding 1% as worries swirled about corporate America's profit potential in light of growing global economic headwinds.
Today's Markets
The Dow Jones Industrial Average rose 3.5 points, or 0.03%, to 13107, the S&P 500 dipped 1 point, or 0.07%, to 1412 and the Nasdaq Composite gained 1.8 points, or 0.06%, to 2988.
For the week, the Dow fell 1.8%, the S&P slumped 1.5% and the Nasdaq slipped 0.6%.
With earnings season in full swing, corporate reports continued to be in focus.
Apple (NASDAQ:AAPL), the world's biggest publicly-traded company, posted fiscal fourth-quarter earnings after the closing bell Thursday of $8.67 a share -- falling short of expectations of $8.75 a share. The iPhone maker's sales of $36 billion narrowly topped forecasts of $35.80 billion. The Cupertino, Calif.-based company's iPhone sales figures edged out estimates, but iPad sales widely missed expectations.
Amazon.com (NASDAQ:AMZN), the online retail behemoth, reported a much wider quarterly loss than was anticipated and revenue that was shy of estimates as well. Merck (NYSE:MRK) weighed in ahead of the opening bell in New York with mixed results.
"We might be able to cope with one big name disappointment at the moment, but having both Apple and Amazon fail to live up to expectations is apparently more than investors can bear," Chris Beauchamp, a market analyst at IG, wrote in an email.
On the economic front, the Commerce Department said the U.S. economy grew at an annualized pace of 2% in the third quarter, better than estimates of 1.9% and a 1.3% growth rate in the second quarter. Federal spending, however, jumped by the most since 2010 and added 0.72 percentage point to the gain.
A closely-watched report from Reuters and the University of Michigan showed consumer sentiment fell slightly in late October. The gauge fell to 82.6 from a reading earlier in the month of 83.1, coming in below estimates of a reading of 83.
In commodities, oil futures rose for the second day in a row. The benchmark contract traded in New York drifted higher by 23 cents, or 0.27%, to $86.28 a barrel. Wholesale New York Harbor gasoline climbed 0.85% to $2.70 a gallon.
Gold fell $1.10, or 0.06%, to $1,712 a troy ounce.
Foreign Markets
The Euro Stoxx 50 rose 0.51% to 2496, the English FTSE 100 gained 0.03% to 5807 and the German DAX climbed 0.44% to 7232.
In Asia, the Japanese Nikkei 225 sold off by 1.4% to 8933 and the Chinese Hang Seng slid 1.2% to 21546.