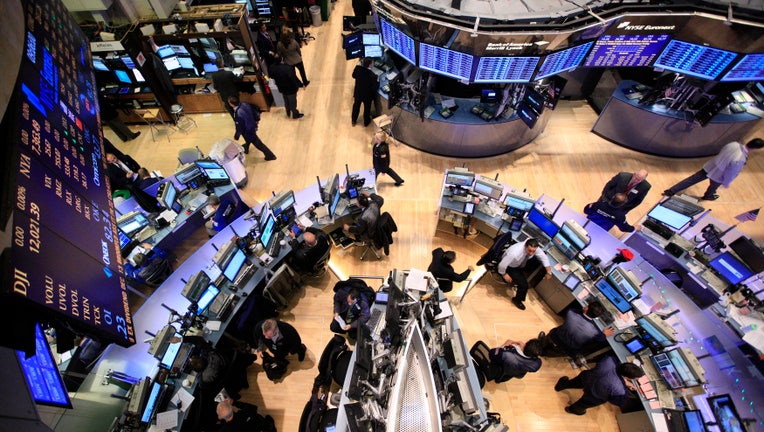 FOX Business: Capitalism Lives Here
Wall Street closed its first trading day back following a two-day closure triggered by Hurricane Sandy lightly changed. However, the markets ended the month deep in negative territory.
Today's Markets
The Dow Jones Industrial Average futures fell 10.67 points, or 0.08%, to 13096.54, the S&P 500 declined 0.22 point, or 0.22%, to 1412.16 and the Nasdaq Composite dropped 10.72 points, or 0.36%, to 2977.23.
For the month, the Dow fell 2.5%, the S&P dipped 2% and the Nasdaq tumbled 4.5%. The sectors that performed the worst for the month of October were technology, telecommunications, materials and energy. On the other side of the spectrum, utilities, financials and industrials fared the best.
Back to Business on Wall Street
Wall Street has enjoyed a relatively smooth start to trading despite limited Internet access and telephone service by some floor traders.
American equity markets were completely shuttered Monday and Tuesday as Hurricane Sandy ravaged the Eastern Seaboard, flooding large swaths of lower Manhattan, the home of Wall Street.
Trading has been more widely available in derivatives markets, where much floor trading occurs on the CME Group's (NYSE:CME) Chicago Mercantile Exchange, and on electronic platforms.
Market participants said it could be a rocky ride across most markets as trading picks back up. Indeed, Gavan Nolan, director of credit research at Markit said in an e-mail that "the ongoing transportation problems could result in low volumes for the rest of the week."
Still, Jonathan Corpina, senior managing partner at Meridian Equity Partners, said he expects 90% of his staff to be available on the day: "This isn't like a snowstorm where a lot of the roadways are blocked," he said.
Internet and telephone service at the NYSE remained limited, according to FOX Business producers and reporters on site. Crews worked around the clock, however, to get services back up. Emergency generators were also in use.
Shares of companies that may benefit from the rebuilding of the areas hit by Hurricane Sandy traded solidly higher, including Owens Corning (NYSE:OC) and Eagle Materials (NYSE:EXP).
Home improvement retailers like Home Depot (NYSE:HD) and Lowe's (NYSE:LOW) also saw their shares head north.
On the economic front, the Chicago Fed said manufacturing activity in the Midwest ticked up to 49.9 from 49.7 in October, but that trailed forecasts for a reading of 51.0 and marked a contraction. Traders will receive a new update on national manufacturing activity on Thursday from the Institute for Supply Management.
A batch of considerably better-than-expected retail sales data from Germany contributed to traders' buying appetite on Wednesday, according to analysts at Nomura. Sales jumped 1.5% in September from the month before, a much bigger gain than the 0.3% economists expected.
The closely-eyed S&P/Case-Shiller report on U.S. home prices that was released Tuesday also helped lift sentiment. Home prices in 20 major metropolitan markets climbed 0.9% on a non-seasonally adjusted month-to-month basis and 2% on a year-to-year basis in August. It was the biggest annual increase in two years. Additionally, there were monthly gains in all but one of the markets surveyed by the report.
"That home price gains are becoming more widespread by region is an encouraging sign that the housing sector is on a sustained uptrend, across both activity and prices," Peter Newland an economist at Barclays wrote in a note to clients.
Insurers such as Travelers (NYSE:TRV) and American International Group (NYSE:AIG) could also come into focus as analysts tally up the damages to the East Coast caused by Hurricane Sandy.
Elsewhere, oil futures climbed 70 cents, or 0.82%, to $86.24 a barrel. The contract slid more than 6.5% for the month of October. Gold rose $10.40, or 0.61%, to $1,719.10 a troy ounce.
Corporate Movers
Walt Disney (NYSE:DIS) unveiled plans to scoop up Star Wars producer Lucas Arts in a $4.05 billion deal Tuesday.
Apple (NASDAQ:AAPL) made a rare senior management shakeup on Monday in which its heads of mobile software and retail will leave the world's biggest publicly-traded company.
Western Union (NYSE:WU) plummeted more than 25% after the payment transfer company slashed its '12 outlook amid competitive pressures.
Foreign Markets 
The Euro Stoxx 50 slipped 0.49% to 2503.64, the English FTSE 100 fell 1.2% to 5782.70 and the German DAX slumped 0.33% to 7260.63.
In Asia, the Japanese Nikkei 225 jumped 0.98% to 8928 and the Chinese Hang Seng rallied 1% to 21642.