Stocks Battle Back: Dow Flirts with Closing High After Stunning Trump Victory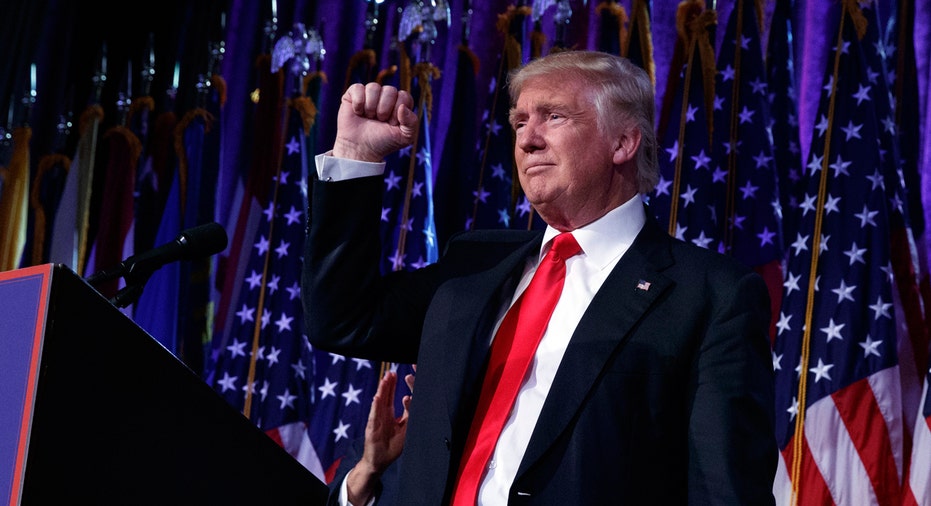 Wall Street isn't afraid of a President Trump – at least for now.
The Dow Jones Industrial Average came within 49 points of a new record closing level on Wednesday, hours after Donald Trump was elected president of the United States and financial markets had a brief panic attack that sent stocks spiraling.
It was a stunning conclusion to what had been an exhausting 2016 presidential election. In the wee hours of Wednesday morning, Trump -- the Republican nominee -- had clinched the White House, but the dramatic Brexit-style carnage expected in global markets in the wake of his win failed to hold as Trump called for the country to unite in the days ahead. As equities rallied back from steep overnight losses, bond yields reached their highest level in three years.
What was a flight to safety in the very early hours of Wednesday quickly turned into a risk-on rally by the closing bell.
The yield on the 10-year U.S. Treasury note, which moves inversely to its price, rose 0.208 percentage point to 2.07%, the highest level since 2013. The move in the Treasury note was a total reversal from yields that touched 1.7% in the overnight hours. With a measured selloff in Asian and European equity markets, U.S. stocks staged a reversal after dropping as much as 5% overnight.
The VIX, an often cited gauge of Wall Street's expectation for market volatility over the next 30 days, dropped to 15.2 on Wednesday after spiking to 22 days before the election. An normal level for the so-called fear gauge is around 12.
Meanwhile, although declines eased, the Mexican peso continued to see sharp selling pressure, dropping 7.69% Wednesday against the U.S. dollar. The move was a rebounded of sorts from historic losses of nearly 12% in the immediate aftermath of the election outcome.  Wall Street has used the currency as its favorite proxy for betting on the presidential race during the 2016 election cycle. As Trump's prospects of winning looked better, the peso intensified its selloff.
Gold prices wiped out 5% gains to trade around $1,274 a troy ounce.
For scope of the market reaction, back in June when United Kingdom citizens voted to leave the European Union, markets saw a similar, but sustained selloff of more than 5% on the broader S&P 500 – the stock index often seen as a barometer for the U.S. economy. This time around, though, the markets were more flexible with an unexpected outcome that resulted in a President-elect Trump and a Republican-controlled Congress.
"Markets like a Congressional buffer, now they have a clean sweep," said Quincy Krosby, market strategist at Prudential Financial. "Let markets absorb the results and wait for policy guidance along with cabinet names...let the market work its collective head around this historic upset. That's the market's job and it's good at it, having decades of experience."
With Democratic nominee Hillary Clinton having conceded defeat, Krosby expects biotechnology and pharmaceutical stocks to see less pressure in the coming months. Indeed, names like Pfizer (NYSE:PFE), Mylan (NYSE:MYL), Allergan (NYSE:AGN), and Eli Lilly (NYSE:LLY) rallied as the Nasdaq Biotechnology Index jumped 5.7% on the session.  Not only had Clinton been a loud proponent of increased oversight of the nation's drug companies, vowing to go after "excessive" drug-price hikes, Donald Trump has promised to make an effort to repeal and replace President Barack Obama's hallmark Affordable Care Act law.
Ticker
Security
Last
Change
Change %
PFE
PFIZER INC.
38.02
0.00
0.00%
MYL
n.a.
n.a.
n.a.
n.a.
AGN
n.a.
n.a.
n.a.
n.a.
LLY
ELI LILLY & CO.
436.49
+7.03
+1.64%
In addition, the energy sector could see a boost given Trump's desire to reduce regulation, while fiscal spending could help boost growth in infrastructure sectors, that may help companies such as Caterpillar (NYSE:CAT).
Ticker
Security
Last
Change
Change %
CAT
CATERPILLAR INC.
209.02
+3.28
+1.59%
Still, the outcome could also throw a wrench in the Federal Reserve's perceived plan to hike short-term interest rates next month. After a year of uncertainty – including global growth jitters that sent stocks plunging in the first quarter, a shock Brexit decision, and now a Trump presidency – there could be more uncertainty ahead.
"If you were worried about the downside effects of a Fed tightening in December that may well be off the table…only time will tell if the economic fundamentals will deteriorate over the near-term horizon. Against the worst expectations, this has not happened in the U.K. post-Brexit – yet," said David Lafferty, chief market strategist at Natixis Capital Markets.
While Fed Chief Janet Yellen has insisted in recent months any decision on rates will be made independent of politics and completely reliant on U.S. economic data, she has clearly communicated financial-market volatility is factored into the decision equation. Federal funds futures, have priced in a lower chance of a rate rise next month with odds standing at 66.8%, down from 76.3% ahead of Tuesday's election outcome.