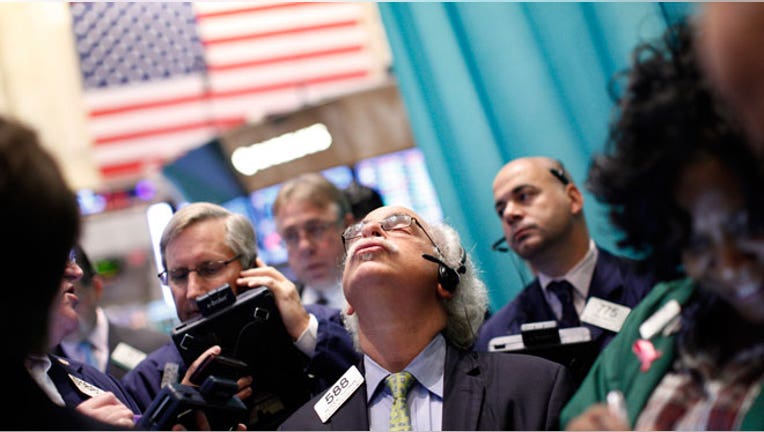 Stock futures were moving higher on Wednesday, with sentiment underpinned by some upbeat German data, though much of the session's focus will fall on a heavy crop of pre-Thanksgiving holiday data. Jobless claims, durable-goods orders, consumer sentiment and leading indicators are all on the list.
On the corporate front, watch for Hewlett-Packard Co. to see action in premarket after shares jumped late Tuesday on earnings.
Futures for the Dow Jones Industrial Average rose 21 points to 16081, while those for the S&P 500 index were up 2.2 points to 1804.20. Futures for the Nasdaq 100 index added 5.5 points to 3452.75.
Traders who haven't already taken off for the Thanksgiving holiday may take their cue from a clutch of data for Wednesday, expected to show that overall, the economy is growing at a mild pace. Jobless claims are due at 8:30 a.m. EST, moved up a day for that holiday. Claims are projected to rise slightly to 330,000 in the week beginning Nov. 17, from 323,000 in the prior week.
At the same time, orders for durable goods are forecast to decline 2.2% in October, after a 3.8% increase in September, according to a MarketWatch survey of economists.
The Chicago purchasing managers index is due at 9:45 a.m. EST, and could offer a further clue on fourth-quarter gross domestic product as it tracks closely with that bigger number. The index is expected to drop to 59 in November from 65.9 in October, but any number over 50 signals expansion.
After that, the University of Michigan will release its consumer-sentiment report at 9:55 a.m. EST, and this is forecast to rise slightly to 73.0 in November. The Conference Board will release its leading economic indicators report at 10 a.m. EST.
Wall Street stocks rose slightly on Tuesday after some gains were erased in the final minutes of trading, but the Nasdaq Composite still managed to close above 4,000, the first time since September 2000. It was also another record close, just barely, for the Dow industrials.
Stephen Guilfoyle, chief economist at Sarge986.com, said what surprised him about Tuesday's session was that trading volume was higher than recent norms. "Perhaps there was some conviction in the late-day selloff, or perhaps some traders closed out their positions today [Tuesday] and we'll see them again on Monday," he said in a note.
Across global markets, Chinese stocks rose on financial reform hopes, while Japan pared some losses from earlier in the session as the yen weakened. Thailand's central bank made a surprise rate cut. European stocks climbed after better-than-expected consumer-confidence data from Germany.
The dollar pushed lower against the euro after that German data hit, while gold was up and oil fell.
Shares of Hewlett-Packard may get bid higher in the premarket, after revenue didn't fall by as much as expected on better PC sales. The company's chief executive officer, Meg Whitman, said the company's turnaround remains on track.
Shares of TiVo Inc. could also gain after better-than-expected results, while Analog Devices Inc. could get dinged after sales fell short of expectations in the fourth quarter.
Infoblox, a data-center technology company, tumbled 23% late Tuesday after its results.