Stock Futures Rebound After Three-Session Rout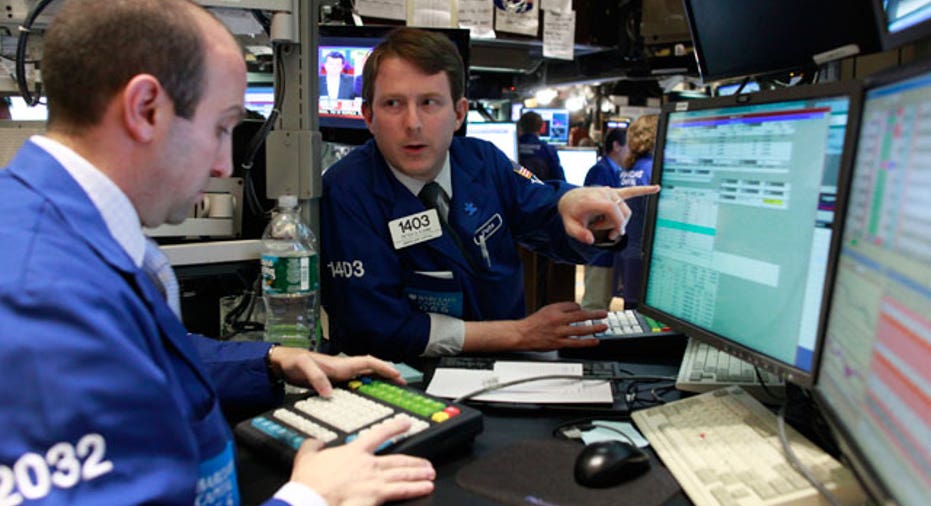 FOX Business: The Power to Prosper
Stock futures were pointing to a sharply higher open following three sessions of intense selling after a ruling by a German court eased traders' worst euro zone fears, and a round of corporate reorganizations buoyed sentiment on Wall Street.
Today's Markets
As of 8:30 a.m. ET, Dow Jones Industrial Average futures jumped 99 points to 11,227, S&P 500 futures climbed 11.5 points to 1,176 and Nasdaq 100 futures gained 21.8 points to 2,187.
Germany's Federal Constitution Court upheld the euro zone's first bailout of Greece, and subsequent rescue packages that have relied partially on funding from Europe's powerhouse economy.  There were fears on Tuesday that if the court failed to rule in favor of the bailout, or made significant changes in the terms, it could hamper the rescue of Greece, which needed billions of euros to avoid a default that could have endangered global financial markets.
While the move was seen as a positive one globally, sending foreign markets rallying, the euro zone debt crisis is likely far from over.  There are several countries in the bloc that have extremely high public debt loads, and austerity measures that the European Union has pushed countries to implement have been the focus of considerable political challenges.
Reshuffling at two major companies also helped boost sentiment on the day.
Yahoo! (NASDAQ:YHOO) removed Carol Bartz from the Chief Executive Officer position.  The move, combined with reports that the once powerful technology company is considering strategic alternatives, possibly including selling itself, sent shares soaring.
Bank of America (NYSE:BAC) unveiled a broad reorganization, including the removal of two top executives who were in charge of the largest U.S. bank by assets' investment management and consumer and small business banking divisions.
While there are few major economic reports on tap or the U.S. on Wednesday, a considerably better-than-expected reading of German industrial production came as a rare glimmer of hope amid many negative data points.  Industrial production for soared 4%, the biggest increase since March 2010, zipping past consensus forecasts of a gain of 0.5%.
The report is a "good start" for economic data that encompass the third quarter in Europe's largest economy, according to economists at Nomura.
The Federal Reserve's beige book is slated for release at roughly 2:00 p.m. ET.  The book provides a slew of anecdotal information from all of the central bank's districts.  The release comes a day before Fed Chairman Ben Bernanke is set to make a speech, and also before the highly-awaited policymaking meeting that starts on September 21.
Energy markets got a boost from hopes that strong industrial production data from Europe's biggest economy will foreshadow other positive data points and also increase overall demand.
Light, sweet crude gained $1.19, or 1.4%, to $87.19 a barrel.  Wholesale RBOB gasoline climbed 1 cent, or 0.52%, to $2.84 a gallon.
Gold, which had surpassed a record high amid the market volatility earlier in the week, fell sharply as traders once again began piling back into equity markets.  The precious metal plunged $32.80, or 1.8%, to $1,840 a troy ounce. The yield on the benchmark 10-year Treasury bond climbed to 2.02%, after bottoming out at 1.92% the prior day.
Prices at the pump moderated slightly overnight.  A gallon of regular costs $3.66 on average nationwide, essentially the same as drivers paid last month, but well more than the $2.68 they paid last year.
Corporate News
Nvidia (NASDAQ:NVDA) projected fiscal 2013 sales at a range of $4.7 billion to $5 billion compared, topping Wall Street's forecast of $4.45 billion. Shares were sharply higher on the news.
Urban Outfitters (NASDAQ:URBN) posted gloomy sales current-quarter sales data, and saw its price target sliced by analysts at Stifel Nicolaus, sending shares plunging.
HSBC (NYSE:HBC) is slashing 3,000 jobs in Hong Kong in a bid to reduce costs.
Foreign Markets
The English FTSE 100 jumped 1.8% to 5,251, the French CAC 40 soared 2.6% to 3,042 and the German DAX leaped 2.8% to 5,340.
In Asia, the Japanese Nikkei 225 climbed 2% to 8,763 and the Chinese Hang Seng rose 1.7% to 20,048.