Stock Futures Jump on Upbeat Data, Easing Euro Fears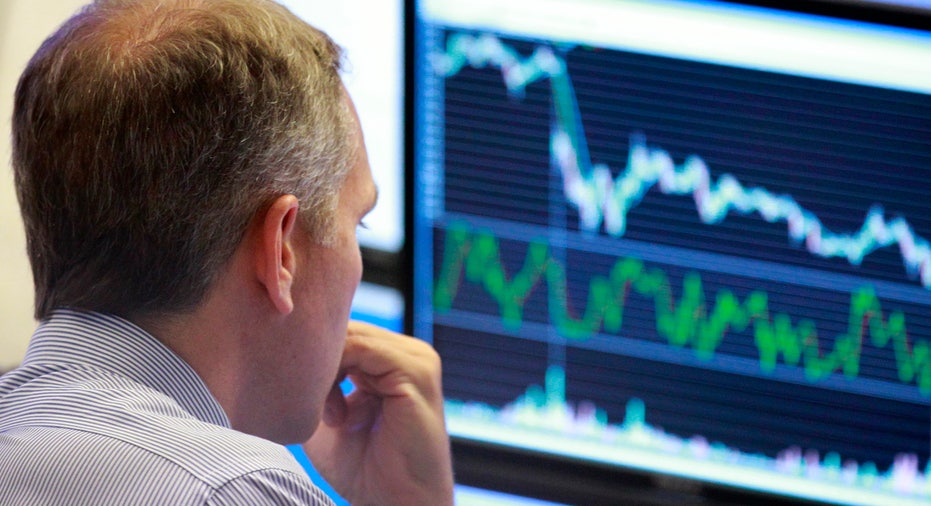 FOX Business: The Power to Prosper
Stock futures pointed sharply higher on Thursday after two upbeat economic reports, combined with Germany's approval of new powers for Europe's bailout fund, lifted sentiment on Wall Street.
Today's Markets
As of 9:07 a.m. ET, Dow Jones Industrial Average futures gained 150 points to 11,126, S&P 500 futures rose 15.5 points to 1,164 and Nasdaq 100 futures climbed 35.5 points to 2,254.
Traders cheered a rare bout of relatively positive economic data on Thursday even while the underlying trend remains fairly negative.
The final reading of U.S. Gross Domestic Product is showed the economy expanded at an annualized pace of 1.3% in the second quarter, better than the previous estimate of 1%, and slightly topping estimates of 1.2%.  The economy has slowed down significantly amid continued weakness in many sectors.  Food and energy prices have climbed considerably from last year, putting added strain on consumers.  Additionally, a stalling labor market, and turmoil on Wall Street have weighed heavily on confidence, also pushing back demand.
Weekly jobless claims fell to 391,000 from 428,000 the prior week, much lower than the 420,000 economists forecast. First time claims for unemployment benefits have been hovering about the 400,000-level for weeks in yet another sign that the labor market is struggling to find its footing. Indeed, an important caveat to the relatively positive weekly data is the the Labor Department says ""technical issues and seasonal adjustment volatility" and not economic factors led to the sudden downtick.
"While the market responded well to the initial claims print, the ... caveat shouldn't be ignored," Peter Bookvar, managing director at Miller Tabak + Co., wrote in a note to clients.
Later in the morning, traders will get fresh data on pending home sales, which economists anticipate to have fallen 2.5% in August from July.
Wall Street has been driven by headlines regarding Europe's sovereign debt crisis, which has raised the specter of a Greek default that could put the world's financial system, and the European Union, in peril.  Indeed, worries that German Chancellor Angela Merkel may not be able to rally enough support to back additional rescue funds for Greece contributed to the steep selloff the markets sustained late Thursday.
However, Germany's lower house, called the Bundestag, approved new powers for the European Financial Stability Facility, Europe's rescue facility early on Thursday.  The move by Europe's largest economic power helped to allay fears that political tensions would hamper relief efforts for Greece, that will likely need to default if it doesn't receive billions of euros in international aid.
Commodities markets across the board were the subject of intense selling Wednesday amid fears the slowing economy may paralyze demand for energy and materials.  Indeed, copper a key industrial metal, plunged more than 5% to a 52-week low, while crude oil slid 3.8%.  Precious metals like gold and silver fared slightly better.
Trading in futures markets was more tame on Thursday.  Light, sweet crude rose 14 cents, or 0.17%, to $81.36 a barrel.  Wholesale RBOB gasoline rose a penny, or 0.29%, to $2.66 a gallon.
In metals, gold fell $8.60, or 0.49%, to $1,610 a troy ounce. Copper fell 2 cents, or 0.69%, to $3.22 a pound.
The euro jumped 0.64% against the U.S. dollar, while the greenback fell 0.46% against a basket of world currencies.
The yield on the benchmark 10-year Treasury note climbed to 1.983% from 1.98%.
Corporate News
Advanced Micro Devices (NYSE:AMD) cut down its third-quarter revenue and gross margin forecast, sending shares sinking.
Foreign Markets
The Euro Stoxx 50 rose 0.21% to 2,181, the English FTSE 100 fell 0.7% to 5,181 and the German DAX fell 0.27% to 5,563.
In Asia, the Japanese Nikkei 225 jumped 0.99% to 8,701 and the Chinese Hang Seng dipped 0.66% to 18,011.