Stock Futures Extend Rally on Retail Sales Data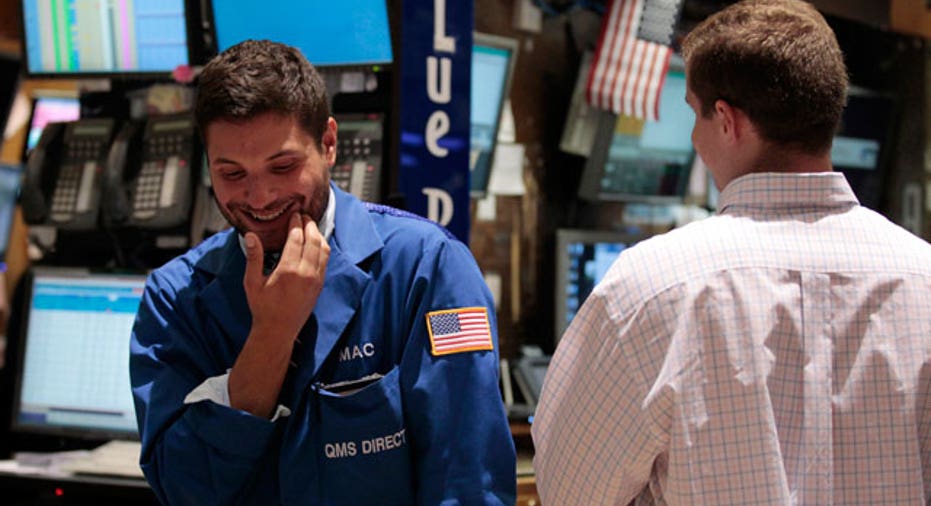 FOX Business: The Power to Prosper
Stock-index futures rallied on Friday as traders reacted to the biggest increase in retail sales since February, strong earnings from technology-heavyweight Google and hopes policymakers were working to stem Europe's debt crisis.
Today's Markets
As of 8:35 a.m. ET, Dow Jones Industrial Average futures climbed 126 points to 11,517, S&P 500 futures gained 14.5 points to 1,213 and Nasdaq 100 futures rose 25.3 points to 2,352.
Retail sales jumped 1.1% in September, or 0.6% excluding the automobile sector.  Analysts forecast gained of 0.7%, or 0.3% excluding vehicles. Business purchases have helped buoy vehicle sales despite weakness in the consumer sector in the past two years, according to a research note from Goldman Sachs.
Consumer sentiment -- on tap for later in the morning -- is anticipated to have edged up in early October, with the preliminary reading of the Reuters/University of Michigan sentiment index climbing to 60.2 in October from 59.4 the prior month.
Google (NASDAQ:GOOG) unveiled earnings of $3.63 billion, or $9.20 a share, on an adjusted basis, easily topping analysts' estimates of $8.74 a share after the closing bell on Thursday.  The search giant benefited from strong advertising revenue, and said its bid to tap into the red hot social networking market is proceeding at quick pace.  Shares surged more than 6% in early trading.
Despite a relatively weak showing in the prior session, Wall Street has been on a clear trend to the upside.  Indeed, the blue chips have climbed 5.2% this month, and are less than 1% from moving into positive territory for the year.  The broader S&P 500 has been up in six of the past eight trading sessions, tacking on 6.4% so far this month.
Traders were also keeping a close eye on the Group of 20 financial ministers and central bank officials who are kicking off a three-day meeting in Paris.  The group, which represents many of the world's biggest economies, is expected to discuss methods of tackling Europe's twin sovereign debt and financial crises.  In a sign of the lingering tensions there, Standard & Poor's sliced Spain's credit rating to "AA-" from "AA" amid concerns about the country's economy.
European stocks fared well despite the downgrade, with the Euro Stoxx 50 recently edging higher by 0.57% to 2,346. The euro gained 0.08% to $1.38, while the greenback slipped 0.07% against a basket of world currencies.
Energy markets broadly rallied on Friday.  Light, sweet crude jumped $1.24, or 1.5%, to $85.47 a barrel.  Wholesale RBOB gasoline gained 3 cents, or 1.2%, to $2.79 a gallon.
In metals, gold gained $6.70, or 0.4%, to $1,676 a troy ounce. The benchmark 10-year Treasury note recently yielded 2.214% from 2.185%.
Foreign Markets
The Euro Stoxx 50 rose 0.57% to 2,346, the English FTSE 100 gained 0.83% to 5,448 and the German DAX climbed 0.64% to 5,953.
In Asia, the Japanese Nikkei 225 dipped 0.85% to 8,748 and the Chinese Hang Seng slid 1.4% to 18,502.