Stimulus Hopes Give Wall Street a Boost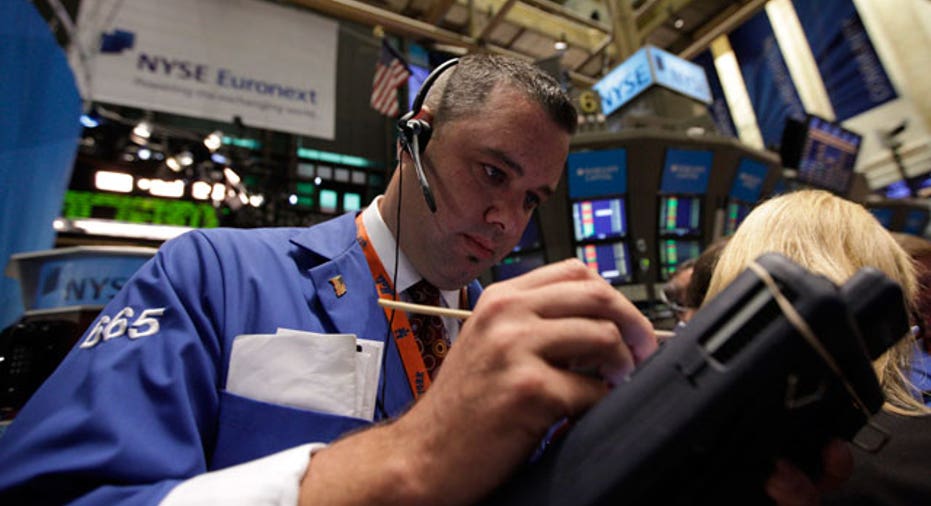 FOX Business: The Power to Prosper
The markets rallied after briefly dipping into the red amid hopes the Federal Reserve's two-day meeting that began on Tuesday morning will result in another round of economic stimulus to jump-start the stalling economy.
Today's Markets
As of 2:30 p.m. ET, the Dow Jones Industrial Average rose 135 points, or 1.2%, to 11,538, the S&P 500 climbed 13.5 points, or 1.1%, to 1,218 and the Nasdaq Composite gained 19.3 points, or 0.74%, to 2,632.
Utilities like Entergy (NYSE:ETR) posted the biggest gains, while healthcare issues such as Celgene (NASDAQ:CELG) performed solidly as well. Materials shares like Alcoa (NYSE:AA) lagged behind the broader markets, however.
The Federal Reserve started its two-day monetary policy meeting on Tuesday.  The central bank is widely expected to commence another round of economic stimulus in light of stalling economic expansion in the U.S. and abroad.
"Although not a done deal, we see a high probability that the Federal Open Market Committee ... will announce further easing steps at the conclusion of this week's meeting," economists at Goldman Sachs wrote in a research note.
Economists are expecting the Fed to embark on a program that has been widely dubbed "Operation Twist," wherein the central bank would sell short-term Treasury bonds and buy longer term ones, effectively lengthening the maturity of its balance sheet .
The Fed's final decision is expected at roughly 2:15 p.m. ET on Wednesday.
Euro Zone Crisis, Still in Focus 
Wall Street is off to a rocky start this week, with the Dow sinking more than 100 points on Monday, and breaking a five-day winning streak.  The focus once again has become Europe's deepening sovereign debt crisis.  In particular, fears that Greece wouldn't receive a roughly $10 billion tranche of aid due next month, which would likely cause the embattled country to default, sent the blue chips tumbling 250 points at the lows of the session.
However, those concerns eased toward the end of the session and into Monday evening after Greek officials said they made significant progress toward reaching an agreement with European inspectors on making bigger cuts to its budget deficit.
Standard & Poor's slashed Italy's sovereign debt rating by one notch to "A," in a move that came earlier than expected.  The ratings company cited a weakening political and economic environment in its decision to make the move.  Additionally, S&P kept its outlook at negative, meaning another downgrade could be on the horizon for Europe's third-largest economy.
Despite European markets largely shrugging off the move, economists that focus on Europe have said this is yet another setback for the currency bloc, which has been in the throes of a debt crisis for months.
"Contagion risks (or the risk the crisis could spread to other countries) remain elevated, and the market's [skepticism] extends beyond Italy and now questions the survival of the euro area itself," economists at Barclays Capital wrote in a research note.
In currencies, the euro gained 0.09% against the U.S. dollar, while the greenback fell 0.13% against a basket of world currencies.
Energy futures were broadly higher, helped by a weakening dollar.  Light, sweet crude climbed $1.62, or 1.9%, to $87.32 a barrel.  Wholesale RBOB gasoline rose 2 cents, or 0.8%, to $2.72 a gallon.
Gold jumped $30.20, or 1.7%, to $1,809 a troy ounce.  The yield on the benchmark 10-year Treasury note was up to 1.963% from 1.949%.
Foreign Markets
The English FTSE 100 rose 2% to 5,364 and the German DAX jumped 2.9% to 5,572.
In Asia, the Japanese Nikkei 225 slumped 1.6% to 8,721 and the Chinese Hang Seng ticked higher by 0.51% to 19,015.