Still Think the Internet of Things Is Overhyped? Check Out This Chart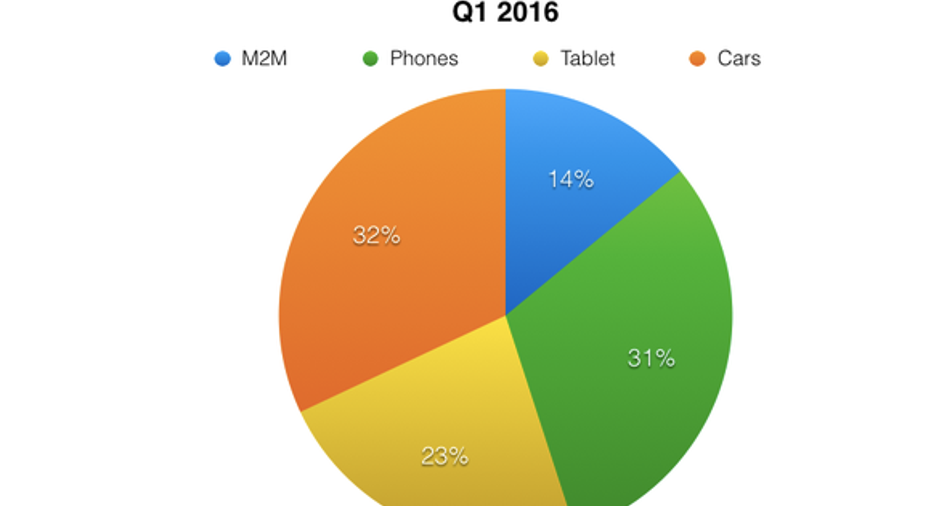 Image source: Getty Images.
The Internet of Things gets a lot of attention for its potential to transform major industry sectors such as transportation, agriculture, industrials, and technology -- not to mention its projected market worth of $7 trillion or more by 2020.
That's the 30,000 foot view of IoT, but on a smaller scale, the Internet of Things is already gaining significant ground in the U.S. cellular market. According to new data from Chetan Sharma, connected cars and machine-to-machine (M2M) connections accounted for 46% of cellular connections in the first quarter of this year.
In fact, more new cars were connected to the Internet in the quarter than new cellular phones. Take a look:
Data source: Chetan Sharma.
In Q1, connected cars made up 32% of new cellular connections, while phones made up 31%. That's good news for AT&T , which has added more Internet-connected cars than any other carrier.
AT&T just introduced a new connected car data plan for its customers (and launched a new ad campaign along with it) in May. AT&T currently has more than 8 million cars on the road connected to its cellular services. The latest push comes as the company has built partnerships with 19 car brands for its in-car cellular offerings. AT&T also offers after market systems for older vehicles.
Connected cars aren't just a consumer-facing option though. Teslais leading the automotive industry in car connectivity by offering frequent, and major, software updates over the air (OTA). Tesla's used OTA to roll out new features like its Ludicrous mode (for break-neck starts off the line), battery optimization, and changes to its Autopilot semi-autonomous software.
But it's not just connected cars that are pushing the growth of IoT connections. The chart shows that M2M connections accounted for 14% of cellular connections in Q1. That's great news for Verizon Communications , which has been busy building out its IoT solutions over the past few years.
IoT revenue accounted for $195 million for Verizon in Q1, and the company's Internet of Things revenue is expected to surpass $1 billion some time this year, according to Chetan Sharma.
Part of Verizon's long term IoT plan involve smart city M2M connections, and its moving quickly into that role.Verizon recently said it was considering flat-rate, unlimited data plans so that it could boost its IoT offerings to customers. Part of that strategy would be in providing M2M connections for smart cities. The U.S. is expected to be the largest smart city market in the coming years, and the worldwide smart city market should reach $1.5 trillion by 2020.
Lots more room for IoT growth
Over the next four years, the number of IoT connected devices is expected to balloon to 50 billion, and 250 million of those will be connected cars. But thegrowth of connected cars and M2M connections is just one aspect of the larger Internet of Things market, of course.
Verizon and AT&T are already leading in the massive IoT market, and their positions in the space should only improve as more formerly unconnected "things" come online.Investors should continue to look for those companies to expand their IoT services. Verizon just picked up Telogis, an automotive cloud-based solutions and telematics company, this week. That deal should help Verizon gain a larger foothold in the connected car space as AT&T continues to build its position.I ultimately think Verizon has the upper hand in IoT compared to AT&T, due to the company's extensive cellular network and early investments in 5G technology. But right now, it's still too early in the IoT game to pick clear winners.
The article Still Think the Internet of Things Is Overhyped? Check Out This Chart originally appeared on Fool.com.
Chris Neiger has no position in any stocks mentioned. The Motley Fool owns shares of and recommends Tesla Motors and Verizon Communications. Try any of our Foolish newsletter services free for 30 days. We Fools may not all hold the same opinions, but we all believe that considering a diverse range of insights makes us better investors. The Motley Fool has a disclosure policy.
Copyright 1995 - 2016 The Motley Fool, LLC. All rights reserved. The Motley Fool has a disclosure policy.