Steve Wynn's Next Big Bet on Sin City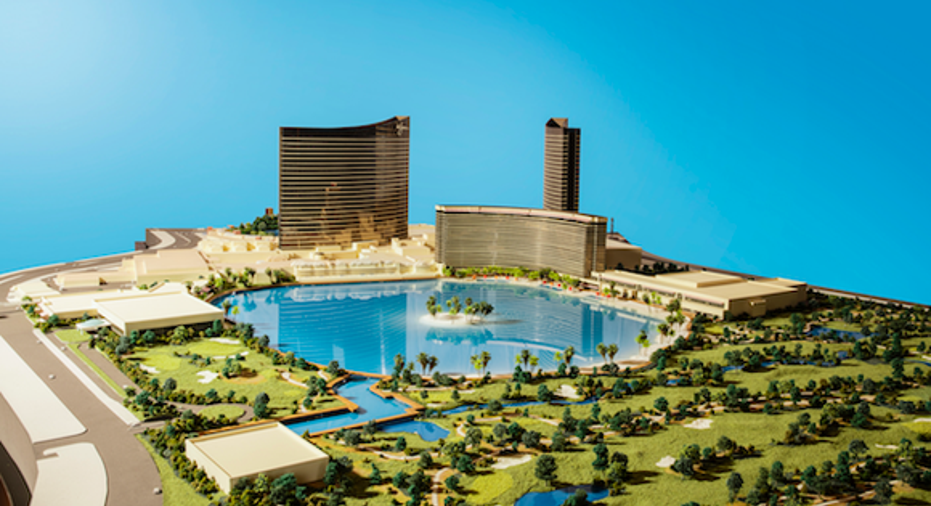 Wynn Las Vegas could be in for a new makeover. Image source: Wynn Resorts.
Any analysis of Wynn Resorts today usually focuses in large part on how the company is doing in Macau. It's Macau that now generates 60% of the company's EBITDA, a proxy for cash flow, and with Wynn Palace coming this summer that number will grow dramatically.
But Steve Wynn hasn't lost sight of how important Las Vegas is to his business or how the city is changing before our eyes. And that's why Wynn Paradise Park could be the next development to hit the Las Vegas Strip.
Like nothing Las Vegas has ever seen Wynn's initial plans for Paradise Park are a sign of where the money is in Las Vegas. He plans to destroy most (or all) of the golf course to build a $1.5 billion project that includes a 1,000 suite tower, a 38 acre lake, and a beach with a variety of entertainment activities like water skiing and fireworks shows. Think of it like a massive day club in the middle of the Las Vegas Strip.
Image source: Wynn Resorts.
The reason Wynn wants to turn the low revenue golf course into a huge entertainment venue is obvious. You can see below that most of Wynn's Las Vegas revenue comes off the casino floor and day/nightclubs have become a huge revenue generator. I wrote in 2014 that estimates of revenue from these clubs was $155 million-$170 million. So, this addition will expand on those non-gaming revenue sources.
| | Q4 2015 Revenue | Change Y/Y |
| --- | --- | --- |
| Casino | $170.9 million | +3.8% |
| Hotel Rooms | $101.9 million | +6.7% |
| Food and Beverage | $101.1 million | (2.1%) |
| Entertainment | $60.0 million | +4.5% |
Source: Wynn Resorts.
A different approach to Las Vegas Wynn Resorts isn't the only one to see clubs, shopping, restaurants, and other non-gaming revenue generators become important. MGM Resorts recently finished T-Mobile Arena to draw people to The Strip for concerts and other events. Across the street, MGM Grand is know as much for Wet Republic day club and Hakkasan nightclub as it is for gambling.
Las Vegas Sands has leveraged the convention business to fill its hotel rooms, restaurants, shops, and casino. But it's the draw from outside the casino that drives the entire machine.
Could this be a game changer? What's amazing about the proposal of Paradise Park is how much it transforms what Las Vegas offers. Instead of being a small day club, as nearly every resort has added, it turns a major portion of the Wynn Las Vegas property into an entertainment venue. That's obviously where the money is in Las Vegas and with Steve Wynn having a pulse on where trends are going I'm not surprised to see him be one of the first to propose a wholesale change in what his resort is offering. This could be the future of Las Vegas.
The article Steve Wynn's Next Big Bet on Sin City originally appeared on Fool.com.
Travis Hoium owns shares of Wynn Resorts, Limited. The Motley Fool owns shares of Wynn Resorts, Limited. Try any of our Foolish newsletter services free for 30 days. We Fools may not all hold the same opinions, but we all believe that considering a diverse range of insights makes us better investors. The Motley Fool has a disclosure policy.
Copyright 1995 - 2016 The Motley Fool, LLC. All rights reserved. The Motley Fool has a disclosure policy.