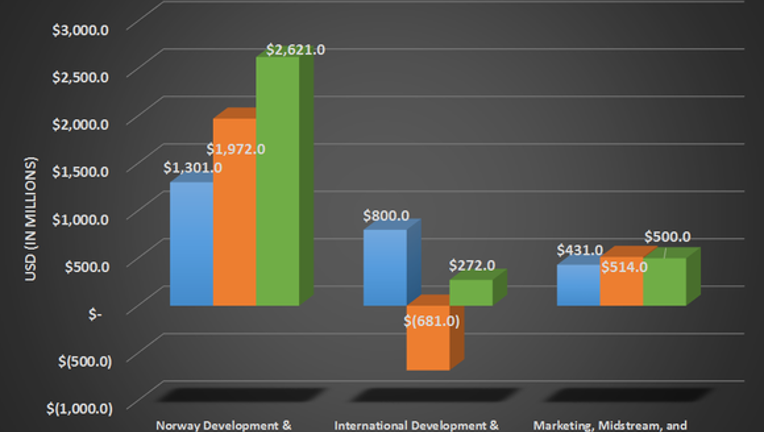 Last quarter was supposed to be the quarter where we saw the fruits of Statoil's (NYSE: STO) cost-cutting efforts, but those plans got sidelined by some large asset impairments and other charges. It looks like the wait for a profitable quarter was worth it, though, as Statoil posted much more robust earnings and cash-flow numbers that were above Wall Street's expectations.
Here's a look at some of the things that helped make this past quarter a great one for Statoil and what management has its eye on in the coming years.
Image source: Oyvind Torjusen/Statoil.
Statoil's results: The raw numbers
*IN MILLIONS, EXCEPT PER-SHARE DATA.DATA SOURCE: STATOIL EARNINGS RELEASE.
Comparing this past quarter to the prior one isn't a great comparison. Fourth-quarter earnings had a $2.3 billion in one-time charges and asset impairments that made the bottom line number look much worse than it actually was. Also, the companyhad a $1.7 billion buildup in working capital in the fourth quarter that hampered cash flow from operations. Conversely, the company realized a $334 million drawdown in working capital this past quarter.
That said, all of these adjustments shouldn't take away from all the things the company has done to improve its results. Statoil's management has done a commendable job of trimming unprofitable assets and significantly cutting its operational expenses without taking too big of a hit to overall production rates. The place that benefited from those cost cuts -- and from higher oil prices -- was Statoil's International Development & Production segment.
Data Source: Statoil earnings releases. Chart by author.
What happened with Statoil this quarter?
Total production for the fourth quarter was 2.14 million barrels of oil equivalent per day, a 4.4% jump from the same time last year. A large portion of those gains came from several newer projects ramping up to full capacity in 2016. Managementhas targeted 4% to 5% production growth for the year.
After cutting $3.2 from operating expenses in 2016, Statoil believes it can cut another $1 billion in 2017 while increasing production.
Management reaffirmed its estimates that capital spending for the fiscal year will land around $11 billion and another $1.5 billion for exploration expenses. Last year, total capital spending was $10.1 billion, and exploration expenses totaled $1.89 billion. This suggests the company is sanctioning new projects and has an adequate amount of recent discoveries that meet management's development criteria.
Management gave the green light for the Phase II development of itsJohan Sverdrup development. This project, which should cost between $4.6 billion and $5.7 billion, will increase production capacity to 660,000 barrels per day and will extend the life of the facility by a couple decades. Phase II should be on stream in 2022.
Statoil won auctions for six offshore licenses on the U.K. side of the North Sea and also won 13 U.S. Gulf of Mexico exploration licenses in the quarter.
The company announced it would spend $2.3 billion over the next several years to develop new projects on the Norwegian Continental Shelf. This is a mature field that management didn't expect would hold production past 2013, but improved technology has led to new discoveries that should keep the field on stream until 2040.
Thanks to those strong cash-flow numbers and some modest debt reduction, Statoil's net debt to capital ratio declined from 35.6% to 30%.
What management had to say
Statoil CEO Eldar Saetre commented on the company's most recent results and some recent developments that will shape management's decision-making in the coming months:
10-second takeaway
Statoil's efforts over the past couple of years to complete some major projects and make its operations more efficient are starting to shine. Hopefully, these cost cuts can stick for a while because the company could use a few more good quarters like this one to strengthen its balance sheet even more. It also appears that the company has a decent suite of projects to develop over the next several years that should help meet its goal of 3% annual production growth between now and 2020.
10 stocks we like better than StatoilWhen investing geniuses David and Tom Gardner have a stock tip, it can pay to listen. After all, the newsletter they have run for over a decade, Motley Fool Stock Advisor, has tripled the market.*
David and Tom just revealed what they believe are the 10 best stocks for investors to buy right now...and Statoil wasn't one of them! That's right -- they think these 10 stocks are even better buys.
Click here to learn about these picks!
*Stock Advisor returns as of May 1, 2017.
Tyler Crowe has no position in any stocks mentioned. The Motley Fool recommends Statoil. The Motley Fool has a disclosure policy.