Start the New Year off Right with 3 Best Biotech Stocks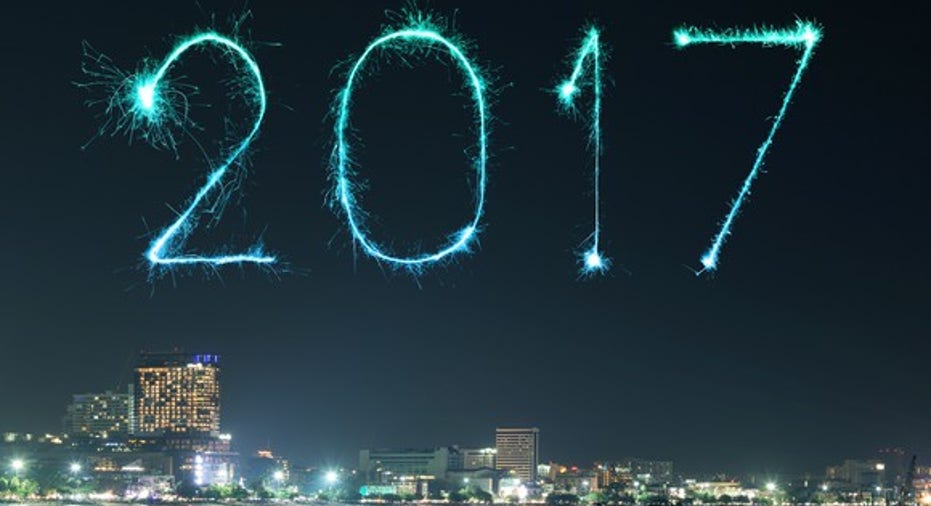 Many Americans start off each new year by heading to the gym. That's a great idea, but the enthusiasm soon fades away and the crowded gyms of January turn into the wide open spaces of February. Here's another way to start the new year off right that has more staying power: Buy biotech stocks. In particular, here are three of the best biotech stocks to buy for 2017: Celgene (NASDAQ: CELG), Jazz Pharmaceuticals (NASDAQ: JAZZ), and Synergy Pharmaceuticals (NASDAQ: SGYP).
Image source: Getty Images
Celgene: A lot to like
It's actually hard to find too many things not to like about Celgene.Blood cancer drug Revlimid served as the primary driver of Celgene's past success. Revlimid's positive momentum continues: Sales jumped 30% year over year in the third quarter of 2016. The drug should post full-year sales of close to $7 billion.
Other drugs in Celgene's lineup are growing even faster. Sales for autoimmune disease drug Otezla nearly doubled in the third quarter of 2016 compared to the prior year period. Pomalyst/Imnovid, a third-line treatment for multiple myeloma, saw sales increase 33% year over year.
Then there's Celgene's pipeline. The biotech claims a dozen late-stage clinical programs. Some of these candidates, particularly CC-486, enasidenib,and luspatercept,hold the potential to expand Celgene's dominance in rare blood cancer indications. The company could also build on Otezla's success with autoimmune disease candidates GED-0301 and ozanimod.
Wall Street analysts project that Celgene will grow earnings by more than 22% annually over the next five years. I don't see any reason to doubt that the biotech will hit this target, which means that Celgene's growth potential makes the stock a great pick right now.
Jazz: Ready to rebound
Shares of Jazz Pharmaceuticals dropped 20% in 2016. The biotech disappointed investors with lower-than-expected earnings in each of the first three quarters of the year. However, I think that Jazz appears ready to rebound in 2017.
Jazz has several potential catalysts in the new year. The company anticipates announcing results from two late-stage studies evaluating experimental drug JZP-110 for treatingexcessive sleepiness associated with obstructive sleep apnea in the first quarter of 2017. Results from a late-stage study of the drug in treating excessive sleepiness with narcolepsy are expected in the second quarter.
Another sleep disorder drug, Xyrem, won U.S. regulatory approval in June. Sales for the drug should increase in 2017 with Jazz's sales team focused on educating physicians about narcolepsy and Xyrem's benefits.Jazz could also experience better results this year with acute lymphoblastic leukemia (ALL) drug Erwinaze. The company had problems with its manufacturer in 2016, which resulted in a big drop-off in sales for the drug. With a little luck, those problems won't be as significant in the new year.
Jazz also initiated a rolling new drug application (NDA) foracute myeloid leukemia (AML) drug candidate Vyxeos in September. The company expects to complete this NDA in the first quarter of 2017. It's possible that Jazz could receive approval for Vyxeos before the end of the year.
Synergy: Momentum and more
Unlike many biotech stocks, Synergy Pharmaceuticals had a pretty good year in 2016, with its shares climbing over 13%. Synergy really picked up momentum in the latter half of the year: Its stock soared nearly 60%. I think that the biotech will carry this momentum into the new year and experience even more good news.
Synergy expects a decision by the U.S. Food and Drug Administration (FDA) on approval for plecanatide in treatingchronic idiopathic constipation (CIC) by Jan. 29, 2017. Although anything is possible in the regulatory process, plecanatide's chances for approval lookpretty good. Synergy also plans to submit for approval in another indication --irritable bowel syndrome with constipation (IBS-C) -- in the first quarter of 2017.
Assuming plecanatide gets the green light from the FDA, Synergy will launch the drug in early 2017. The company already has its supply chain and distribution network in place. Synergy has also met withkey commercial and public payers, representing roughly 230 million covered lives in the U.S. I think the launch of plecanatide should go smoothly.
There is one risk for Synergy, though, that I should point out. The biotech reported a cash position, including cash and cash equivalents, of $109.1 million at the end of the third quarter of 2016. It's likely that Synergy will undertake a public stock offering to raise more cash to fund the commercialization of plecanatide. This would dilute existing shares and probably cause the stock to take a temporary hit. Having said that, my view is that Synergy's stock will still be a solid winner in 2017.
Best of the best
I like the prospects for all three of these biotech stocks. Which is the best of the best, though? My pick is Celgene.
Not only does Celgene have strengths with its current product lineup and its pipeline, it also has a "farm system" of sorts with partnerships and investments in several smaller biotechs. In addition, Celgene has proven to be smart in its acquisitions strategy, particularly with the 2015 buyout of Receptos. Unlike most New Year's resolutions, Celgene has staying power.
10 stocks we like better than Celgene When investing geniuses David and Tom Gardner have a stock tip, it can pay to listen. After all, the newsletter they have run for over a decade, Motley Fool Stock Advisor, has tripled the market.*
David and Tom just revealed what they believe are the 10 best stocks for investors to buy right now... and Celgene wasn't one of them! That's right -- they think these 10 stocks are even better buys.
Click here to learn about these picks!
*Stock Advisor returns as of Nov. 7, 2016
Keith Speights owns shares of Celgene. The Motley Fool owns shares of and recommends Celgene. The Motley Fool has a disclosure policy.