Starbucks Will Be Bigger In China Than In the U.S.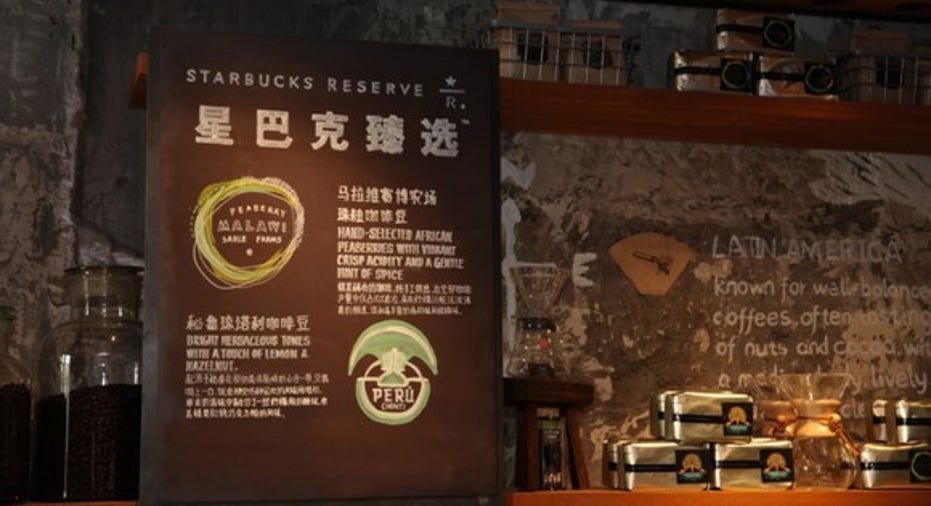 Image source: Starbucks.
The future of Starbucks (NASDAQ: SBUX) is in China. The company opened nearly 1,000 new stores in the country over the past year, bringing the total to about 2,500 stores. It's still opening more than one store per day, and expects to open 5,000 stores by 2021.
At the company's investor day in December, CEO Howard Schultz said he expects profits in China to exceed those in the United States eventually.
Starbucks China CEO Belinda Wong expects several factors to contribute to the coffee company's ability to grow revenue and operating income threefold over the next five years: the growing middle class and their increasing demand for coffee, global improvements to Starbucks' core retail business, and digital partnerships with local companies like Tencent (NASDAQOTH: TCEHY).
A market that will be double the size of America in six years
China's middle-class growth isn't slowing down. Over the last decade, the number of people considered middle class in China grew from 66 million to 300 million, according to reports collected by Wong. By 2022, Starbucks expects China's middle class to double in size again to 600 million. For reference, the entire United States has about 324 million people.
While the growth of China's middle class is important, a bigger driving factor may be that Chinese are still developing a taste for coffee. As such, the demand for Starbucks will grow even faster than the rapidly expanding middle class.
Over the next five years, the demand for specialty coffee in China is expected to grow at a rate of 15% per year, according to Euromonitor. What's more, Starbucks already holds the lead in market share.
More reasons to visit a Starbucks store
One of the biggest organic drivers of store visits is Starbucks' loyalty program, My Starbucks Rewards. Wong says new signups for MSR increased 63% per year from 2013 to 2016. Gold membership increased 53% per year. Importantly, members are "very intentional about their path to gold," and as a result MSR members visit stores more frequently.
Additionally, Starbucks plans to invest in new reasons to visit Starbucks. The company plans to expand its lunch menu in all of its stores globally, introducing things like soup and other food items. It expects lunchtime revenue to double over the next five years.
Starbucks also has an opportunity to capitalize on Teavana in China, which has a huge tea culture. Incorporating more Teavana products into its stores could bring in customers who aren't particularly fond of coffee, but still want the experience Starbucks offers.
Lastly, Starbucks is expanding its consumer goods business in China. It just released its bottled Frappuccino nationwide. That could give potential customers a taste for Starbucks, inviting them to visit a store.
Partnering with digital leaders
One of the biggest announcements Starbucks made regarding its operations in China is its new digital partnership with WeChat, the messaging app owned by Tencent. WeChat has 864 million monthly active users, and its built-in wallet is often used to pay for goods in stores. Starbucks shoppers can now use WeChat to pay for their food and drink orders in store as well.
Starbucks loses about 5% to 10% of sales in China due to long lines where customers are unable to pay fast enough, according to Shaun Rein, managing director of China Market Research Group. The partnership with WeChat should help speed up the checkout process, driving more sales.
Starting early next year, WeChat users will be able to send each other Starbucks drink certificates or gift cards through the app. The service will operate in the same way as WeChat's digital red envelopes, which allow users to send each other money. It's one of the most popular functions of WeChat in China, and Starbucks will be smart to get the service launched before Chinese New Year, when red envelopes peak. The move provides a social marketing benefit to Starbucks as well, as it aims to attract new customers to its stores.
The overall opportunity for Starbucks in China is huge. The company's efforts to capitalize on the growing demand for specialty coffee from the middle class should fuel growth for many more years. Add in the company's global efforts to expand into other parts of the day, plus its willingness to work with native digital leaders like Tencent, and Starbucks' Chinese operations could surpass the U.S. sooner rather than later.
10 stocks we like better than Starbucks When investing geniuses David and Tom Gardner have a stock tip, it can pay to listen. After all, the newsletter they have run for over a decade, Motley Fool Stock Advisor, has tripled the market.*
David and Tom just revealed what they believe are the 10 best stocks for investors to buy right now... and Starbucks wasn't one of them! That's right -- they think these 10 stocks are even better buys.
Click here to learn about these picks!
*Stock Advisor returns as of Nov. 7, 2016
Adam Levy has no position in any stocks mentioned. The Motley Fool owns shares of and recommends Starbucks. Try any of our Foolish newsletter services free for 30 days. We Fools may not all hold the same opinions, but we all believe that considering a diverse range of insights makes us better investors. The Motley Fool has a disclosure policy.