Starbucks Testing "Affogato" Ice Cream Menu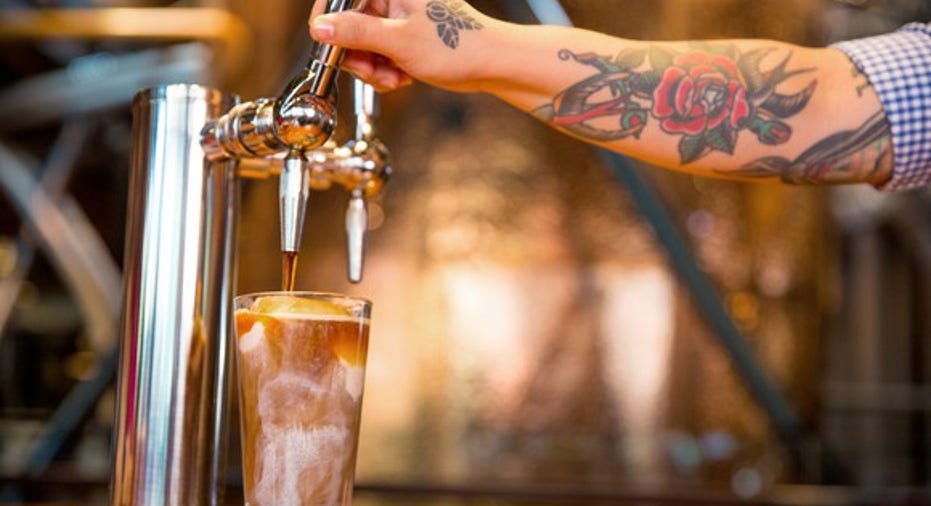 Starbucks has become aggressive about improving traffic to its stores after the morning rush subsides.
In some markets that has meant adding beer, wine, and an evening food menu. The coffee company has also recently rolled out what it calls its "Sunset Menu," a collection of shaved ice concoctions and deserts sold after 3 p.m.
That menu can be found at all Starbucks locations. A new effort -- the affogato menu -- will only be offered at the company's Seattle Reserve Roastery and Tasting Room. It will feature hot espresso poured over locally produced vanilla ice cream, "affogato-style."
"Our Reserve coffees bring endless inspiration for us to continue to showcase each unique coffee in unexpected ways. What better way to continue to do that than with Affogato," said Amy Dilger from Starbucks beverage development team in a press release.
That new treat will also be joined on the Roastery cold menu by a Reserve Cold Brew Float and a Malted Milkshake.
Cold Brew Float. Starbucks is trying out a new treat at its Seattle Roastery. Image source: Starbucks.
What is Starbucks doing?
While the new ice cream-based treats are only being offered at the Roastery, it's very likely that the company is testing them for a wider rollout. That may mean to the entire chain or just to select stores in the way the company has deployed its limited-availability Roastery beans and its Nitro Cold Brew.
The appeal of offering the affogato fits right in with what the company does. It expands its menu, opening it up to a new audience without dramatically departing from its core offering. In addition, the new desert treat only requires the addition of a single ingredient -- ice cream. In addition, the affogato is easy to make, so it won't require significant training if the company rolls it out nationally.
Why is Starbucks doing this?
At some point the coffee chain will saturate the United States and other markets around the world. In some U.S. markets, it may have already reached that point. When that happens, the only way for the company to grow its sales becomes increasing same-store sales.
That may be difficult to do in the morning when stores are already busy. Starbucks has added capacity by shifting some staff into production and off order-taking by launching its Mobile Order and Pay technology, but stores can only get so busy during early hours before consumers pass due to wait times or the length of the line.
Finding products that bring people in later in the day can solve this problem. The Sunset Menu is part of that and adding affogato and other ice cream-based treats would continue that effort.
By launching the new product only at the Roastery, Starbucks can give it an air of sophistication that coffee poured over ice cream may otherwise not have had. If the company rolls it out slowly or only in select stores, it can add to that feeling by creating demand and anticipation.
This is a smart play for Starbucks. It's adding a product (at least in one location, maybe someday in more) that could have felt off-brand in a way that makes it feel like a Starbucks product -- a classy one at that. Should it become widely available, the affogato seems like the right type of adult indulgence that could cause customers to make an afternoon or evening visit, which is ultimately what the company needs to push its sale higher.
The article Starbucks Testing "Affogato" Ice Cream Menu originally appeared on Fool.com.
Daniel Kline has no position in any stocks mentioned. He really wants to try an affogato. The Motley Fool owns shares of and recommends Starbucks. Try any of our Foolish newsletter services free for 30 days. We Fools may not all hold the same opinions, but we all believe that considering a diverse range of insights makes us better investors. The Motley Fool has a disclosure policy.
Copyright 1995 - 2016 The Motley Fool, LLC. All rights reserved. The Motley Fool has a disclosure policy.