Starbucks says Unicorn Frappuccino shows its digital savvy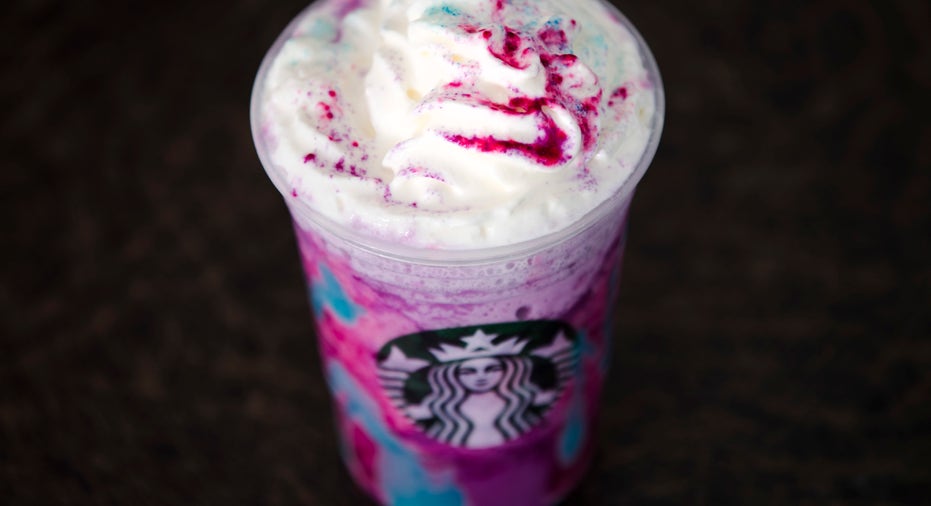 Starbucks is pointing to the Unicorn Frappuccino as an example of its digital savvy, and ability to ride out of its sales slump.
The coffee chain reported disappointing U.S. sales growth for the first three months of the year on Thursday as customer traffic stalled, and it tempered its profit forecast for the year. Its shares fell nearly 5 percent in after-hours trading.
But the Seattle-based company cited several changes it's been making to ease the congestion in stores that it said was driving away some customers. Starbucks also said the success of its color-changing Frappuccino — introduced for a limited time last week after the lukewarm quarter ended — proves the proficiency of its social media strategy.
Executive Chairman Howard Schultz called the drink "the most stunning example of our understanding of digital and social media and Instagram."
Starbucks introduced the Unicorn Frappuccino in nod to the online trend of food and drinks channeling the mythical creature, and promised it would change colors and flavors with a swirl of a straw. Though the chatter the drink generated online wasn't entirely positive, Schultz said it drove traffic to stores.
The company also said the drink spurred interest in its Frappuccinos, and promised it has another drink in the pipeline that is "as good as Unicorn or better."
Though Schultz stepped down as CEO earlier this month, he made surprise remarks during a conference call with analysts as an "unscripted closer" to give assurances about the company's future after its results.
Starbucks reported a 3 percent sales increase at established U.S. stores, marking the fourth straight quarter the figure has come in below 5 percent. The bump was driven entirely by higher average spending, which masked a decline in customer transactions. When factoring in a change in its loyalty program, the company said transactions were flat.
Like other restaurants and retailers, the coffee chain says it is contending with a changing landscape in which shoppers are increasingly migrating online. Starbucks has said its digital efforts, including its mobile app, position it to grow despite the consumer shift that may hurt others.
Still, there have been hiccups. Starbucks said the popularity of its mobile order-ahead option has created crowds near pickup counters in some stores, causing some people who walk in to then leave without buying anything. The company says it has implemented changes to address the congestion and that sales improved throughout the quarter, and that April has been even stronger.
For the three months ended April 2, Starbucks Corp. earned $652.8 million, or 45 cents per share, in line with Wall Street expectations. Total revenue was $5.29 billion, short of the $5.42 billion analysts expected, according to FactSet.
The company said it expects total revenue for the year to come in on the low end of its previous forecast, which was for growth of 8 percent to 10 percent. Profit is now expected to be $2.08 to $2.12 per share, down from the previous forecast of $2.12 to $2.14 per share. The company said it launched a "review process" for Teavana mall-based stores, many of which have seen declining sales.
_____
Follow Candice Choi at www.twitter.com/candicechoi