Starbucks Just Flashed a Huge Buy Signal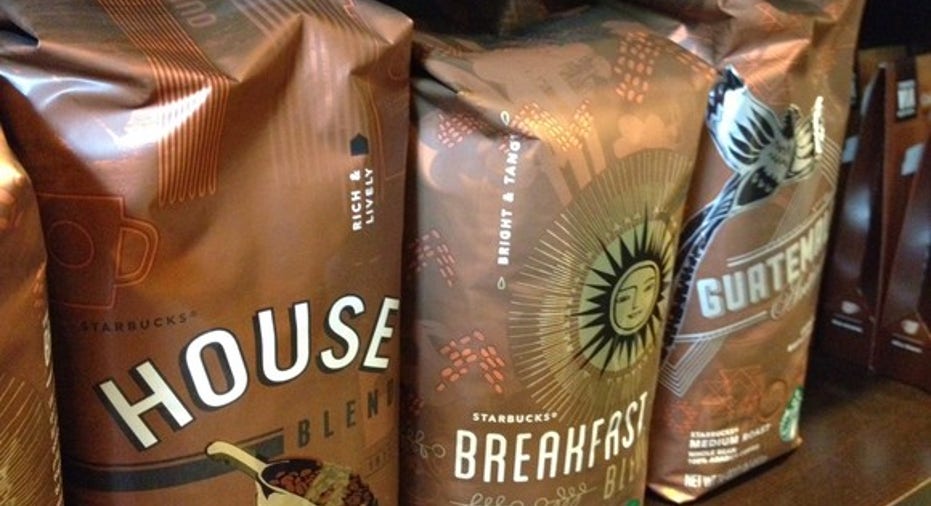 The last few months have been rough on Starbucks Corporation (NASDAQ: SBUX). In December, investors were hit with the news that longtime CEO Howard Schultz would step down from the leadership role, putting COO Kevin Johnson in charge of the company.
Then in January, shares slid after the coffee chain posted its slowest comparable-sales growth in years, blaming declining traffic on hiccups and bottlenecks from its Mobile Order & Pay system. Soon after that, the company, which had been no stranger to politics in the past, pledged to hire 10,000 refugees in response to President Trump's ban on visitors from some Muslim countries; the move prompted some customers to declare a boycott.
Image source: The Motley Fool.
Despite those woes, Starbucks stock has emerged unscathed, and investors were vindicated by the company's announcement last week at its shareholder meeting: The coffee giant promised to hire 240,000 new employees by 2021. That would nearly double Starbucks' employee count from 330,000 today, indicating that the company has major plans for expansion, which should lead to a similar increase in revenue and profits.
The big plan
Starbucks said that 68,000 of those jobs would be in the U.S., and it plans to open 12,000 new stores globally, 3,400 of which will be in the U.S. Starbucks currently has 26,000 stores worldwide.
Among the company's other initiatives it detailed during the meeting are in food. It plans to launch a new lunch menu called Starbucks Mercato, which will feature gourmet items such as a Herbed Chicken & Fig Spread sandwich, and Cauliflower Tabbouleh Salad. Mercato will kick off in Chicago in April and is expected to spread nationwide soon after. Management said it plans to double its food business by 2021, and it is also introducing new varieties of premium craft iced teas.
On the tech front, Starbucks released a new update to its app to enhance its Mobile Order & App program, allowing some customers to place orders by voice; it also teamed up with Amazon to make voice ordering available through Alexa. The company started innovating in tech and e-commerce early on, a pet project for Schultz. Expect the company to continue to invest in and enhance the app.
Other initiatives include new Reserve Roasteries with openings set for Shanghai this year, and New York, Milan, and Tokyo next year. The coffee chain is also expanding its commitment to military families; it plans to hire 15,000 more veterans by 2025, and to open 100 more Military Family Stores near military bases over the next five years.
Hiring is the key
Almost all businesses see a correlation between employee count and revenue, but at Starbucks the relationship is even more direct, as each of its stores needs a team of baristas and others who "wear the green apron" to run it.The chart below shows how revenue and employee count have grown over the last ten years:
SBUX Total Employees (Annual) data by YCharts.
As you can see, revenue has more than doubled in that period, while employee count nearly doubled from its bottom after the company closed stores during the recession. Over the next five years, revenue growth should continue to outpace the increase in employee count, as sales at current stores increase as well.
Though many of the headlines around Starbucks have been negative in recent weeks, the company's prospects are still promising. The problem of increased demand from its Mobile Order & Pay program is actually a good one, and management will eventually figure out how to handle the customer influx. Similarly, whatever backlash remains from the refugee-hiring plan should fade over time.
The company is targeting $30 billion in revenue by fiscal 2019, a goal it seems well on its way to achieving. If it can hire another 240,000 people by 2021, driving further expansion, the stock should continue to be a winner.
10 stocks we like better than StarbucksWhen investing geniuses David and Tom Gardner have a stock tip, it can pay to listen. After all, the newsletter they have run for over a decade, Motley Fool Stock Advisor, has tripled the market.*
David and Tom just revealed what they believe are the 10 best stocks for investors to buy right now... and Starbucks wasn't one of them! That's right -- they think these 10 stocks are even better buys.
Click here to learn about these picks!
*Stock Advisor returns as of February 6, 2017
Jeremy Bowman owns shares of Starbucks. The Motley Fool owns shares of and recommends Amazon and Starbucks. The Motley Fool has a disclosure policy.