Starbucks Has 2 New, Unique Menu Items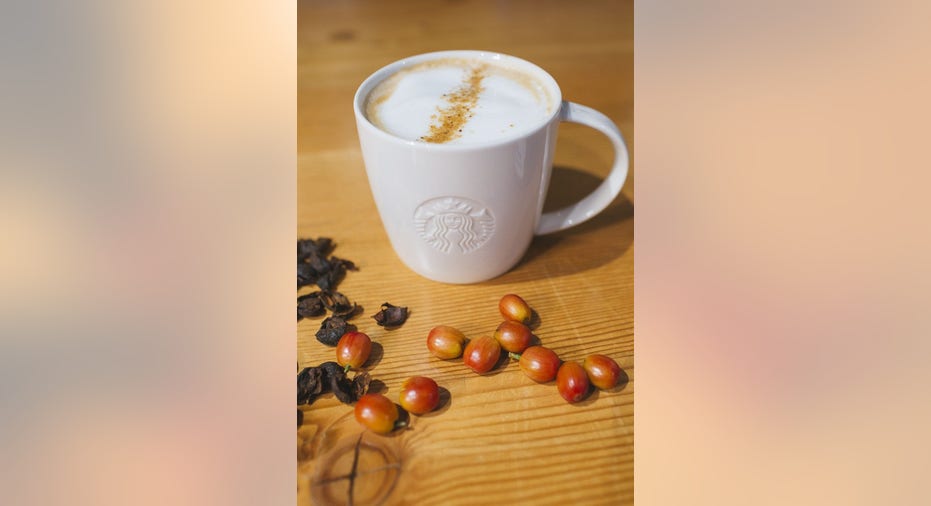 From early November through the holiday season, Starbucks (NASDAQ: SBUX) rolls out a greatest hits of limited-time food and beverage products. Starting with the Pumpkin Spice Latte and moving through Christmas season favorites like the Caramel Brulee, Eggnog, and Gingerbread lattes, along with popular snack items like the Cranberry Bliss Bar and the Frosted Snowman Cookie, the chain plays it relatively safe. Sure, the company does offer new things each year -- like Spiced Sweet Cream Cold Brew this winter -- but its core menu in Q4 is a guaranteed-to-please all-star team.
In early 2017, however, the chain is getting a little more experimental. Starbucks will start the year with one limited-release drink it first offered last year, the Smoked Butterscotch Latte, and two new, unique menu items, the Cascara Latte, and Sous Vide Egg Bites.
Starbucks new latte uses a part of the coffee plant many people do not even know exists. Image source: Starbucks.
What is Cascara?
While most people think of coffee in its dried "bean" form, the beverage actually "begins its life inside a coffee cherry, two pale light green beans surrounded by a round, ripe, red fruit," according to Starbucks. The new Cascara Latte, which which was "inspired" by the company's Seattle Reserve Roastery location (as was the Butterscotch Latte) is made with flavors from the fruit of the coffee cherry.
"Cascara is Spanish for 'husk,' and we are taking the fruit of the coffee cherry to give our latte a subtle, lightly sweet flavor," said Erin Marinan from Starbucks Beverage Research and Development team.
The drink combines espresso with steamed milk and cascara syrup, topped with foam, which is then finished with a sprinkle of cascara topping, which is made with cascara extract and cane sugar. The topping will be done in a straight line that "mirrors the inside of a coffee cherry," said Starbucks.
"Cascara Latte has a nice dark brown sugar and maple flavor that is subtly sweet," Marinan said. "As you look at the beverage from the top, it looks like a coffee bean," she said. "It's full circle."
The beverage will be available in stores in the United States starting Jan. 10 and through the winter while supplies last.
What about sous vide?
A technique involving partially cooking your food in hot water inside a plastic bag, sous vide has long been used by restaurants. The Starbucks breakfast product has been in development for two years, partly because customers asked for more vegetarian items and ordered breakfast sandwiches without bread.
The bacon and Gruyere Sous Vide Egg BItes Image source: Starbucks.
"The Sous-Vide technique is ideal for cooking as it uses water, which is the best transmitter of heat, while also maintaining the integrity of the product being cooked," said Chef Bruno Bertin from Starbucks' vendor Cuisine Solutions in a press release. "... eggs are a very versatile, yet delicate food product, which requires the precision the sous-vide technique provides."
Starbucks' Sous Vide Egg Bites come in bacon and Gruyere (cheese), which has 310 calories per two-piece serving along with 19 grams of protein, according to the company, and egg white and roasted red pepper, which has 170 calories per serving as well as 13 grams of protein per two bites.
Why is Starbucks doing this?
While traffic slows down in Q1 versus Q4 for the coffee chain, it's still a big time for coffee in much of the U.S. due to winter weather. More importantly, it's a time of year that lacks an obvious signature drink or a flavor that people associate with January and February the way people think of pumpkin in November and peppermint/eggnog/gingerbread in December.
It's unlikely, but possible, that the Cascara Latte could fill that niche. It's not an obvious or familiar flavor, but it's unique in a way that could attract consumers to at least sample it.
Sous Vide Egg Bites are a similar effort. They won't be something people immediately understand, but they might fill a need in the marketplace that could become a sales winner.
Both of these products are efforts to experiment by Starbucks at a time of year when its customers may want something new. If either one catches on and becomes a hit, it could meaningfully impact results by driving business either seasonally or all year long.
Find out why Starbucks is one of the 10 best stocks to buy now
Motley Fool co-founders Tom and David Gardner have spent more than a decade beating the market. (In fact, the newsletter they run, Motley Fool Stock Advisor, has tripled the market!*)
Tom and David just revealed their ten top stock picks for investors to buy right now. Starbucks is on the list -- but there are nine others you may be overlooking.
Click here to get access to the full list!
*Stock Advisor returns as of January 4, 2017
Daniel Kline has no position in any stocks mentioned. He plans to try the new latte as soon as his local Starbucks has it. The Motley Fool owns shares of and recommends Starbucks. The Motley Fool has a disclosure policy.