Starbucks Earnings Should Be Very Interesting This Time Around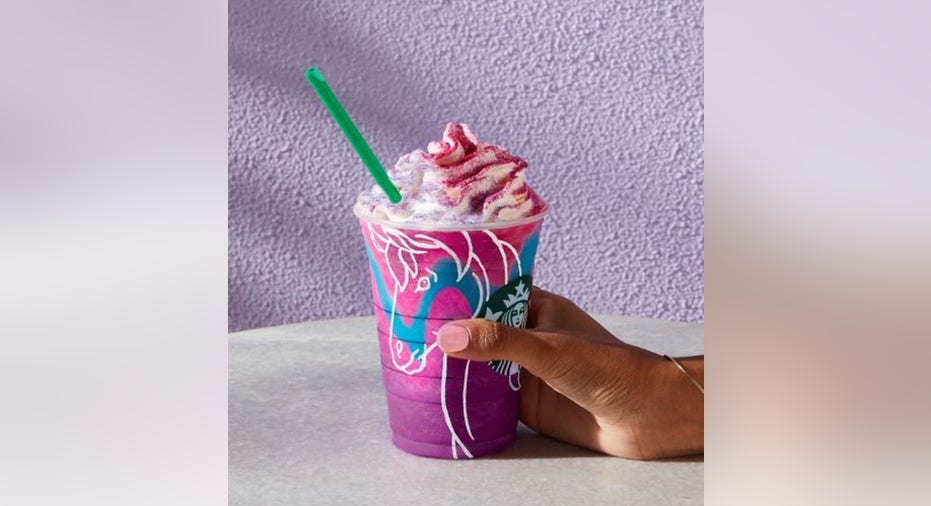 Starbucks (NASDAQ: SBUX) is a favorite among coffee drinkers and investors, but the much-beloved, if sometimes controversial, company has lagged the broader market rally over the past year. While the business itself has been performing very well compared to the rest of retail, Starbucks stock has higher expectations built in than most, trading at roughly 30 times earnings.
One sticking point last quarter was the mere 3% growth in comparable-store sales, which fell below analyst expectations and the company's mid-single-digit target. Moreover, the company took some heat when it said it would hire 10,000 refugees globally.
Despite a long history of success and an iconic brand, the company is at a point of transition in many ways. Here are four things to pay attention to in the April 27 earnings report and conference call.
The Unicorn Frappuccino. Only available through April 23. Image source: Starbucks.
1. A new CEO
Howard Schultz stepped down as CEO in early April and became executive vice chairman of Starbucks. Kevin Johnson, who had been president and chief operating officer, took over as CEO. The first time Schultz stepped down as CEO, in 2000, things did not go so well off the bat. MarketWatch reports that the stock fell 28% in the seven weeks after he stepped down in 2000 This time, Starbucks, not to mention the U.S. economy, is in much better shape. Moreover, Schultz said he will be more active on the board, and will oversee the rollout of Starbucks' premium Roasteries. .
Johnson joined Starbucks' board in 2009, during its massive turnaround after Schultz returned, then became chief operating officer in 2015. Investors will be watching what he has to say during his first conference call as CEO.
2. Mobile ordering bottlenecks
Johnson might talk about how the company is tackling bottlenecks in the Mobile Order & Pay program. As Starbucks' forward-thinking digital initiative has grown, operational problems have emerged due to congested pickup counters.
Basically, Starbucks believes that because there are so many people crowded around the mobile pickup lines, customers think stores are more crowded than they are, so many are turning and leaving. The company highlighted this as the likely reason for the same-store-sales miss last quarter. Investors should listen for how this challenge is being solved, and if the company still believes comps will accelerate back to 5% or 6% in the second half of the year.
3. Loyalty card reloads
Also last quarter, management noted the huge surge of activations and reloads for Starbucks' loyalty card, to $2.1 billion, exceeding management's most bullish expectations. This is not only great because the preloaded cards engender repeat business, but also because Starbucks can use that cash before it is spent on whatever the customer orders, and anyone who knows finance understands a dollar is worth more today than it is tomorrow.
The company ended the last quarter with $1.5 billion in preloads on the balance sheet, a 10% increase over the prior-year quarter. That money could go to new stores, buybacks, or investment in securities that earn a return. Keep an eye out for the loyalty card preload number, as that will be a gauge not only of customer loyalty but also increased financial flexibility.
4. Food innovation
Finally, look for unicorns: Specifically, the Unicorn Frappuccino, which was unveiled to audiences all over social media on April 19. An unholy mix of whole milk, whipped cream, and pink and blue syrups and sugars, the 16-ounce serving of this color-changing concoction weighed in at 10 grams of saturated fat and 59 grams of sugar. Fortunately for the health of America, the special drink was only available April 19 to 23.
Still, the publicity-making drink highlights a key Starbucks trait, which is menu innovation. On a healthier note, Starbucks is looking to add more gluten-free offerings, as well as boost its lunchtime sales with more fresh food. The new lunch offering is being tested in Chicago, so investors should keep an ear open for updates on that initiative -- as well as any other innovations Johnson, Schultz, and company have up their sleeves.
10 stocks we like better than StarbucksWhen investing geniuses David and Tom Gardner have a stock tip, it can pay to listen. After all, the newsletter they have run for over a decade, Motley Fool Stock Advisor, has tripled the market.*
David and Tom just revealed what they believe are the 10 best stocks for investors to buy right now... and Starbucks wasn't one of them! That's right -- they think these 10 stocks are even better buys.
Click here to learn about these picks!
*Stock Advisor returns as of April 3, 2017
Billy Duberstein owns shares of Starbucks. The Motley Fool owns shares of and recommends Starbucks. The Motley Fool has a disclosure policy.