Starbucks Corporation: Good Quarter or Not? Key Takeaways Investors Should Know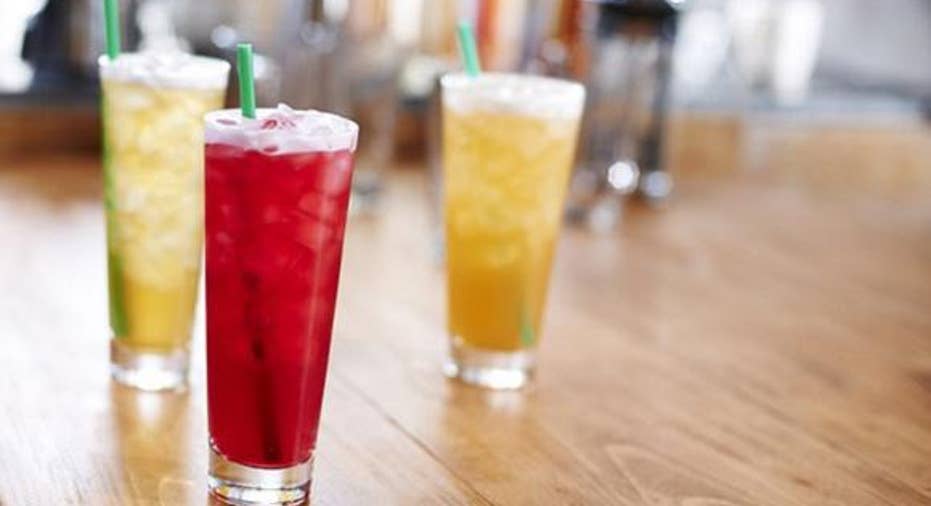 Tea sales grew over 17% at Starbucks, the highest rate in over one year last quarter. Image source: Starbucks.
Starbucks Corporation reported second-quarter earnings after market close on April 21, and early on April 22, the stock is trading down about 5.5%. So what happened? In short, Starbucks delivered another great quarter, with some metrics coming in a little softer than Wall Street analysts expected.
Here's a closer look at the company's financial results for the second quarter, as well as some key comments from management on the earnings call for added context of those results.
The numbersStarbucks quarterly results came in as follows:
| Metric | Q2 2016 | Q2 2015 | Change |
| --- | --- | --- | --- |
| Revenue | $4,993 | $3,622 | 9.4% |
| Operating income | $864.2 | $777.5 | 11.2% |
| Earnings per share | $0.39 | $0.33 | 18.2% |
Revenue and operating income in millions. Data source: Starbucks.
Comps and context on what it doesn't measureA key measure for Starbucks store performance is comparable store sales, or comps, which measures revenue growth at stores open more than 13 months. Starbucks reported consolidated comps of 6%, down from the 8% reported in the first quarter. The geographical breakdown of comps was as follows:
Americas, 7%; down from 9% in Q1
China/Asia-Pacific, 3%; down from 5% in Q1
EMEA, 1%; same as Q1
For a little deeper context, Starbucks' comps numbers only measure company-owned stores. This is important for several reasons. First, this quarter was the first that included the 1,100 stores that Starbucks acquired from a Japanese licensee in 2015 in the comp numbers, making Japan -- not China -- the largest segment of the CAP comp base. Furthermore, approximately two-thirds of new stores opening in the CAP region are licensed stores and will be excluded from the comp base.
Nonetheless, CFO Scott Maw said they are still forecasting mid-single-digit comps growth for CAP in 2016, likely because more Chinese stores will enter the comp base over the next six months, and that market continues to perform exceptionally well.
Starbucks Chinese employees. Image source: Starbucks.
COO Kevin Johnson spoke about comps in the EMEA segment, which is now 72% franchised or licensed stores, a more successful model in those markets. Johnson said that on a systemwide basis in EMEA (including non-Starbucks owned stores), comps increased 4% in the quarter, even as Europe and the Middle East continue to face economic uncertainty.
In other words, comps is an important metric, but it has limitations in what it actually tells us about store performance and growth.
Single-serve set for another surgeIn the earnings preview, I pointed out the profit-producing value of Starbucks' channel development business, which is essentially everything Starbucks you buy somewhere besides Starbucks. In Q1, this segment produced 18% of the company's operating income on less than 10% of revenue. In the second quarter, channel development produced 9.2% of revenue and 21% of operating income, and its 39.5% operating margin makes it easily the most profitable segment of the company.
On the earnings call, CEO Howard Schultz talked about what could be a massive step forward for this segment, with two potentially huge developments: The planned launch of single-serve capsules for Nespresso machines and the ability to sell K-Cups directly to office and other distribution channels. Let's talk about the second one first.
Keurig Green Mountain Inc.is the undisputed single-serve coffee leader in North America, and Starbucks is the most popular brand of K-Cup for the company's machines. The company says it will sell more than 1.5billionStarbucks K-Cups in 2016, a nearly 20% jump from 2015, and that its new agreement with Keurig offers improved economics and flexibility than the prior deal. In other words, this business is set to get bigger and even more profitable.
Starbucks is set to grow K-Cup sales at home, and will launch Nespresso pods in Europe soon. Image source: Starbucks.
At the same time, Keurig has essentially no presence outside North America, while Nespresso has more than 25 million espresso-based brewing machines globally. Furthermore, Starbucks estimates that 50% of its best European customers own a Nespresso machine at home. This is a market ripe for developing, and the company is (finally) ready to launch a single-serve Nespresso pod in Europe.
The company's Chinese partnership with Tingyi in China is also moving forward and is on track to launch this summer. This partnership will put Starbucks Frappuccino and other ready-to-drink iced beverages in more than 1 million points of distribution in the country, further expanding the brand's reach into essentially every major city in China this year.
Bottom line: Channel development may be a relatively small piece of the revenue pie, but it's an outsize slice of profits that is likely to only grow bigger over time and also an important way Starbucks leverages its brand appeal.
Looking aheadStarbucks management essentially reiterated its guidance for 2016, sticking to its guns on expectations for 10%-plus revenue growth for the full year, and comps "somewhat above" the mid-single digits, even after falling short on both of these metrics in the second quarter, and GAAP earnings per share in the range of $1.85-$1.86 for the full year, on slightly increased operating margin. For the third quarter, earnings per share are expected to be $0.47-$0.48.
The company also announced that it is selling even more of its EMEA stores to licensees, with AmRest Holdings SE set to acquire the company's stores in Germany in the third quarter.
Starbucks also continues to return capital to investors. It acquired 23 million shares in the second quarter, and has board approval to repurchase up to 125 million more shares. The board also declared a $0.20-per-share cash dividend payable in May, the same as last quarter and up 25% from one year ago.
The article Starbucks Corporation: Good Quarter or Not? Key Takeaways Investors Should Know originally appeared on Fool.com.
Jason Hall owns shares of Starbucks. The Motley Fool owns shares of and recommends Starbucks. Try any of our Foolish newsletter services free for 30 days. We Fools may not all hold the same opinions, but we all believe that considering a diverse range of insights makes us better investors. The Motley Fool has a disclosure policy.
Copyright 1995 - 2016 The Motley Fool, LLC. All rights reserved. The Motley Fool has a disclosure policy.