Starbucks Corporation Delivers Record Earnings, but One Important Metric Is Getting All the Attention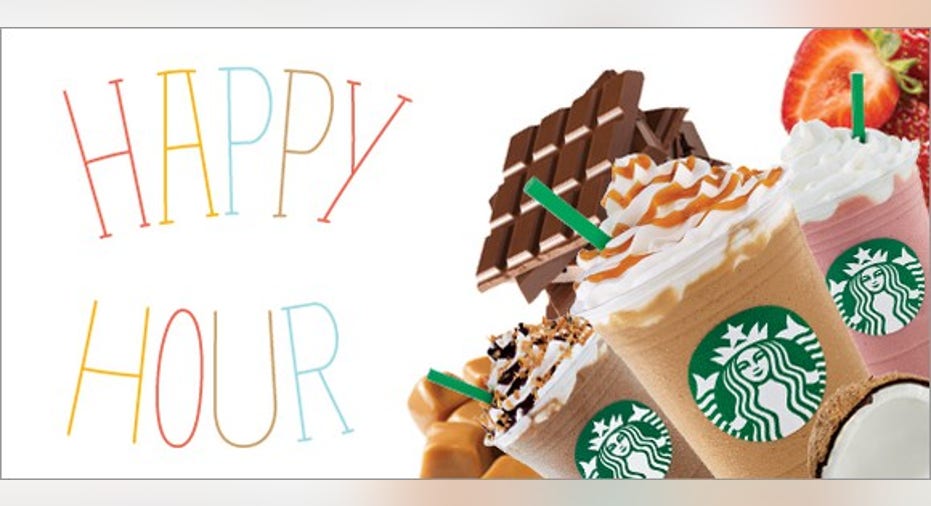 Starbucks Corporation(NASDAQ: SBUX) reported its second quarter financial results on April 27, and delivered a Venti-sized portion of revenue and earnings per share, both of which were the best-ever for a single quarter in the company's history.
But there's a problem -- though it's a bit of a "high-class" one -- with the company's growth in recent quarters, management struggles to produce same-store sales growth in its core U.S. segment that meets expectations. Let's take a closer look at what's happening with Starbucks' business results, and what management says to expect going forward.
Starbucks' Unicorn Frappuccino was a hit in April. Image source: Starbucks.
Starbucks keeps pouring on the profit growth
Second quarter financial results and key metrics:
| Metric | Q2 2017 | Q2 2016 | Change (YoY) |
| --- | --- | --- | --- |
| Revenue | $5,294.0 | $4,993.2 | % 6.0 |
| Net income | $652.8 | $575.1 | % 13.5 |
| Earnings per share | $0.45 | $0.39 | % 15.4 |
| Global comps | 3% | 6% | (300) BPS |
Revenue and net income in millions. Source: Starbucks Corporation.
Starbucks has done an excellent job leveraging its scale and operations to generate strong profit growth in recent years, and this quarter was no exception, with earnings growing at more than double the rate of sales. Global operating income increased 8%, and global operating margin was 17.7%, up 40 basis points year over year.
But as the table shows, comparable store sales -- that is, sales at stores open at least 13 months -- "only" increased 3% in the quarter. And while most retail operators would give up a limb to get 3% comps growth in the current environment, this is half of Starbucks' rate one year ago, and also below the guidance management has told investors and analysts to expect.
A closer look at what's happening with comps
Here's a comps breakdown by region and source:
| | | | | | | |
| --- | --- | --- | --- | --- | --- | --- |
| Comparable Store Sales | | Sales Growth | | Change in Transactions | | Change in Ticket |
| Consolidated | | 3% | | (1)% | | 4% |
| Americas | | 3% | | (1)% | | 4% |
| CAP | | 3% | | 1% | | 1% |
| EMEA | | (1)% | | 0% | | (1)% |
Data source: Starbucks.
A couple of key points about comps: First, it only measures sales at Starbucks-owned locations, which includes the bulk of stores in North America and Japan, but excludes the majority of stores everywhere else in the world. So it's not an exact measure of sales trends, but includes enough data to at least have a solid idea what's happening in Starbucks' major markets.
The key thing to note is that transactions actually declined in the quarter, while higher prices drove the entirety of comps growth. The knee-jerk takeaway might seem that Starbucks has a traffic problem. Less people are going to Starbucks in the U.S., right?
Not exactly. Over the past few quarters, management has said repeatedly that changes to the Starbucks Rewards program last year affected customer order behavior, specifically leading to more order consolidation. This reduced the number of orders, but not the number of customers. When adjusting for the way Starbucks Rewards customers now pay, transactions were flat and the average ticket increased 3%.
What management is doing to reignite traffic growth
The growth of e-commerce is devastating the brick and mortar retail landscape. In his first call since taking over as CEO, Johnson directed his first comments at this subject:
While Starbucks isn't really at risk of e-commerce disrupting its business, the loss of brick and mortar retail stores impacts the company; particularly locations adjacent to traditional retailers and benefit from impulse customers.
Johnson went on to describe several priorities for the company to help it grow sales, both in the short- and long-term. Specifically, improving throughput of Mobile Order & Pay orders, which are having a bottleneck effect during peak hours; more and better food options to grow lunch sales; further expansion of the company's "digital flywheel"; continued focus on China (whichreported 7% comps growth, with 6% of that transaction growth in the quarter); and Starbucks Reserve stores.
In short, Starbucks is taking steps to both grow mindshare with customers and to further strengthen it as a destination.
Frappuccino Happy Hour returns in May. Image source: Starbucks.
And it appears it's starting to pay off. Johnson said that U.S. comps accelerated through the quarter, and were actually up 4% in March and further accelerated in April. Promotional efforts, including the very successful "Unicorn Frappuccino" played a role in the April acceleration, and the upcoming "Frappuccino Happy Hour" promotion, set to start in early May, is expected to continue the momentum.
Looking ahead: earnings guidance cut on growth investments, Teavana retail struggles
Management revised its earnings guidance, reducing full-year GAAP earnings per share to between $2.06-$2.10, down from $2.09-$2.11. But it wasn't because of expectations that sales will fail to meet guidance, with the company still expecting 8%-10% revenue growth in 2017. Instead, the company will accelerate investments in growing its Roastery Reserve and Princi food business, expanding its digital capabilities, and Starbucks Rewards program.
The company also said that it is facing some struggles with some of its Teavana retail stores, with a portion of them struggling (though many are profitable). The company has already taken impairments related to Teavana retail, and is "evaluating strategic options" for the struggling portion. CFO Scott Maw made a point to differentiate the Teavana retail store challenges from the Teavana products sold in Starbucks, which he said grew almost 10% in the quarter, and has regularly driven 1% comps growth every quarter since being introduced.
Bottom line, most brick and mortar retailers and restaurants would love to have Starbucks' traffic "problems," and few companies have close to as many growth drivers as Starbucks does. Even if U.S. comps don't regularly grow 5%-plus going forward as they have in the past, the Starbucks growth story is far from over.
10 stocks we like better than StarbucksWhen investing geniuses David and Tom Gardner have a stock tip, it can pay to listen. After all, the newsletter they have run for over a decade, Motley Fool Stock Advisor, has tripled the market.*
David and Tom just revealed what they believe are the 10 best stocks for investors to buy right now... and Starbucks wasn't one of them! That's right -- they think these 10 stocks are even better buys.
Click here to learn about these picks!
*Stock Advisor returns as of April 3, 2017
Jason Hall owns shares of Starbucks. The Motley Fool owns shares of and recommends Starbucks. The Motley Fool has a disclosure policy.