Starbucks Can Thrive Without Howard Schultz as CEO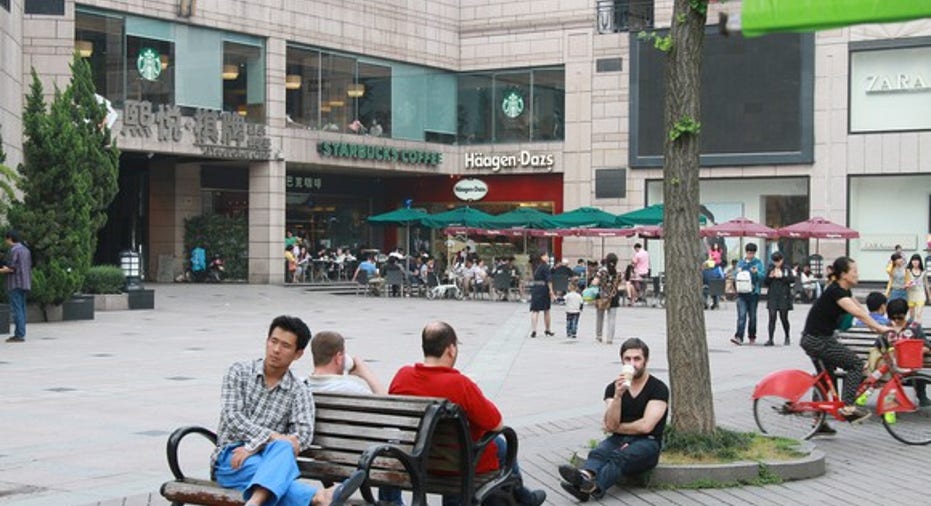 Last Thursday, Starbucks (NASDAQ: SBUX) announced that visionary CEO Howard Schultz will step down next April, handing the leadership reins to top deputy Kevin Johnson.
This is the second time that Schultz has retired from the top job at Starbucks. The last time he departed, the chain eventually lost its way, first overexpanding and then getting creamed by the Great Recession. Not surprisingly, many investors are wary of Schultz retiring again.
Howard Schultz plans to step down as Starbucks CEO in 2017. Image source: The Motley Fool.
However, this executive transition is likely to be much smoother than Schultz's first retirement. Most importantly, Starbucks is a far more established company today than it was in 2000. Additionally, Schultz plans to remain actively involved in his role as executive chairman, overseeing the company's growing Starbucks Reserve brand and its social impact initiatives.
Starbucks is a powerhouse
Today, investors take Starbucks' dominance of the coffee market for granted. However, in 2000, Starbucks had fewer than 3,000 stores globally and fewer than 400 outside the U.S. Annual revenue was a little over $2 billion.
Starbucks has since become a global behemoth with more than 25,000 stores -- about half of those outside the U.S. -- and $21 billion of revenue last year. Despite its massive scale, it is expected to grow revenue by nearly 10% annually over the next two years.
The upshot is that Starbucks has a lot more momentum now than it did 16 years ago. It also continues to have plenty of room for expansion, particularly in China, where it plans to double its store count by 2021.
Starbucks is expanding rapidly (and successfully) in China. Image source: The Motley Fool.
Doubling down on tech expertise
Howard Schultz's designated successor, Kevin Johnson (currently Starbucks' president and COO) spent the vast majority of his career in the tech industry. His promotion to the top job means that Starbucks is likely to continue its focus on technological excellence as a key sales driver.
Starbucks already has a heavily used and highly rated mobile app. Roughly a quarter of Starbucks' U.S. transactions now go through the app. The relatively new mobile order and pay feature is also gaining in popularity, helping customers avoid lines while improving employee productivity.
As CEO, Johnson is likely to keep a close eye on the further development of Starbucks' mobile app. As the app improves, it should drive higher customer engagement, ultimately boosting demand. Meanwhile, broader consumer acceptance of the mobile order and pay feature could enable a step-change improvement in the profitability of Starbucks cafes.
Schultz will focus on innovation
While Schultz has made it clear that Johnson will be in charge of Starbucks' day-to-day activities as CEO, Schultz will remain actively involved in building up the Starbucks Reserve brand.
Starbucks is set to open several new Starbucks Reserve Roasteries across the world in the next few years. It could eventually operate 20-30 roasteries, supporting a network of about 1,000 upscale Starbucks Reserve coffee shops. The company also plans to offer pricier Starbucks Reserve coffee in more of its regular stores going forward.
The first Starbucks Reserve Roastery opened two years ago in Seattle. Image source: Starbucks.
Starbucks Reserve arguably represents the company's biggest remaining growth opportunity in the U.S. By going upscale, Starbucks hopes to entice existing customers to spend more while also luring in some new customers who are currently loyal to smaller boutique coffee shops.
By stepping down from the CEO role, Schultz should be able to give this key growth opportunity his full attention in the next few years. He will be able to translate his vision for the Starbucks Reserve brand into a reality and develop it into a mature concept before handing it off to the next generation of Starbucks' management at some point in the future.
There is some risk, but no reason for panic
Schultz's retirement from the CEO job isn't likely to have a negative impact on the company's operations during the next few years. The biggest risk is that Starbucks gradually loses focus over the next five years or more, which is essentially what happened after Schultz stepped aside in 2000.
However, Starbucks is a much stronger company today than it was in 2000 and it has an established formula for success. This makes it less likely to lose its way.
Meanwhile, it has been clear for a few years that Schultz intended to back away from a day-to-day role sooner rather than later. His new focus on building up the Starbucks Reserve brand will keep him engaged and could unlock valuable long-term growth opportunities for the company. Howard Schultz may be retiring as CEO, but he isn't done making his imprint on Starbucks.
10 stocks we like better than Starbucks When investing geniuses David and Tom Gardner have a stock tip, it can pay to listen. After all, the newsletter they have run for over a decade, Motley Fool Stock Advisor, has tripled the market.*
David and Tom just revealed what they believe are the 10 best stocks for investors to buy right now... and Starbucks wasn't one of them! That's right -- they think these 10 stocks are even better buys.
Click here to learn about these picks!
*Stock Advisor returns as of Nov. 7, 2016
Adam Levine-Weinberg owns shares of Starbucks. The Motley Fool owns shares of and recommends Starbucks. Try any of our Foolish newsletter services free for 30 days. We Fools may not all hold the same opinions, but we all believe that considering a diverse range of insights makes us better investors. The Motley Fool has a disclosure policy.