Staples, Office Depot to Terminate Merger After Judge Blocks Deal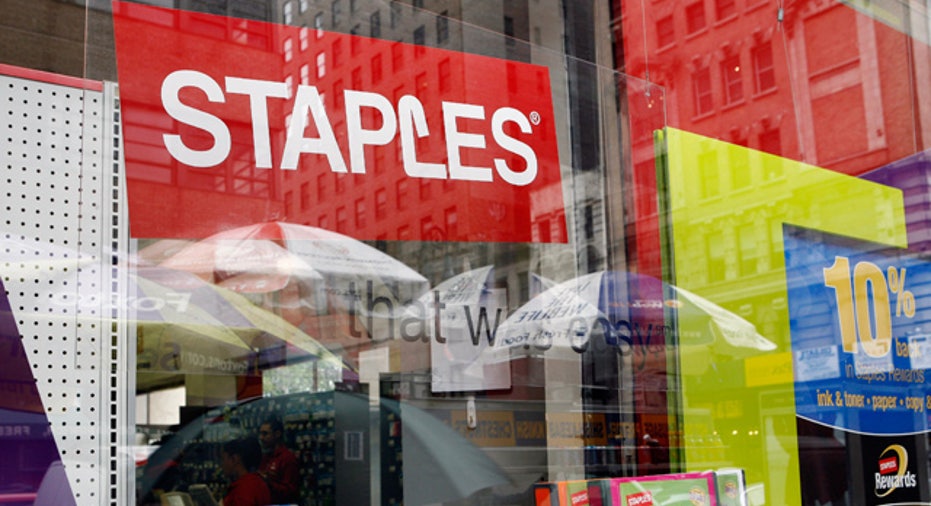 A federal judge on Tuesday blocked the planned merger of rivals Staples and Office Depot because of antitrust concerns, prompting the office-supply companies to say they would abandon the roughly $6 billion deal.
U.S. District Judge Emmet G. Sullivan sided with the Federal Trade Commission, which in a December lawsuit alleged the combination of the office superstores would lead to higher prices for large corporations that buy office supplies in bulk.
"There is a reasonable probability that the proposed merger will substantially impair competition" as the FTC had alleged, Judge Sullivan wrote in a three-page order that didn't include his full reasoning. His full opinion is slated to be released next week.
Staples Chief Executive Ronald Sargent said he was disappointed the judge sided with the agency "despite the fact that it failed to define the relevant market correctly, and fell woefully short of proving its case."
Staples said Tuesday it will cut another $300 million in annual costs and explore alternatives for its European operations, which include more than 200 stores. The Framingham, Mass., company will pay its smaller rival a $250 million breakup fee.
Office Depot CEO Roland Smith said the Boca Raton, Fla., retailer wouldn't appeal. He said the two companies will end their merger agreement on Monday.
The decision was released after U.S. stock markets had closed. Shares of Staples and Office Depot tumbled 10% and 26%, respectively, in late trading. Wall Street has been skeptical for most of the past year of the prospects for the combination to overcome the antitrust challenge and Office Depot shares have been trading at a wide discount to the proposed stock-and-cash offer.
Tuesday's loss is a considerable blow for the companies, which hoped the deal would boost their fortunes after years of sinking revenues.
The ruling marks the second time the FTC has defeated a Staples-Office Depot merger effort. It won a decision in 1997 that prevented the companies from joining forces. In the current case, the office suppliers argued the market had changed dramatically in the nearly two decades since the earlier decision.
The decision likely will shine a spotlight on the two companies' surprising and unusual courtroom strategy. After the FTC spent two weeks presenting its case to Judge Sullivan, Staples and Office Depot chose not to present a defense, arguing that the FTC's case was woefully lacking and a defense was unnecessary.
The FTC's legal team at times struggled during the court proceedings, including on one occasion when the judge questioned whether commission lawyers had improperly urged an Amazon.com Inc. witness to play down the company's plans to compete with Staples and Office Depot. The FTC denied it did anything wrong.
Those struggles didn't end up costing the FTC the case. Instead, the ruling marks yet another instance of the commission blocking a merger. Last year it persuaded a judge to block Sysco Corp.'s planned acquisition of rival food distributor US Foods Inc.
The case underscores the resistance of Obama administration appointees to proposed deals they believe will further concentrate markets and harm consumers.
Among other recent failed deals, Halliburton and Baker Hughes. dropped their planned merger this month in the face of a Justice Department lawsuit and concerns raised by antitrust enforcers in international jurisdictions.
Staples announced its planned acquisition of Office Depot in February 2015. The companies argued the deal would help them cut costs, stem years of decline and better position the new, merged firm to compete in the digital age.
Executives made it clear that a major force driving the transaction, worth $6.3 billion when it was announced, was the need to consolidate a pair of retailers that had grown too large for the market they served. That point was reinforced when Staples' sales for the fiscal year ending in January declined 6.4%, to $21.1 billion. Office Depot's sales for the same period dropped 10%, to $14.5 billion.
The FTC has said there is sufficient competition in the retail office-supply market that serves everyday customers. But it argued that the landscape was different for large national business customers, because only Staples and Office Depot had the scale to serve those customers' needs coast-to-coast.
The companies responded by saying Amazon and regional local suppliers would keep the business-to-business office-supply market competitive. They also argued that they wouldn't have the muscle to force powerful U.S. corporations to pay more for pens and paper clips.
Amazon last week said its relatively young business-to-business website now sells more than $1 billion a year in office supplies and other products.
The FTC said Judge Sullivan's ruling would help firms buying office supplies.
"Today's court ruling is great news for business customers in the office supply market," FTC competition chief Debbie Feinstein said in a statement. "This deal would eliminate head-to-head competition between Staples and Office Depot and likely lead to higher prices and lower quality service for large businesses that buy office supplies."
Tuesday's decision could take some pressure off the FTC, which has looked surprisingly vulnerable in recent merger challenges. The commission on Monday lost a decision in Pennsylvania, for example, when it failed to win an injunction against a hospital merger it believed to be anticompetitive.
Last September, a federal judge in Cleveland rejected the FTC's bid to block U.S. infection-prevention company Steris Corp. from acquiring the U.K.'s Synergy Health PLC.
Write to Brent Kendall at brent.kendall@wsj.com and Drew FitzGerald at andrew.fitzgerald@wsj.com