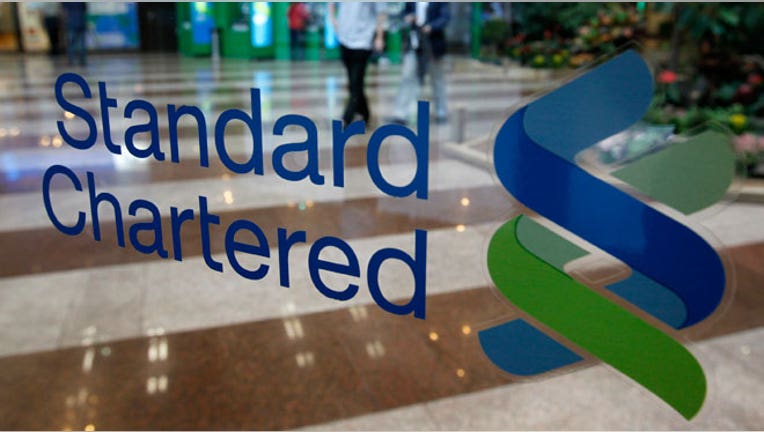 Standard Chartered is in settlement talks with the New York State Dept. of Financial Services on charges it conducted dollar transactions on behalf of Iran through its New York branch in violation of U.S. sanctions policy, a person close to the matter tells FOX Business.
The matter could be settled before the U.K. bank's scheduled meeting with state regulators August 15.
"We can't comment on any ongoing discussions with regulators," says a Standard Chartered spokesman.
The head of the New York regulatory body, Benjamin Lawsky, also met with officials from the U.S. Treasury Dept. and the New York Federal Reserve, among others, last April to discuss the allegations. The probe had begun in earnest in January 2010.
"There was a meeting in April at which we said this case was really old and nobody said 'no'" to New York filing the order alleging the violations, this person says.
The U.S. Department of Justice, Federal Bureau of Investigation, Federal Reserve, Treasury Department and Manhattan district attorney's office have also been probing the matter, including whether the transactions left the United States vulnerable to terrorist organizations, sources say.
Standard Chartered reportedly offered to pay $5 million to settle on $14 million worth of transactions it agreed were noncompliant with U.S. law. But the offer was apparently rejected -- the settlement price tag sought is believed to be in the range of $700 million.
The New York regulator this past Monday filed an order seeking to revoke the U.K. bank's license to operate in New York state, based on documents the U.K. bank provided U.S. regulators allegedly showing "apparent systematic misconduct," where Standard Chartered allegedly white-washed and forged wire transfers to mask the fact its clients were major state-owned Iranian banks, including Iran's central bank.
"For almost ten years, SCB [Standard Chartered] schemed with the government of Iran and hid from regulators roughly 60,000 secret transactions, involving at least $250 billion, and reaping SCB hundreds of millions of dollars in fees," the order says.
The New York department's review has also "uncovered evidence with respect to what are apparently similar SCB [Standard Chartered] schemes to conduct business with other U.S. sanctioned countries, such as Libya, Myanmar and Sudan," the state says.
Standard Chartered chief executive Peter Sands said in a conference call that the charges are "disproportionate and wholly inconsistent with the actions of other U.S. authorities in other sanctions matters," adding they are "very damaging" to the bank's reputation. The U.K. bank has also stated that to date, none of the transactions reviewed by the bank were linked to terrorist organizations.
Mervyn King, governor of the Bank of England, has criticized the New York regulator, as has the mayor of London. The case is "at least partly motivated by jealousy of London's financial sector -- a simple desire to knock a rival center," says London Mayor Boris Johnson.
However, "a little over two years ago, Standard Chartered gave us and everyone else a huge trove of documents" U.S. regulators had requested on its dealings with Iran, a person close to the matter tells FOX Business. "If something in there is not accurate, then that's an issue for Standard Chartered," this person says.
The British bank lost more than a quarter of its market value within a day of the threat from the New York Department of Financial Services to rip up its state banking license, vital for dealing in dollars. The order called Standard Chartered a "rogue institution" for breaking U.S. sanctions against Iran.
The order cites internal bank documents and emails. It notes that Standard Chartered's outside U.S. counsel in 2003 and its executive in charge of its U.S. operations in 2006 raised deep concerns that the U.K. bank was putting itself in violation of U.S. law prohibiting dealings with countries under federal sanctions, Iran, Libya, Myanmar and Sudan.
The U.K. bank's head of U.S. operations in 2006 wrote to the bank's group executive director in London that the bank faced "very serious or even catastrophic reputational damage" as well as "serious criminal liability."
But New York State's order says that, according to bank documents, the group executive director replied: "You f---ing Americans. Who are you to tell us, the rest of the world, that     we're not going to deal with Iranians."
Mr. Lawsky said in a statement emailed to FOX Business: "This is a case about Iran, money laundering, and national security," adding, "We will continue to work closely with our law enforcement partners, both federal and state, in this effort. No bank, big or small, foreign or domestic, is above the law."