Square Experimented at Coachella, and Apple Should Like What Happened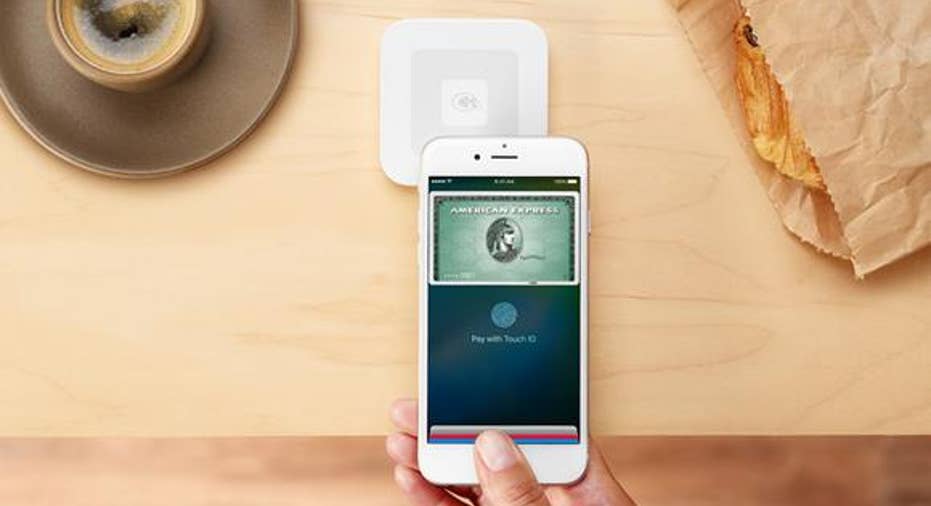 IMAGE SOURCE: SQUARE.
If you went to Coachella this year, you may have noticed that every vendor was using Square credit card terminals to process payments. The payments processor was the exclusive point of sale for the music and arts festival, providing its new EMV chip-enabled hardware to the organizers. Square started taking pre-orders for the chip-reader terminals in the fourth quarter, and orders reached nearly half a million in the first quarter.
At Coachella, Square found that 10% of card purchases were made using contactless payment methods such as Apple Pay. That's well above the industry average of less than 1%, according to data from eMarketer and Euromonitor, as reported by Square in a recent letter to shareholders. That bodes well for Apple and other contactless payment methods, since the market has yet to fully adopt EMV and contactless terminals.
A snapshot of the industryIn its first-quarter letter to shareholders, Square provided a glimpse into industry trends surrounding EMV-enabled terminals and contactless payments.
It found that 61% of transactions on its card readers were made with EMV-enabled credit cards in March, up from 53% in December. Eventually this number will reach 100%, as credit card companies continue to issue the more secure cards.
On the seller side, however, just 20% of all U.S. merchants have an EMV-enabled terminal, according to data cited by Square, which noted that "These numbers underscore that the need to be EMV ready is becoming increasingly important, as buyer EMV adoption is rising at a faster rate than seller adoption."
Square is capitalizing on that need by selling its new hardware to merchants. Last quarter, its hardware sales increased to $16 million, up 634% year over year. However, developing that new hardware was extremely costly. Square's hardware costs increased nearly as much, totaling almost $27 million. A lot of those costs were from upfront expenses such as tooling, so investors can expect margins on hardware to improve somewhat, but it still acts as a loss leader.
What this all means for AppleConsumer demand for more secure payment methods is great and growing rapidly, but merchants are much slower on the uptake. Square is looking to capitalize on the gap by getting its hardware (and thus its payments processing service) into more retail locations. Apple, for its part, doesn't care who's providing the hardware as long as it accepts contactless payments like Square's terminal.
Square's experiment at Coachella found more than a tenfold increase in the percentage of payments that were contactless when the option was ubiquitous. There are several possible explanations for that.
One is the knowledge before the event that services such as Apple Pay would be accepted anywhere consumers wanted to buy something, giving them more of a reason to upload their cards to their device. The process doesn't take long by any means, but it's still not something most would consider doing if they can only use it at one out of every five places they shop.
The second factor is that services like Apple Pay are actually faster and easier than using chip readers. While many shoppers are used to swiping their cards, which is relatively quick, chip readers take significantly longer and require two actions from the customer: place the card in, and remove it when it's done reading. Apple Pay, by comparison, is as simple as placing your phone near the terminal and putting your thumb on a button. It might sound frivolous, but if consumers are going to learn a new behavior, they're going to choose the easier and quicker one.
Regardless of the reasons consumers chose contactless payments at an outsize proportion at Coachella, the fact that they did bodes well for the future of Apple Pay. As more merchants install EMV and contactless terminals, usage of contactless payments ought to grow at an outsize pace because of increased adoption of Apple Pay (and similar services) and the ease of use. With Apple focusing heavily on its services segment as hardware sales wane, the results of Square's deal with Coachella are a good sign that Apple Pay has a lot of room left to run.
The article Square Experimented at Coachella, and Apple Should Like What Happened originally appeared on Fool.com.
Adam Levy owns shares of Apple. The Motley Fool owns shares of and recommends Apple. The Motley Fool has the following options: long January 2018 $90 calls on Apple and short January 2018 $95 calls on Apple. Try any of our Foolish newsletter services free for 30 days. We Fools may not all hold the same opinions, but we all believe that considering a diverse range of insights makes us better investors. The Motley Fool has a disclosure policy.
Copyright 1995 - 2016 The Motley Fool, LLC. All rights reserved. The Motley Fool has a disclosure policy.