Sports Leagues That Aren't the NFL or NBA May See Rights Fees Fall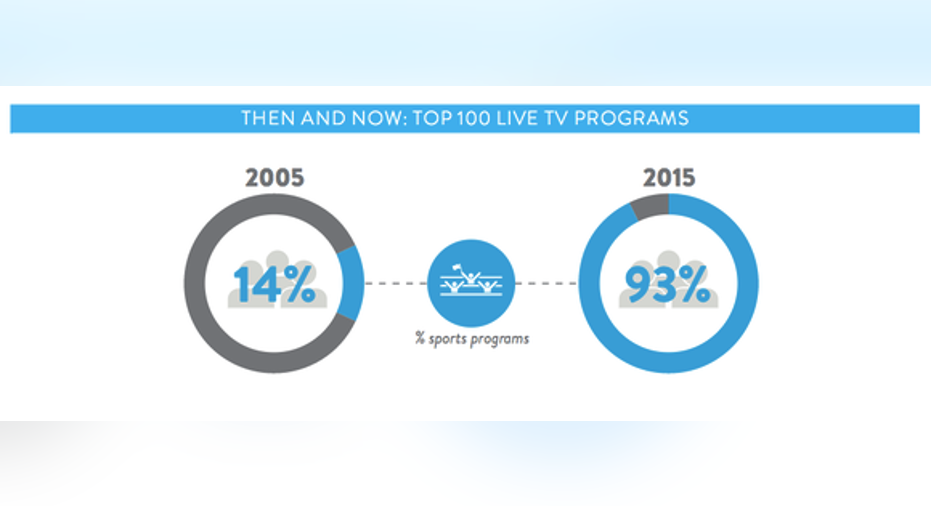 Since the digital video recorder became commonly used, the rights to professional sports have become steadily more valuable.
That's because while people may watch their favorite drama or sitcom on a delayed, time-shifted basis (while fast-forwarding through the commercials), sports are still generally watched live. That means the audience sees the ads as they air, which of course makes the commercial inventory more valuable.
"Sports accounted for 93 of the top 100 live-viewed TV programs in 2015, compared with 14 in 2005," according to Nielsen's 2016 Year in Sports Report. In addition, "Live viewing remains the standard for sports," the company wrote. "According to TV data from Q4 2015, 95% of total sports program viewing happened live. In comparison, only 66% of 'General Drama' viewers watched live."
But despite the allure of sports as must-watch-live programming, rights fees for leagues that aren't the National Football League or National Basketball Association may have topped out. That's not because people have stopped watching live. It's simply because, in many cases, competitive bidding has pushed contracts for rights to places where the networks can't make money anymore.
Source: Nielsen.
It's not all about profitsWhile no broadcast outlet wants to lose money on a deal, sometimes the overall value is bigger than just the bottom line. For example, Twenty-First Century Fox , Walt Disney (ABC/ESPN), and Comcast all pay for NFL rights deals, which have at least the potential to be money losers.
Even if the companies lose money when it comes to rights fees versus advertising revenue, they have a huge platform to use to launch other shows. How well that works generally depends on how good those promoted programs are, but it's a clear fringe benefit that adds to the overall value.
The problem for much of the rest of the non-NFL/NBA sporting world, however, is that the programming isn't popular enough to offer the same fringe benefit. Instead, the revenue brought in must at least somewhat track to the rights fees paid, or else companies such as Disney, which is facing pressure to cut costs amid a declining ESPN subscriber base, will simply not pay more.
The exception that may create the ruleIn its most recent TV rights contract in 2013, NASCAR made a deal with Fox and NBC for about $8.2 billion over 10 years, according to The Sporting News.That's an increase from the roughly $560 million a year that previous partners ESPN and Turner paid to $820 million per year (about $380 million from Fox each year and $440 million from NBC). That's a huge jump for the sport, but it may be a last hurrah, because these deals look like money losers.
NASCAR is certainly not shy about maximizing revenue opportunities Image source: NASCAR.
Dave Meltzer, who covers sports rights fees as owner/editor of the well-respected Wrestling Observer newsletter, broke down the economics for NASCAR's partners in a recent edition of his subscription-based publication. He noted that Fox charges $187,650 for a 30-second spot while NBC gets $123,000. He expects NASCAR to generate $400 million for Fox in 2016, leading to a slight profit, while NBC will pull only $300 million, making the core deal a money loser.
But, like with the NFL and the value promoting other shows, it's not all about ad revenue. In this case, both companies are trying to gain followings for their cable properties -- FS1 and FS2 for Fox, and NBC Sports Network for NBC. NASCAR can not only bring eyeballs to those barely existing channels, but it can also fill thousands of hours of programming.
Meltzer examined the issue because World Wrestling Entertainment, which is a simulated sport, received much less than it expected when its rights came up to bid. The company did see an increase in what Comcast, its main broadcast partner, paid it, but the company wasn't willing to lose money on the deal.
Admittedly, wrestling and NASCAR are somewhat outliers with their own unique audiences, but it does show that, barring special circumstances (which helped NASCAR), the networks are being more realistic even though they highly value live sports (and pseudo-sports).
Of course, these sorts of special circumstances seem to always come along whenever any sports rights deals are due. But in this case, it's worth noting that ESPN and Turner not only passed without trying to renew their deals with NASCAR but offered to leave a year early. That suggests that even though it only takes two for a bidding war, we could see fewer premium sports suffer in the next round of contract negotiations.
Could baseball take a hit?While NASCAR and wrestling are fringe sports, baseball is (or at least was) America's pastime. Major League Baseball has been a rights anomaly because even though its national games have become less interesting to most fans, it has still managed to get paid more each time its deal comes up.
"It's turned into a local sport," said Bill Simmons on his podcast. "I'm a Red Sox fan. ... I would never watch a game that wasn't the Red Sox unless it was the playoffs."
Simmons hosted Keith Olbermann on his podcast, and the former baseball broadcaster noted that the price of live programming has continually escalated, but he expects that will change for MLB.
"Baseball has managed to devalue the national package," said the former NBC/MSNBC/ESPN/Fox/Current host. "Whereas so far it has continued to grow a little bit every time it's been up for bids, Fox is not going to pay what they paid previously."
Olbermann also noted that the money MLB has received -- even as it has climbed -- has plummeted in relation to the NBA and NFL.
Here's what's comingPart of the reason ESPN and Turner wanted out of NASCAR is that both had just made a nine-year, $24 billion deal to keep NBA games. That's about triple what they had paid previously, and while the NBA -- the No. 2 TV property behind the NFL -- may be worth it, it stretched budgets far enough that there was no money left over for NASCAR.
That's because while cord-cutting has only been a relative trickle, the pay-television universe has lost subscribers each of the past three years. And while people dropping cable entirely has been rare, cord-shaving -- what happens when people drop channels they don't want to pay for -- has increased.
ESPN, for example, which gets around $5.50 per cable subscriber, has lost about 7 million subscribers in the past two years as of November 2015, Fox Sports reported. That's roughly $38.5 million each month in lost revenue, or $462 million a year. Those numbers aren't going to get better, and even if cord-cutting slows, cord-shaving and skinny bundles will almost certainly increase.
That won't just hurt ESPN at the top of the cable universe. It will also cut into the amount of cable subscribers paying for the lesser sports networks. And to compound the problem, being seen in fewer homes could cut into ad rates if it results in less people watching.
What goes up must come down?In the end, while the NFL and the NBA should continue to command higher fees each time their deals come due simply because of the massive public interest in those sports, the bubble should burst for a lot of less-popular sports. There will probably still be some head-scratching deals, such as the Fox/NBC NASCAR agreement, where two sides overpay because of perceived value, but that should become the exception, not the norm.
Cable grew for so long, as did the ad market, that broadcasters could make even bad rights deals pay off.That's simply no longer the case. The shrinking pay-TV universe, along with the fiscal realities that even some of the biggest spenders have felt, should usher in an age of relative restraint.
Sports rights, because the programming is live, will still command top dollar, but companies won't overpay in most cases, and that could bring any league that's not the NFL or NBA crashing back to reality the next time its rights become available.
The article Sports Leagues That Aren't the NFL or NBA May See Rights Fees Fall originally appeared on Fool.com.
Daniel Kline owns shares of World Wrestling Entertainment,. He has never watched NASCAR or a whole non-playoff MLB game on TV. The Motley Fool owns shares of and recommends Walt Disney. Try any of our Foolish newsletter services free for 30 days. We Fools may not all hold the same opinions, but we all believe that considering a diverse range of insights makes us better investors. The Motley Fool has a disclosure policy.
Copyright 1995 - 2016 The Motley Fool, LLC. All rights reserved. The Motley Fool has a disclosure policy.