Spirit Airlines' Stock Recovery Is Just Getting Started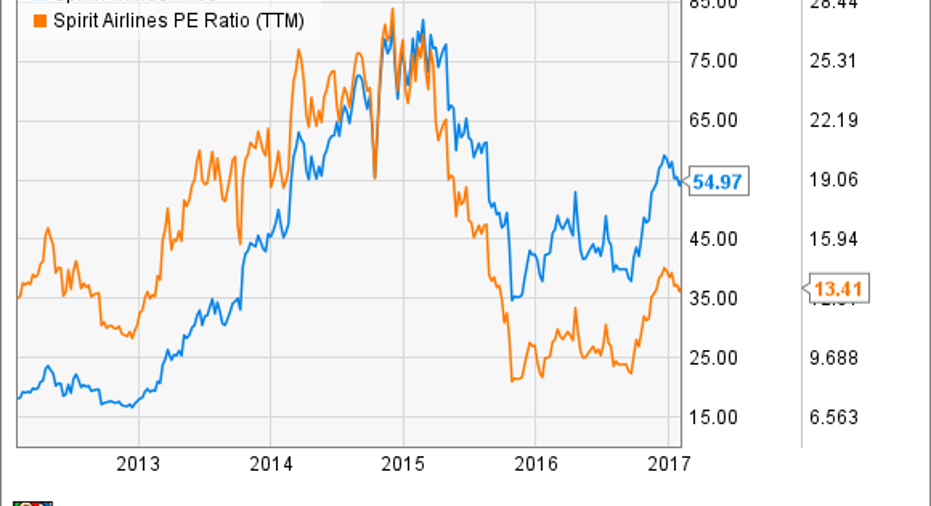 Spirit Airlines (NASDAQ: SAVE) is an ultra-low-cost carrier (ULCC) that offers extremely low fares, made possible by charging extra fees for everything from seat assignments to bags and food. Throughout 2016, a competitive pricing environment depressed fares in many of Spirit's key markets, resulting in several quarters of year-over-year unit revenue declines. In spite of this, the company continued to post good overall revenue growth and strong operating margins, helping the stock rise 47% last year. With growth investors returning to Spirit once again, let's look at the many things that make this an airline worth owning.
Image source: Spirit Airlines' November 2016 investor presentation.
A rapidly growing compounding machine
In its most recent investor presentation, Spirit boasts it is the fastest-growing airline in the U.S.Indeed, through a variety of operating conditions during the past several years, Spirit's growth has been remarkable. Since 2011, its capacity (available seat miles) has grown at annual rates of between 15% and 30%. And the airline is continuing to target high -- though slightly steadier -- growth into the future. Spirit expects to grow its capacity by 15% to 20% per year over the next five years, having identified this range as the sweet spot to help maintain its high margins.
Image source:Spirit Airlines' November 2016 investor presentation.
Speaking of those margins, Spirit has consistently been one of the most profitable airlines in the industry. Outside of a pilot's strike that caused margins to fall to 8.6% in 2010, the company's operating margins have exceeded 12% every year since 2009. And according to Spirit's data, since 2011, the company has outperformed the industry's average operating margins by roughly 7 to 9 percentage points each year, reaching an all-time high of 23.7% in its most recently reported full fiscal year.
Image source:Spirit Airlines' November 2016 investor presentation.
Spirit also has an enviable track record when it comes to generating returns on capital. For the past five years, pre-tax returns on invested capital have ranged from 26% to 32%, an impressive feat given the challenging pricing environment during the past year and a half.
Super-low costs -- the key ingredient to Spirit's secret sauce
The primary factor enabling Spirit's long-term growth and its attractive margins is its low cost structure. As measured by cost per available seat mile (CASM) over the last 12 months, Spirit is the lowest-cost airline in its primary markets by a wide margin. By comparison, American Airlines' and United Airlines' CASMs are 80% and 118% higher than Spirit's, respectively. Even discount carriers like Southwest Airlines(41% higher) and Jet BlueAirways (47% higher) don't come anywhere close to Spirit's rock-bottom CASM numbers.
Spirit's cost structure is so lean, in fact, that its total revenue per passenger is actually lower than its competitors' breakeven costs. Which means that while other airlines may temporarily discount fares on overlapping routes with Spirit, over the long term it doesn't make economic sense for any of them to compete with the airline on price.
Image source:Spirit Airlines' November 2016 investor presentation.
How do they do it? The company keeps a low-cost mindset throughout its operations. For example, it maximizes seat density on its aircraft and uses its planes more than many of its competitors (by operating a lot of red-eye flights.) And Spirit doesn't offer any club lounges in airports or first-class service. Its whole business model is based on maintaining its low costs. Even better, Spirit expects its CASM to decrease over the long term as the airline continues to grow. Future cost savings are expected to come from an increase in airline reliability (fewer delays or canceled flights) and aircraft fuel efficiency enhancements, and by buying additional aircraft rather than leasing them. Spirit's CASM advantage is an important asset that will help the airline continue to gain share in a highly competitive industry.
The potential market share upside is big
Spirit's plans for continued expansion show that management believes the ULCC market is underserved. Spirit currently operates 212 routes. Five years from now, the company plans to be operating somewhere in the neighborhood of 235 routes. But it has identified more than 500 total routes where it believes it could earn a "mid-teens or higher" operating margin, providing years of additional expansion opportunity beyond 2021.
Also, Spirit's market share won't just come at the expense of competitors. Spirit's data shows that when its extra-low fares are introduced to a new market, it spurs new demand. On average, Spirit manages to grow the traffic base for a given route by 35% to 40% after it enters the market.
Spirit's main obstacle in terms of attracting new travelers has always been its reputation. The company has suffered in the past from high rates of customer complaints and a less-than-stellar record for reliability. However, Bob Fornaro, who became CEO of Spirit in early 2016, has made fixing these things his No. 1 priority. Less than a year later, these actions are already bearing fruit. In the third quarter of 2016, Spirit set all-time company records for on-time performance in three consecutive months. Operational improvements like these should help in management's quest to be known for "boringly consistent reliability" and should reduce the company's rate of complaints over time, changing Spirit's brand for the better.
Very reasonably priced for the growth ahead
Spirit was once a high-flying growth stock that plummeted after a tough pricing environment caused unit revenue to decrease for several consecutive quarters. However, while the share price itself has recovered nicely from its 2016 lows, Spirit still trades at a modest P/E ratio of around 13. This isn't quite the bargain it was last year when it hit a P/E of 9, but current prices still seem to undervalue Spirit's future prospects.
With an anticipated return to unit revenue growth in 2017, and perhaps an entire decade of double-digit expansion on the horizon, Spirit's successful low-cost model looks poised to deliver solid gains to investors in the years ahead.
10 stocks we like better than Spirit Airlines When investing geniuses David and Tom Gardner have a stock tip, it can pay to listen. After all, the newsletter they have run for over a decade, Motley Fool Stock Advisor, has tripled the market.*
David and Tom just revealed what they believe are the 10 best stocks for investors to buy right now... and Spirit Airlines wasn't one of them! That's right -- they think these 10 stocks are even better buys.
Click here to learn about these picks!
*Stock Advisor returns as of January 4, 2017
Andy Gould owns shares of Spirit Airlines. The Motley Fool recommends JetBlue Airways and Spirit Airlines. The Motley Fool has a disclosure policy.