Spirit Airlines Finds a New Cost Advantage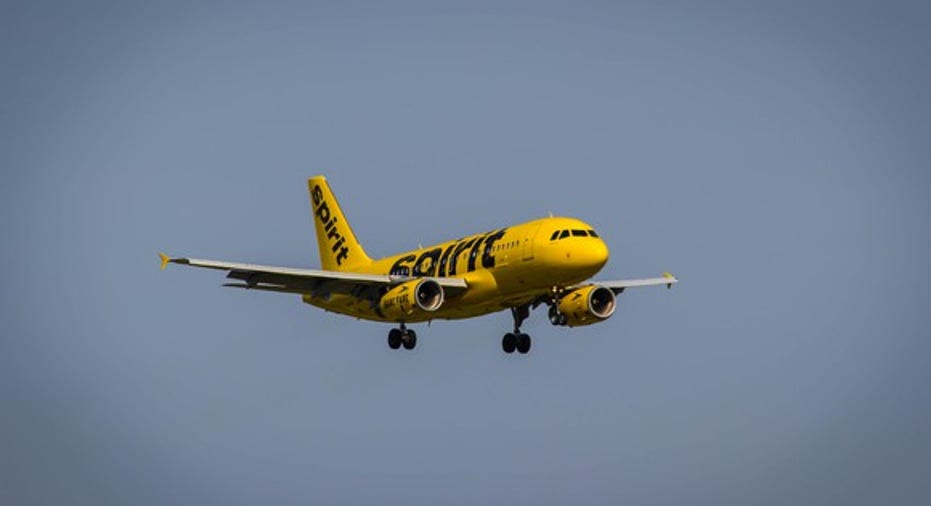 Spirit Airlines(NASDAQ: SAVE)has one of the lowest cost structures in the airline industry, but that doesn't mean that the carrier is immune to the pressures its fellow airlines are facing. For example, over the last two years, Spirit's labor costs have climbed 4 percentage points, to 20% of total revenue. This is partly due to expanded pilot and crew hiring to accommodate increased capacity, but it also stems from higher wage incentives paid due to collective bargaining agreements.
Similarly, total operating margin declined approximately 4 percentage points in 2016, to just over 19%. Nonetheless, Spirit's total cost per available seat mile, or CASM, decreased slightly last year, from 7.68 to 7.37 cents. How does Spirit absorb rising expense while continuing to maintain its fixed cost advantages as a leading ultra-low-cost carrier (ULCC)? Let's look at one of the more significant strategies the company is using lately: the way it pays for its airplanes.
Rethinking fleet financing
Should you lease, or should you buy? It's a question most of us will come across in our lifetimes, whether choosing between renting and purchasing a home or leasing an automobile versus owning it outright. And it's a question airlines grapple with every year as they work on their fleet plans.
To date, Spirit is primarily a plane lessee. Out of a total current fleet of 95 planes, 59 are financed under operating leases, and 36 aircraft are owned under secured debt.
Spirit's Airbus A319 aircraft in flight. Image source: Spirit Airlines.
Financing an aircraft through an operating lease has several advantages. The first is flexibility. Under an operating lease, ownership remains with a lessor, so at the end of the lease, an airline doesn't have to take ownership of a plane; it can simply enter into another lease for a newer aircraft.In addition, since operating lease payments function for all practical purposes as rental payments, they are fully deductible as expenses on a corporation's books.
On the flip side of this coin, in an operating lease, maintenance is the responsibility of the lessee, and to protect their investment, the lessors of aircraft often impose reserves and deposits to cover anticipated maintenance within lease terms.Though unused reserves and deposits can generally be recovered, they can tie up cash that could be put more effectively to work elsewhere.
Because it operates extremely new aircraft, Spirit has experienced this phenomenon recently. At an average plane age of 5.4 years, the company rightly boasts of a fleet that is the "youngest fleet of any major U.S. airline."
Thus, its repair and maintenance needs tend to be of routine nature, and as a consequence, the company has roughly $286 million on its balance sheet tied up in maintenance deposits, which are only gradually being expensed off the books.
In addition, it appears that Spirit is finding that the cost of ownership, given the continued availability of secured debt at favorable interest rates, is lower than the economic impact of leasing. In 2016, the company doubled its owned aircraft from the prior year's total of 18. Management cites this simple transition as the primary reason it was able to continue to trim unit costs last year:
To finance the lease of an airplane, a carrier still has to borrow money. But at least for now, given current marketplace conditions, Spirit's total financing costs of issuing debt and using owned planes as collateral appears to be lower than its lease financing costs. In addition, the company will implicitly pay less interest over comparable financing terms -- its operating leases tend to run between 12 and 18 years, while its debt is fixed at terms of between seven and 12 years.
Of course, Spirit lets go of an advantage cited above in choosing to own rather than to lease, and that's the ability to trade in an aircraft at the end of a lease term for a brand-new one under a separate agreement.
But it's a better economic decision to purchase a plane now, pay it off completely in, say, seven years, and reap four to five more years of useful service out of the equipment. Being an owner not only feels good, but it's a pragmatic way to parlay temporary benefits into unit cost advantages over the long term.
10 stocks we like better than Spirit AirlinesWhen investing geniuses David and Tom Gardner have a stock tip, it can pay to listen. After all, the newsletter they have run for over a decade, Motley Fool Stock Advisor, has tripled the market.*
David and Tom just revealed what they believe are the 10 best stocks for investors to buy right now... and Spirit Airlines wasn't one of them! That's right -- they think these 10 stocks are even better buys.
Click here to learn about these picks!
*Stock Advisor returns as of February 6, 2017
Asit Sharma has no position in any stocks mentioned. The Motley Fool recommends Spirit Airlines. The Motley Fool has a disclosure policy.