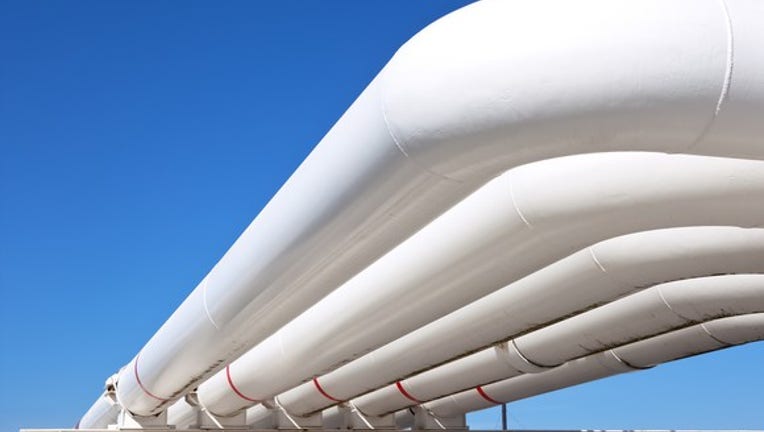 This past quarter's results at Spectra Energy (NYSE: SE) seemed more like a formality than anything else. With its pending merger withEnbridge (NYSE: ENB) expected to close relatively soon, management didn't even bother with some of the traditional elements of a quarterly earnings release. Clearly, management's focus is on the weeks to come.
Here's a quick rundown of Spectra's most recent results and what investors need to know as we get closer to the merger.
Image source: Getty Images.
Spectra Energy earnings: The raw numbers
| Results* | Q4 2016 | Q3 2016 | Q4 2015 |
| --- | --- | --- | --- |
| Revenue | $1,298 | $1,075 | $1,316 |
| EBITDA | $615 | $616 | $153 |
| Earnings per share | $0.16 | $0.28 | ($0.13) |
| Distributable cash flow | $170 | $202 | $194 |
| Distribution coverage ratio | 0.59x | 0.71x | 0.76x |
*IN MILLIONS, EXCEPT PER-SHARE DATA. DATA SOURCE: SPECTRA ENERGY EARNINGS RELEASE.
One thing to always keep in mind when looking at Spectra's earnings is that the company'sresults are very seasonal, with the bulk of its earnings and distributable cash flow coming in the winter months. That's why its distribution coverage ratio for the quarter looks so nightmarish. If we look at its full-year results, it shows that its reported distribution coverage ratio was a much more healthy 1.0 times.
With the exception of its Western Canada business segment, segment EBITDA improved thanks to new assets coming on line to offset any weakness from lower commodity prices or from lower volumes. In Western Canada, there were some one-time charges related to flooding in its British Columbia operations. It's also worth keeping in mind that late in 2015, Spectra Energy Partners (NYSE: SEP) transferred ownership of two long-haul natural gas liquids pipelines to DCP Midstream (NYSE: DCP), which has led to slower growth at Spectra Energy Partners and better performance in Spectra's field services segment.
Data source: Spectra Energy earnings release. Author's chart.
What happened with Spectra Energy this quarter?
The company was in a bit of a holding pattern this past quarter as it waited out its merger with Enbridge. In fact, it didn't even hold a conference call to review its results because the pending merger date is expected so soon.
Perhaps the biggest event for the quarter came at one of its subsidiaries, DCP Midstream, which announced that the general partner and limited partnership were reorganizing. The deal is that the general partner -- the entity that Spectra co-owned with Phillips 66 -- will transfer all assets and $424 million in cash to the limited partnership in exchange for 31.1 million units in the limited partner. For Spectra, this means a higher equity interest in DCP and should allow for greater growthof its field services unit.
For 2016, Spectra put approximately $2 billion of assets into service and has another $9 billion in capital projects currently under construction.
What management had to say
According to Greg Ebel, who will step down as the CEO of Spectra Energy upon completion of the Enbridge/Spectra merger and will assume the role of chairman of the board of the new combined company:
10-second takeaway
Like last quarter, this was a reasonably respectable quarter. There are some positives such as the realignment of DCP Midstream, which should lead to better results over the long term for Spectra. It's also a little discouraging that all of these new assets aren't quite leading to significant cash flow growth.
Ultimately, though, these things don't matter as much anymore because the deal with Enbridge is expected to close sometime this quarter. When that happens, all of these various business segments will be combined into new entities within Enbridge. When that's done, it will be worth checking in on these results to see how the combined companies perform.
10 stocks we like better than Spectra EnergyWhen investing geniuses David and Tom Gardner have a stock tip, it can pay to listen. After all, the newsletter they have run for over a decade, Motley Fool Stock Advisor, has tripled the market.*
David and Tom just revealed what they believe are the 10 best stocks for investors to buy right now... and Spectra Energy wasn't one of them! That's right -- they think these 10 stocks are even better buys.
Click here to learn about these picks!
*Stock Advisor returns as of February 6, 2017
Tyler Crowe has no position in any stocks mentioned. The Motley Fool owns shares of and recommends Spectra Energy. The Motley Fool recommends DCP Midstream. The Motley Fool has a disclosure policy.