Special eclipse glasses selling out quickly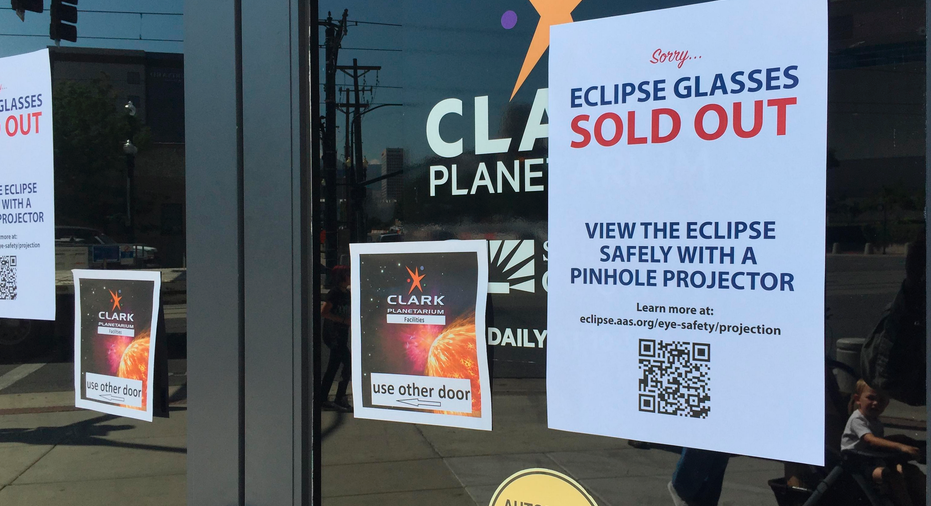 Eclipse mania is building and so is demand for the glasses that make it safe to view the first total solar eclipse to cross the U.S. in 99 years.
Lines are forming, prices are rising and shelves are emptying as people scurry to obtain special eyewear to view the sun Monday as it is obscured by the passing moon. Complicating the rising demand from last-minute shoppers was a recent recall by Amazon that forced libraries and health centers around the country to recall glasses they gave away or sold.
For stores that still have the glasses, prices are spiking. The ones still for sale on Amazon were going for steep prices Friday, around $11-$12 each.
Nancy West, a 67-year-old retired nurse from Utah, was delighted to be among the final people to get glasses Thursday before the Clark Planetarium in Salt Lake City ran out. It sold nearly 90,000 pairs at $2 each this week.
"I will never see a total eclipse again because I will not live long enough," West said. "It's an opportunity to understand how our universe works and what part I play in that."
Amy Watts and her 13-year-old son, Ethan, waited in line for an hour at the planetarium so they could have a safe way to watch the historic moment.
"We heard the frenzy of getting ahold of some eclipse glasses so we thought, 'What the heck, we'll give it a shot,'" said Watts, a health coach. "We actually scored some."
Doctors around the U.S. launched campaigns this summer to warn people that they can damage their eyes staring directly at the sun, even the slimmest sliver of it. They advised people to get special eclipse glasses. The American Astronomical Society put out a list of 15 approved manufacturers.
Doctors say people who don't have the glasses can look indirectly with a pinhole projector — which can be made from a shoebox — that casts images of the eclipsed sun onto a screen at least 3 feet away. NASA also has a webpage listing safety tips for how to view the eclipse.
One of the approved manufacturers selling the special glasses, American Paper Optics, has sold 45 million pairs over the last two years — 10 million since mid-July, said John Jerit, president of the Memphis, Tennessee-based company.
Among their customers was Vanderbilt University Medical Center, which had to recall 8,000 glasses purchased from an unidentified third-party vendor and given out at a county fair last weekend. The center was offering people the chance to exchange the faulty glasses for new, certified ones from American Paper Optics Friday through Monday.
The scramble was on even for those not affected by recalls.
The Boise Public Library started giving out free eclipse glasses Aug. 1. With lines of eager eclipse-watchers stretching out the door, the main branch ran out in about 15 minutes, spokesman Kevin Winslow said.
The rest of the Boise library branches also ran out quickly: the entire supply of more than 2,000 glasses was gone in under an hour.
"We got about a dozen calls in the last hour asking if we still had them," Winslow said Thursday. "I'm telling people, 'If you have a family of three or four, not everyone has to have their own pair — you can pass it around.'"
___
Associated Press writers Rebecca Boone in Boise and Adam Sainz in Miami contributed to this report.