S&P 500 Snaps Five-Day Streak as Greece, Earnings Weigh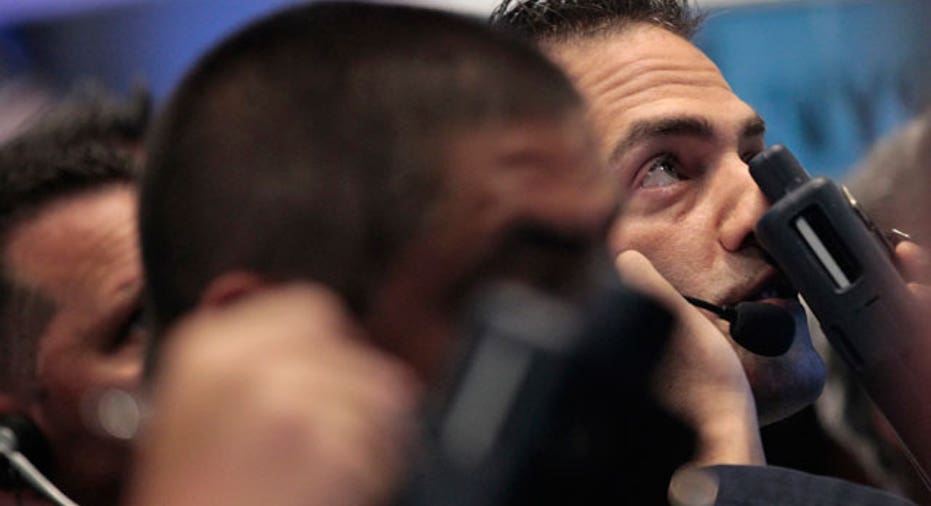 FOX Business: The Power to Prosper
The Dow and broad S&P 500 fell modestly on Tuesday as dragging debt talks in Greece and mixed earnings reports weighed on sentiment.
Today's Markets
The Dow Jones Industrial Average fell 33.1 points, or 0.26%, to 12676, the S&P 500 dipped 1.4 points, or 0.1%, to 1315 and the Nasdaq Composite rose 2.5 points, or 0.09%, to 2787.
The two stocks that weighed the most on the Dow from a points perspective by a wide margin were McDonalds (NYSE:MCD) and Travelers (NYSE:TRV), costing the blue-chip index close to 34 points combined.
McDonald's posted fourth-quarter earnings per diluted share of $1.33, beating analysts's forecasts of $1.30. The fast-food giant's sales came in at $6.82 billion, also topping estimates of $6.81 billion. Insurance firm Travelers unveiled an operating profit of $1.48 a share, missing estimates of $1.53.
Other Dow components posted earnings on the day as well.
Johnson & Johnson's (NYSE:JNJ) fourth-quarter profit of $1.13 per share, excluding items, on sales of $16.3 billion topped analysts' expectations of $1.09 on $16.27 billion. Verizon Communications (NYSE:VZ) posted adjusted fourth-quarter earnings of 52 cents per share on revenue of $28.4 billion. Analysts anticipated the telecommunications company would earn 53 cents on $28.39 billion in sales.
Quarterly reports from Apple (NASDAQ:AAPL) and Yahoo! (NASDAQ:YHOO) are on deck after the closing bell in New York.
Greek Talks Drag on for Another Day
Talks between private creditors and the Greek government have dragged on in Athens for three weeks. The two groups have agreed on the general measures of the bond exchange, in which some of the country's bonds will be voluntarily traded in for ones with a lower face value. However, the interest rate the new paper pays has been a stumbling point.
The issue is that bondholders are requesting an average rate around 4%, according to a report by the Wall Street Journal, to compensate for the risk posed by holding Greek debt. However, Greece and the groups involved in its bailout, namely the European Union and International Monetary Fund, are pushing for lower borrowing costs, which will help Greece keep its overall debt level in check.
The stakes are quite high: if Greece can't strike a deal that involves mutually acceptable private losses, its rescuers have said they won't provide aid the country needs to service its debts. If Greece fails to make its debt payments, it could lead to a potentially chaotic default.
The euro was down 0.1% to $1.30, while the U.S. dollar rose 0.22% against a basket of six world currencies.
On the economic front, the International Monetary Fund significantly pared back its estimates for global economic expansion as a result of the deepening debt crisis in Europe. The Washington-based group said  "prospects have dimmed" and "risks to financial stability have increased" as it slashed its 2012 global growth forecast to 3.3% from 4%.
Commodities markets were mixed. The benchmark crude oil contract traded in New York fell 63 cents, or 0.63%, to $98.95 a barrel. Wholesale RBOB gasoline rose 0.98% to $2.805 a gallon.
In metals, gold slipped $13.80, or 0.82%, to $1,665 a troy ounce.
Foreign Markets 
European blue chips slid 0.48%, the English FTSE 100 dipped 0.7% to 5,742 and the German DAX slumped 0.41% to 6,410.
In Asia, the Japanese Nikkei 225 rose 0.22% to 8,785.