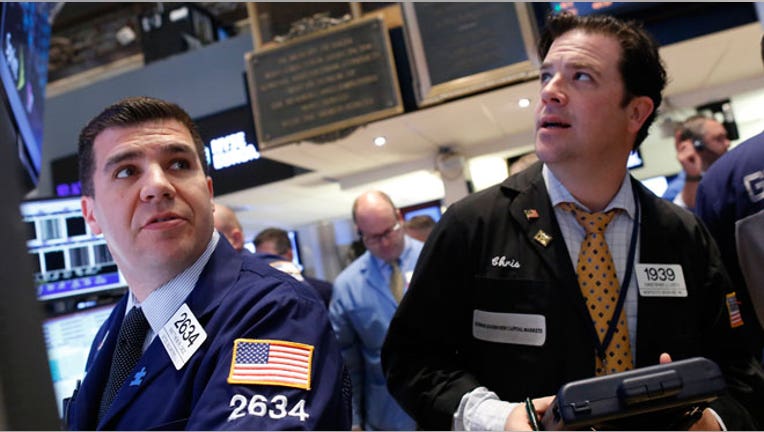 U.S. stocks closed sharply lower on Monday, with the S&P 500 falling by its largest margin in nearly seven weeks.
Investors turned skittish as they fretted about falling commodity prices and concerns about global growth.
A decline in economic activity in August, measured by Chicago Federal Reserve as well as a drop in existing-home sales contributed to the dour Wall Street mood.
The S&P 500 (SPX) closed 16.11 points, or 0.8%, lower at 1,994.29. The Dow Jones Industrial Average (DJI) dropped 107.06 points, or 0.6%, to 17,172.68. The Nasdaq Composite (RIXF) fell 52.10 points, or 1.1%, to 4,527.69.
Randy Frederick, managing director for active trading and derivatives at Charles Schwab, said that market volatility is expected to rise in the next several weeks.
"The end of tapering in October will coincide with midterm elections, which is historically a volatile period for stocks. We would caution investors in the near term and hedge against 3%-5% pullback," Frederick said.
Data released on Monday, shows U.S. economic activity was lackluster in August. Sales of existing homes unexpectedly declined in August, for the first time in five months, the National Association of Realtors reported Monday. NAR attributed the drop to fewer all-cash sales to investors.
China worries festering: Hong Kong's Hang Seng Index fell to two-month lows on Monday as traders worried ahead of the HSBC estimate for China's September purchasing managers index, due after the close of U.S. markets.
Any number under 50 -- indicating contraction -- could mean more losses for Asia markets, barring meaningful stimulus measures. At a G-20 meeting over the weekend, China's Finance Minister Lou Jiwei said the country is facing downward pressure, but won't "make major policy adjustments" due to changes in any individual economic indicator.
"We're not going to see this wall of money thrown at the Chinese slowdown," Stuart Beavis, head of institutional equity derivatives at Vantage Capital Markets in Hong Kong, told Bloomberg News.
Stocks to watch: Alibaba shares fell 4.3% on the second day of trading. With the e-commerce company's underwriters set to exercise an option to sell additional shares, the IPO is now officially the world's largest, Dow Jones Newswires reported Sunday.
Shares in Apple, Inc.(AAPL) closed slightly higher after the company said iPhone 6 sales topped 10 million during the first weekend, a new Apple record.
AutoZone Inc. (AZO) reported fiscal-fourth quarter earnings that topped estimates, but sales were slightly below forecasts. Shares were dropped 4%.
Dresser-Rand Group Inc. (DRC) gained 2.6% after German engineering company Siemens AG announced a deal to buy the U.S. oil-equipment maker for $7.6 billion.
Shares of Sigma-Aldrich Corp. soared 33% after Merck & Co. Inc. (MRK) said Monday it will pay $140 per share for the life-science and technology company, a price that values the company at around $17 billion. (Read more about the day's notable movers here: http://www.marketwatch.com/story/alibaba-autozone-in-spotlight-2014-09-21.)
Other markets: Silver(SIZ4) prices fell to four-year lows on Monday on dollar strength. Gold (GCZ4) recovered and settled $1.30 higher at $1,217.90 per ounce. The dollar was largely unchanged but hovered around Yen109.15 Monday, just under a six-year high reached Friday.