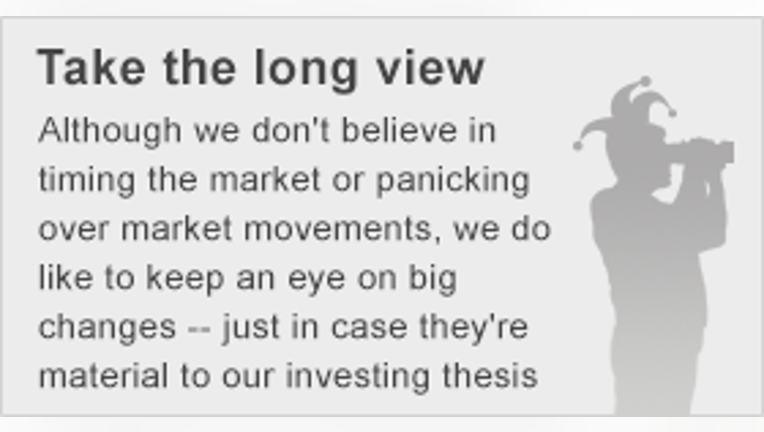 What: Shares of Southwestern Energy declined 12.5% today after the company announced that CEO Steve Mueller was stepping down and would be succeeded by COO Bill Way.
So What: For a while, Southwestern Energy was looking to be one of the companies that could use the market downturn as a way of becoming a larger company. Not only did it make more than $5 billion in acquisitions at the end of 2014 just when oil and gas prices started to decline rapidly, but it also increased capital spending in 2015 compared to the year prior and moved to a new headquarters to attract people getting let go from other oil & gas firms.
We can probably assume that these moves were made under the assumption that the downturn in oil and gas wasn't expected to be as long as it has. Since those ambitious acquisitions and spending plans, the company has been forced to sell off non-core assets like gathering pipelines to help raise cash.
Based on the press release that the company put out today, it's hard to say whether Mueller left on his own accord or if the board voted him out. In either case, he has also ceded his executive chairman of the board position for a non-executive board seat until he plans to step down at the next stockholder meeting. As part of the sucession, Way will take a seat on the board.
Now What: Bill Way has been with the company for a few years now, and its hard to tell whether this move signifies any significant change in strategy. According to the company;s release statement. May sad that the company will be "committed to investing within our cash flow, stabilizing our debt, reducing our cost structure, and addressing our balance sheet as we move forward." So perhaps that is a sign that Southwestern Energy will be scaling back its spending until either it can lower its debt load or until we start to see a robust change in natural gas prices.
The best course of action is probably to wait and see. May is saying the right things, but investors should wait and see some tangible results before getting too excited about this move.
The article Southwestern Energy's Stock Sinks 12% After CEO Steps Down originally appeared on Fool.com.
Tyler Crowe has no position in any stocks mentioned.You can follow him at Fool.comor on Twitter@TylerCroweFool. The Motley Fool has no position in any of the stocks mentioned. Try any of our Foolish newsletter services free for 30 days. We Fools may not all hold the same opinions, but we all believe that considering a diverse range of insights makes us better investors. The Motley Fool has a disclosure policy.
Copyright 1995 - 2016 The Motley Fool, LLC. All rights reserved. The Motley Fool has a disclosure policy.