Southwest Airlines Continues to Outperform Its Larger Rivals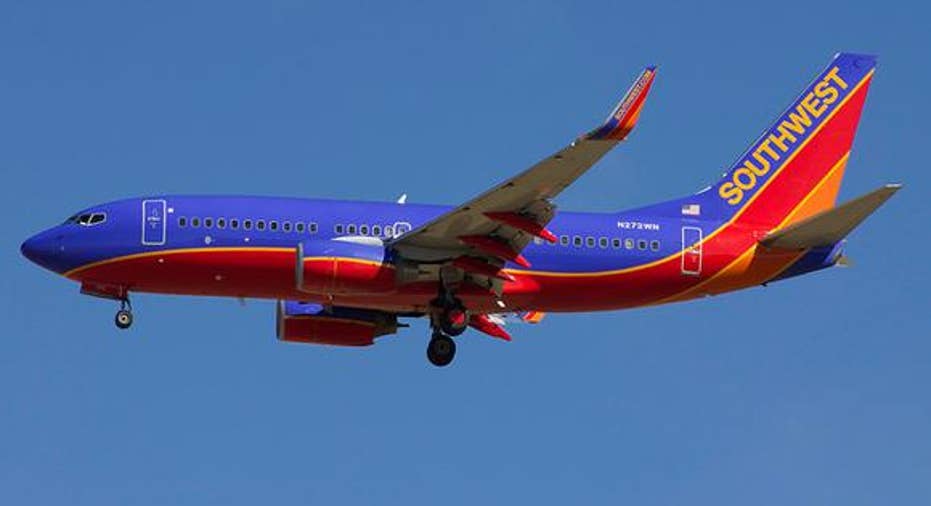 Less than a year ago, Southwest Airlines seemed to be suffering from the same revenue headwinds that were impacting its larger rivals: American Airlines , Delta Air Lines , and United Continental .
However, since the middle of 2015, Southwest has shown a remarkable ability to keep unit revenue roughly stable while profiting from lower fuel prices. Southwest's favorable positioning could help its stock continue to rise, even though it trades at a substantial premium to peers.
Parity quickly unravelsAs recently as Q2 2015, all four of the top U.S. airlines were experiencing relatively similar unit revenue trends. During that quarter, Southwest had the smallest decline in passenger revenue per available seat mile (PRASM), at 4.6%. But Delta was not far behind, with PRASM down 4.7%. United and American were also within striking distance, with PRASM down 5.6% and 6.9%, respectively.
Unit revenue has been declining for the past year at most major airlines. Photo: The Motley Fool.
However, Southwest quickly bounced back. Last summer, it signed a new co-branded credit card agreement that is significantly more lucrative than the one it replaced. Southwest has estimated that the annual benefit will be around $500 million.
By Q4, Southwest's total revenue per available seat mile (RASM) -- which includes the incremental credit card revenue -- was down just 0.7% year over year. Delta also had a decline of less than 2% for Q4. However, United Continental's total RASM fell 4.7% year over year for the quarter, while American Airlines' total RASM slumped 5.6%.
The trend continuesSouthwest continued to pull away from its competitors during Q1. Last week, the company confirmed that unit revenue for the first quarter will be roughly in line with its performance a year ago.
By contrast, all of the other major airlines are projecting that unit revenue will be near the bottom of the guidance ranges they provided in January. For Delta, that means PRASM declined about 4.5% in Q1. United estimates that PRASM fell 7.25%-7.75%. Finally, American expects to report a 7%-8% PRASM decline for Q1.
Some of this divergence -- about 2.5 percentage points -- still relates to Southwest's new credit card agreement. However, Southwest is also benefiting from its domestic focus. Airlines with large exposure to international routes have faced revenue headwinds from the strong dollar, as well as automatic fuel surcharge reductions in some markets: issues that Southwest has avoided.
Southwest has handily outperformed its rivals on unit revenue since last summer. Photo: The Motley Fool.
Southwest's strong unit revenue performance is particularly impressive because the company has been steadily adding larger planes to its fleet and operating longer flights. Both moves would tend to depress unit revenue.
Unit revenue outperformance keeps margins highThanks to Southwest's continuing unit revenue outperformance, analysts expect the company's earnings per share to rise more than 20% in 2016.
Plenty of airlines are likely to post earnings growth in that range this year. What's unique about Southwest's situation is that the company is still locked into relatively high fuel prices. If Brent crude prices average $45/barrel this year -- roughly in line with the current market price -- Southwest expects to pay $1.95-$2.00 per gallon for jet fuel. That would probably be $0.40-$0.50 more than the industry average.
That's because Southwest hedged a lot of its future fuel consumption at higher prices. As of mid-January, the company's 2016 fuel hedges were in the red to the tune of $1 billion.
The good news is that hedging losses will be a lot lower after 2016. For 2017 and 2018 combined, Southwest's unrealized fuel hedging losses were less than $800 million as of mid-January. Furthermore, the company has greater protection than other airlines in case fuel prices move higher again.
This means that Southwest may have more earnings growth potential for 2017 and 2018 than the legacy carriers, especially if fuel prices rise significantly from here. With shares trading for just over 10 times projected 2016 earnings, Southwest Airlines stock remains a relatively safe pick in the turbulent airline industry.
The article Southwest Airlines Continues to Outperform Its Larger Rivals originally appeared on Fool.com.
Adam Levine-Weinberg owns shares of United Continental Holdings, and is long January 2017 $40 calls on Delta Air Lines, and long January 2017 $30 calls on American Airlines Group. The Motley Fool is long January 2017 $35 calls on American Airlines Group. Try any of our Foolish newsletter services free for 30 days. We Fools may not all hold the same opinions, but we all believe that considering a diverse range of insights makes us better investors. The Motley Fool has a disclosure policy.
Copyright 1995 - 2016 The Motley Fool, LLC. All rights reserved. The Motley Fool has a disclosure policy.