Southwest Airlines and Hawaiian Airlines Are Outperforming on Unit Revenue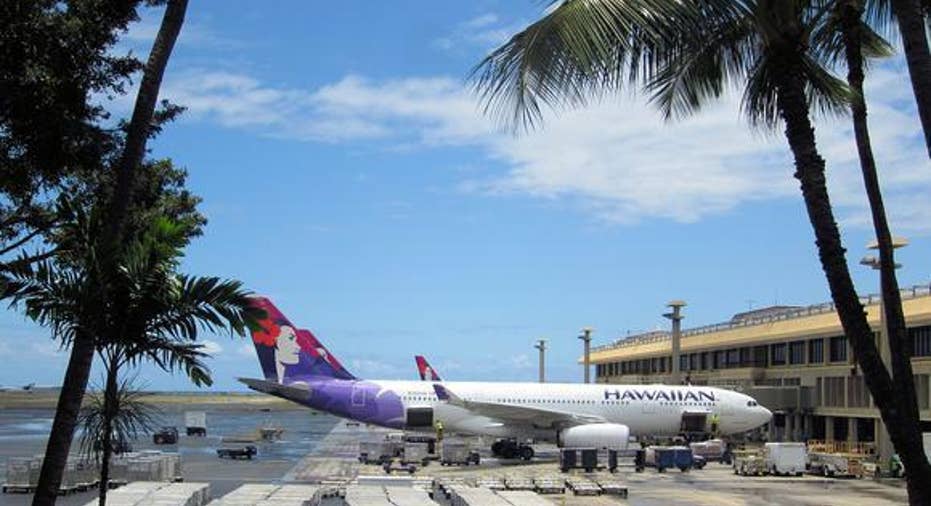 Across the U.S. airline industry, unit revenue declines have become par for the course in the past year. Rapid capacity growth (both domestically and in many international markets), the strong dollar, falling fuel surcharges on international routes, and economic weakness abroad have all been blamed for this revenue pressure.
In Q1, unit revenue declined in the mid-high single digit range for most major U.S. airlines. But two airlines broke away from the pack, posting significantly better results: Southwest Airlines and Hawaiian Holdings .
Southwest matures its route networkSouthwest Airlines returned to unit revenue growth last quarter, as revenue per available seat mile (RASM) edged up 0.1% year over year. During Q1, Southwest benefited from its revised credit card agreement, as it has since Q3 2015. The new agreement provided $125 million in incremental revenue, boosting unit revenue growth by more than 2.5 percentage points.
Southwest Airlines returned to (modest) unit revenue growth in Q1. Image source: The Motley Fool.
On the flip side, Southwest increased its average stage length (the number of miles per trip) by 2.4% and the number of seats per trip by 0.5%. CFO Tammy Romo estimated that these changes had a 1 to 2 percentage point negative impact on unit revenue. The company's capacity growth of 9.2% also probably kept unit revenue growth in check during Q1.
Thus, excluding all of these factors, unit revenue might have declined by about 1% year over year. That still would have put Southwest head-and-shoulders above the competition.
A big reason for this strong relative revenue performance was the maturing of new markets that Southwest has added in the past two years. Due to Southwest's rapid expansion in Dallas and the wind-down of the AirTran brand in late 2014, roughly 20% of the carrier's markets were in the "development" stage in Q1 2015. Today, it's just 5%. Mature markets tend to produce higher unit revenue.
Southwest Airlines expects its unit revenue performance to strengthen again next quarter. It is projecting "modest" unit revenue growth for Q2 despite the negative impact of Easter shifting into March this year.
Hawaiian Airlines overcomes international weaknessSouthwest has benefited in the past year from its domestic focus. It hasn't been affected by the strong dollar or falling fuel surcharges like its larger, internationally focused rivals.
By contrast, Hawaiian Airlines deploys about 30% of its capacity in international markets. Most passengers on those flights buy their tickets in foreign currency, so the strong dollar has had a big impact on the company's revenue. In the second half of 2015, unit revenue declined about 18% year over year on Hawaiian's international routes.
Hawaiian saw big unit revenue declines on international routes in 2015. Image source: Wikimedia Commons.
However, the yen -- Hawaiian's most important foreign currency -- has risen relative to the dollar in recent months. As a result, unit revenue trends are starting to improve for Hawaiian Airlines' international routes. Meanwhile, industry capacity growth on domestic routes to Hawaii has been moderating recently, even as total domestic capacity has grown rather quickly.
Hawaiian Airlines was therefore able to post a modest 1.2% year-over-year RASM decline for Q1. The company expects further improvement in Q2, with RASM expected to be roughly flat despite the Easter shift.
Hawaiian hasn't provided detailed unit revenue guidance for the second half of 2016. However, between its strong trajectory and the easy comparisons it will face, it seems reasonable to expect meaningful year-over-year unit revenue growth in Q3 and Q4.
Clear skies aheadThe legacy carriers, which have experienced big unit revenue declines over the past year, seem increasingly likely to post further unit revenue declines throughout 2016. By contrast, Southwest Airlines and Hawaiian Airlines benefited from relatively favorable trends in Q1 -- and those trends should remain in place.
The one exception is that Southwest will lap the introduction of its revised credit card agreement in Q3. This means that its unit revenue could decline modestly during that quarter after growing in Q2. Yet Southwest should still comfortably outpace the industry's unit revenue performance.
These strong unit revenue trends at Southwest and Hawaiian are great news for investors. If fuel prices remain low, unit revenue gains should lead to big profit growth. And if oil prices rebound, unit revenue growth will help these companies offset the resulting cost increases.
The article Southwest Airlines and Hawaiian Airlines Are Outperforming on Unit Revenue originally appeared on Fool.com.
Adam Levine-Weinberg owns shares of Hawaiian Holdings, and is short October 2016 $50 calls on Hawaiian Holdings, The Motley Fool has no position in any of the stocks mentioned. Try any of our Foolish newsletter services free for 30 days. We Fools may not all hold the same opinions, but we all believe that considering a diverse range of insights makes us better investors. The Motley Fool has a disclosure policy.
Copyright 1995 - 2016 The Motley Fool, LLC. All rights reserved. The Motley Fool has a disclosure policy.