Sotheby's Disappoints With Larger Losses, Plunging Revenue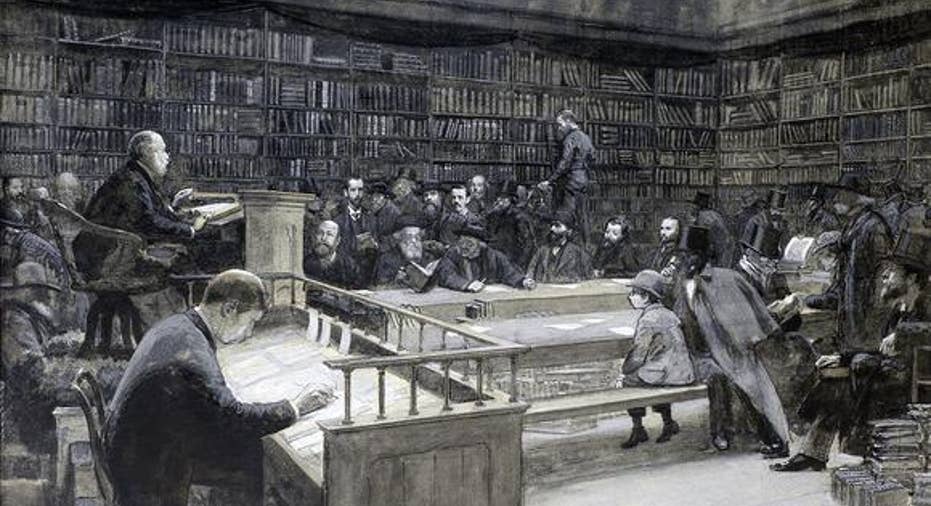 Image source: Sotheby's.
The world of art and collectibles can be sensitive to economic fluctuations, and no one can relate to the ups and downs of the high-end luxury space better than Sotheby's . The auction house has had to deal with plenty of uncertainty lately about the slowing activity levels in the art market, and coming into Monday's first-quarter financial report, Sotheby's investors were bracing for net losses and falling revenue. The reality, though, was even worse than most had expected, and despite some favorable signs more recently, shareholders still reacted badly. Let's take a closer look at how Sotheby's fared last quarter and whether a turnaround is in the cards for the foreseeable future.
Sotheby's takes a hitSotheby's first-quarter results looked ugly on just about every front. Revenue plunged by almost a third to $106.5 million, missing by far the nearly $125 million that most investors were expecting to see from the auctioneer. Even after accounting for one-time severance-agreement charges and other one-time items, Sotheby's posted an adjusted net loss of $22.3 million, and that worked out to $0.35 per share. That was almost double the consensus forecast for a $0.23 per share adjusted loss and reversed modest year-ago profits.
Taking a closer look at Sotheby's numbers, the auction house cited a 35% decrease in net auction sales as one of the main reasons why the company's top line fell so sharply. Part of the problem was that Sotheby's had an extraordinarily strong first quarter in 2015, with unusually strong results from its Impressionist and Contemporary Art sale in London, its Asian Art sales in New York, and the Bear Witness Contemporary Art auction. Ordinarily, the first quarter is relatively weak from a seasonal perspective, and Sotheby's essentially argued that last year's results were the aberration rather than this quarter's performance.
As a result, auction agency commissions and fees fell by 37%, making up about four-fifths of Sotheby's total revenue. Yet sales of inventory were cut almost in half from the year-ago quarter. Modest gains in financing and license fees helped to cushion the blow to a minimal extent. However, gross margin on inventory sales was negative, and total expenses actually climbed slightly during the quarter despite the exceptional drop in revenue. Even a slight drop in interest expense couldn't give much protection to Sotheby's bottom line.
CEO Tad Smith did his best to put the quarter's results in context. "As we exited 2015," Smith said, "it was clear that the significant market growth experienced in 2014 and the first part of 2015 had slowed somewhat, and the impact can be felt in our results for the first quarter." Still, the CEO tried to maintain optimism about the future.
What's ahead for Sotheby's?To be fair, Smith had warned investors that the quarter could prove difficult. As if the CEO's comments weren't enough, Sotheby's decision to suspend its dividend early this year highlighted the desire for greater flexibility in determining appropriate levels of capital to return to shareholders.
Yet Sotheby's has gotten some useful and positive guidance about the state of the market in the Asia-Pacific region. A 17% increase in sales at the company's April Hong Kong series of auctions was just the largest in a series of high points that Sotheby's said it had seen so far during the second quarter. These solid results have the company excited about its impending New York and Geneva series of spring auctions, which will be instrumental in determining the path of the market throughout 2016.
Even with that perspective, investors weren't happy with the results, and Sotheby's stock fell 5% in the first half-hour of trading following the announcement. That could change if future auctions perform well. However, with ongoing challenges to overall economic growth, Sotheby's might have to weather further weakness in the high-end luxury market before conditions return to normal.
The article Sotheby's Disappoints With Larger Losses, Plunging Revenue originally appeared on Fool.com.
Dan Caplinger has no position in any stocks mentioned. The Motley Fool recommends Sotheby's. Try any of our Foolish newsletter services free for 30 days. We Fools may not all hold the same opinions, but we all believe that considering a diverse range of insights makes us better investors. The Motley Fool has a disclosure policy.
Copyright 1995 - 2016 The Motley Fool, LLC. All rights reserved. The Motley Fool has a disclosure policy.