Sorry Microsoft and Google, Salesforce Prefers Amazon.com's AWS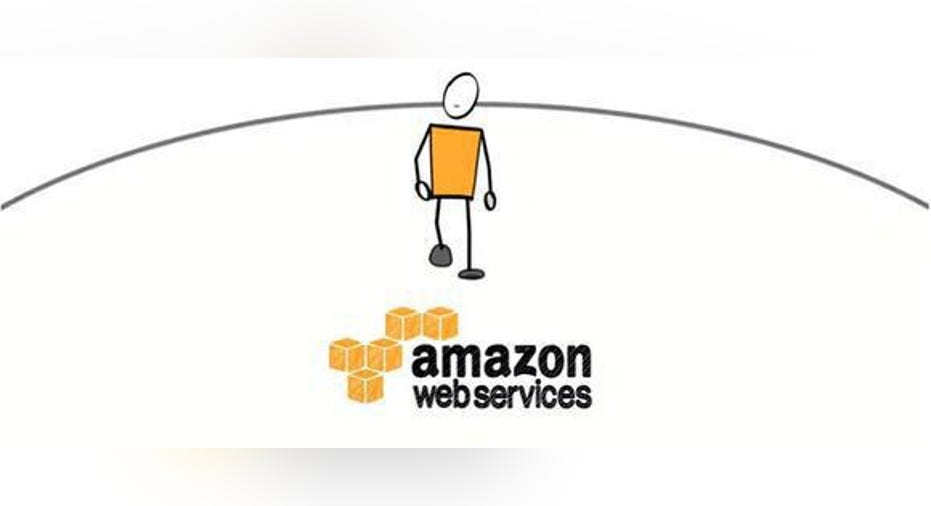 Amazon recently won a major victory in the cloud platform wars as cloud-based CRM (customer relationship management) vendor Salesforce made AWS (Amazon Web Services) its "preferred" public cloud infrastructure platform. A recent SEC filing by Salesforce indicates that it will pay Amazon about $400 million over the next four years.
Salesforce already uses AWS to power some of its cloud offerings, like its Heroku app development platform and its SalesforceIQ CRM software. But the new partnership will also connect Salesforce's core services -- including the Sales Cloud, Service Cloud, and App Cloud -- to AWS. New services, like its upcoming Internet of Things (IoT) Cloud service, will also be tethered to AWS.
Image source: Amazon.
Salesforce previously hosted most of those apps with its own data centers. A deeper partnership with AWS can complement Salesforce's plans to expand internationally, since AWS serves customers in 33 "availability zones" across 12 geographic regions.
This is definitely a win-win situation for Amazon and Salesforce -- the former gains more cloud revenues and the latter's cloud business becomes more scalable. But it's also bad news for Microsoft and Alphabet , which have struggled to close the gap in the cloud platform revenues with AWS.
Why Salesforce matters
Salesforce controlled nearly 20% of theglobal CRM market in 2015, according to research firm Gartner, making it the biggest player in a highly fragmented market. SAP ranked second with a 10% share, followed by Microsoft, Oracle, and Adobe -- which all finished the year with single-digit shares. Salesforce, Microsoft, and Adobe all posted year-over-year growth in 2015, but SAP and Oracle's revenues declined. The total value of the global CRM market rose 12% to $26.3 billion last year.
Citigroup analyst Mark May recently pointed out that many tech companies have intertwining cloud-based relationships. For example, SAP runs much of its software on Oracle's cloud, Adobe runs several cloud services on AWS, while Microsoft runs its Dynamics CRM software on its own Azure cloud platform.
As a result, the number of "preferred" partnerships is rising as CRM and cloud platform companies align their interests with each other. However, May believes that AWS is "winning a disproportionate number" of OEM's across the cloud services market, thanks to the platform's "early lead." If that's true, concerns about AWS losingSpotify and part of Apple's iCloud business to Google could be overblown.
Analyzing Amazon's lead
AWS is on the verge of becoming a $10 billion per year business, making it the largest cloudplatform in the world. The unit's revenue rose 64% annually to $2.57 billion last quarter, and its operating income surged 210% to $604 million. That equals 9% of Amazon's total revenue and 56% of its operating income, making it the company's most profitable business. Since AWS' infrastructure is so massive, it can use economies of scale to offer its cloud services at very competitive prices -- which prevented Google's declaration of a price war in 2014 from denting its margins.
Global map of AWS data centers. Image source: Amazon.
Microsoft and Google don't disclose their cloud platform (infrastructure as a service) numbers at all. Microsoft only reports an annual run rate for all of its cloud services, which includes software as a service (SaaS) plays like Office 365 and Dynamics CRM -- neither of which compete against AWS.
Last October, Forrester Research claimed that AWSonly generated about $1.6 billion in annual revenues. Citigroup's belief that AWS generates "six to seven times" more revenue than Azure supports Forrester's estimate. Forrester estimates that Google only generates about $300 million in cloud platform revenues. Meanwhile, Synergy Research Group estimates thatAWS controls 31% of the cloud infrastructure market, Microsoft controls 9%, and Google controls just 4%.
All those numbers indicate that Microsoft and Google have a huge gap to close with Amazon, but big AWS backers like Salesforce could make it tough to catch up.
All aboard the AWS bandwagon
Salesforce isn't the only 800-pound gorilla to place its future in Amazon's hands. Netflix, a longtime AWS customer, recently migrated its entire video library to AWS. Two other major customers, General Electric andCapital One, both gave AWS glowing endorsements at the re:Invent conference last year. Even the CDC and NASA rely on AWS for their cloud computing needs.
All those big customers have given AWS a moat which has proven brutally tough for tech giants like Microsoft and Google to cross. The new partnership with Salesforce will further widen that moat and likely ensure that AWS maintains its lead over those rival platforms for the foreseeable future.
The article Sorry Microsoft and Google, Salesforce Prefers Amazon.com's AWS originally appeared on Fool.com.
Suzanne Frey, an executive at Alphabet, is a member of The Motley Fools board of directors. Leo Sun owns shares of Amazon.com. The Motley Fool owns shares of and recommends Alphabet (A shares), Alphabet (C shares), Amazon.com, Apple, Gartner, Netflix, and Salesforce.com. The Motley Fool owns shares of General Electric Company, Microsoft, and Oracle and has the following options: long January 2018 $90 calls on Apple and short January 2018 $95 calls on Apple. The Motley Fool recommends Adobe Systems. Try any of our Foolish newsletter services free for 30 days. We Fools may not all hold the same opinions, but we all believe that considering a diverse range of insights makes us better investors. The Motley Fool has a disclosure policy.
Copyright 1995 - 2016 The Motley Fool, LLC. All rights reserved. The Motley Fool has a disclosure policy.